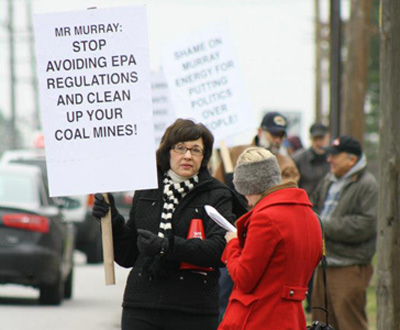 PEPPER PIKE, Ohio – Two dozen activists picketed the corporate headquarters of Murray Energy in this Cleveland suburb Dec. 17 protesting the anti-labor and right-wing policies of company owner Robert E. Murray.
The immediate cause for the protest Monday was Murray's layoff of 163 miners and transport workers in Utah, Illinois and West Virginia on Nov. 7, which he blamed on Obama's re-election.
"Murray is a bully," said Lisa Ciocia, chief organizer of the protest. "He runs his company with threats and fear. He is trying to blame Obama for his company's problems."
Holding large signs, the pickets stood for several hours on both sides of busy Chagrin Boulevard as motorists honked horns to show support.
"Modernize Your Mines Instead Of Trying To Score Political Points," one sign read.
A major donor to the presidential campaign of Mitt Romney, Murray gained national notoriety last August when he closed his Bealsville, Ohio, mine and ordered workers to stand behind Romney at a campaign rally without pay. The event was used as part of a Romney campaign ad purporting to show that miners opposed Pres. Barack Obama for allegedly conducting a "war on coal."
In announcing the layoffs Murray read a "prayer" to employees, which was published on the Intelligencer/Wheeling News Register website.
"Dear Lord," Murray began. "The American people have made their choice …away from the idea of individual freedom and individual responsibility…away from capitalism, economic responsibility and personal acceptance."
Voters, the prayer continued, chose "redistribution, national weakness and reduced standard of living and lower and lower levels of personal freedom…The takers outvoted the producers."
"Lord," he continued, "please forgive me and anyone with me in Murray Energy Corp. for the decisions we are now forced to make to preserve the very existence of any of the enterprises that you have helped us build."
Signs carried by the pickets blasted Murray's hypocritical use of religion to justify the layoffs and demanded that he rehire the workers.
"Leave My God Out Of Your Ungodly Labor Practices," one read.
Murray Energy is the largest privately owned U.S. coal company with 3000 employees producing 30 million tons of bituminous coal annually. While the company has specialized in "dirty," high-sulfur coal and lobbies against environmental regulations, economists say the industry's problems stem from competition from low-cost natural gas and rising production costs.
The company also vigorously lobbies against mine safety regulations and Murray is an outspoken critic of scientific opinion on climate change, which he calls "global goofiness." In a 2007 article he wrote the "environmental risk associated with carbon emissions is highly speculative."
The company has a notorious record of safety violations and was fined $1.85 million for causing the deaths of 6 miners in the 2007 collapse of its Crandall Canyon Mine in Utah. The event also caused the death of three rescue workers.
Earlier this year, Murray hosted a $1.7 million fundraiser for Romney and in September Murray contributed $100,000 to American Crossroads, the superPAC run by Karl Rove to support the Republican campaign.
In October, Citizens for Responsibility and Ethics in Washington (CREW) filed a complaint with the Federal Elections Commission charging Murray Energy forced its salaried employees to contribute one per cent of their earnings to the company political action committee.
Most of the protesters were members of Patriots for Change, an independent grassroots group with about 350 members based in nearby Chagrin Falls. Judy Kramer, a retired teacher and the group's president and founder, said it formed in 2008 to oppose the Iraq war and has continued to work on various issues including voter registration and the Obama campaign.
"We going stronger than ever," she said. In the wake of the Newtown, CT, shooting tragedy, she hopes the group will address the issue of gun regulation.
Photo: Cleveland Jobs With Justice FB page