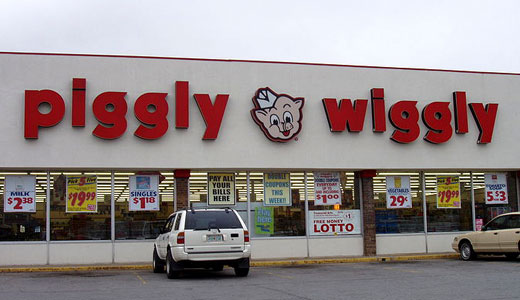 SHEBOYGAN, Wis. – In an anti-union hard line reminiscent of Walmart, Piggly Wiggly announced it would close its Sheboygan, Wis., store on Sept. 1, throwing all 108 workers into the street, rather than submit to a federal court ruling that it broke the law by cutting 19 workers from full-time to part-time in violation of its United Food and Commercial Workers contract requiring negotiation of such moves.
PigglyWiggly's defiance echoes that of the world's largest and anti-union retailer, Walmart, in both Quebec and Tyler, Texas. In Jonquiere, Quebec, the retail monster closed its store rather than bargain with UFCW Canada, which had organized it.
And in Texas, when a small group of meatcutters organized, again with UFCW, Walmart closed all of its meatcutting operations nationwide. National and Quebec labor boards had ordered Walmart to bargain with its workers in those two cases.
Piggly Wiggly's anti-union stand is the real meaning of its truncated statement June 12 of the Sheboygan closing, observers say. Local media in Wisconsin largely ignored the dispute, U.S. District Judge Charles Clevert's ruling against Piggly Wiggly in May, and other impending complaints against Piggly Wiggly around Wisconsin.
The Sheboygan complaint by UFCW against Piggly Wiggly was backed in May by a 60-page decision by a National Labor Relations Board administrative law judge, and by Clevert's order to Piggly Wiggly to make the workers whole and refrain from further such action. Observers called it a total union victory and a winning first round against Piggly Wiggly's treatment of its unionized workers.
Piggly Wiggly's evasion of good faith bargaining, even though Clevert vindicated his local's stand, distressed UFCW Local President John Eiden: "It's sad it had to come to this, where the employer can't sit down and bargain in good faith with the union."
UFCW lawyer Mark Sweet has complained to Piggly Wiggly about its new avoidance tactics. And Wisconsin media ignored a landmark federal ruling – the first such action in a dozen years affirming collective bargaining, workers' rights to organize, and a chosen union's priority to have its contract heeded.
Piggly Wiggly's sudden action was led by a notorious union busting law firm, Jackson Lewis, which just opened an office in Milwaukee. Piggly Wiggly also deceived UFCW. It first held a mutual meeting June 11, then used the lawyers the next day to "continue its unlawful behavior," in Sweet's words, to send a letter to the state, the union and all 108 Sheboygan store workers announcing its intention to close the store.
The court's next move, after the grocery chain defied Clevert's order to bargain, is unknown. He ordered the Sheboygan store to restore full-time status and health care rights to workers whose hours were cut to part-time without bargaining with their union, and to refrain from such unilateral decisions in the future. Observers say his order could extend to all 102 Piggly Wiggly Midwest stores in Wisconsin and Illinois.
They add they doubt Wiggly Piggly will shut all those stores just to escape future court rulings. But the chain already faces other unfair labor practice charges in Menasha, Racine, and Kenosha, Wis., all brought to the NLRB by the UFCW. An NLRB administrative law judge will hear those cases in Milwaukee, starting July 23. The NLRB office there has accused Piggly Wiggly of bargaining in bad faith at those stores.
Besides ordering Piggly Wiggly to restore full-time status and benefits to the 19 demoted workers, Clevert also ordered the Sheboygan supermarket to immediately offer full reinstatement to four others who resigned when told their hours were being cut.
As Clevert recounted, Piggly Wiggly justified its actions as a response to being told a "non-union" supermarket was opening in the neighborhood. Rather than explore competitive ideas, or talk to UFCW about the best ways forward, or look to promote the quality, depth, and experience of its own workforce, management simply went after the workers to cut costs by telling them they would now work part-time, not full-time.
The firm then posted bulletin board letters defending its behavior and berating the UFCW local for not supporting its efforts or helping workers cope with less pay. Clevert's decision cited such open anti-union hostility. And his ruling emphasized "a strong public interest in the integrity of the collective bargaining process."
Observers add Piggly Wiggly's anti-union hostility underlies its Sheboygan closing announcement. They call the firm's decision a reminder of legal maneuvers many corporations now undertake nationwide to avoid the consequences of their behavior and thwart the operation of labor law. Clevert's May decision against Piggly Wiggly was news in national legal and information circles, but except in Sheboygan, it went unreported in Wisconsin establishment media.
UFCW made constant attempts to publicize Clevert's ruling: It occurred during the war over collective bargaining rights of Wisconsin public workers, making it even bigger than usual. More than Piggly Wiggly is involved, say observers. They cite company corporate rumblings and contract traps involving Machinists, Steelworkers, and other unions in Wisconsin.
Dominique Paul Noth is editor of the Milwaukee Labor Press.