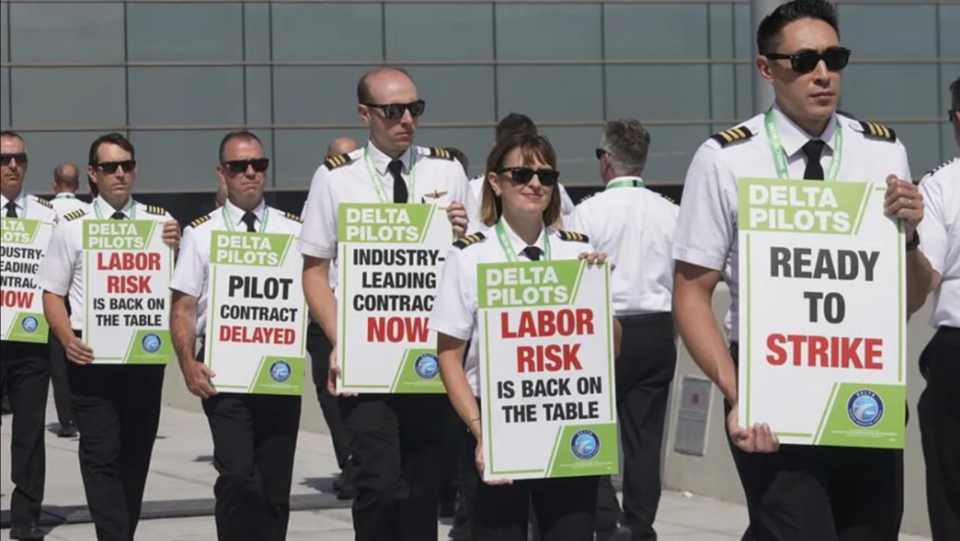 ATLANTA (PAI)—The Airline Pilots Association (ALPA) reached a tentative new four-year contract with Atlanta-based Delta Airlines calling for a 30% raise, two weeks of paid sick leave, and a signing bonus covering all 15,000 pilots.
News reports of the pact, reached Dec. 5, came just two weeks after three other unions—the Machinists, the Teamsters, and the Association of Flight Attendants—said they're jointly backing a grassroots organizing drive to unionize Delta's other 45,000 workers. Half of those are flight attendants.
ALPA's website was silent on the tentative agreement for the Delta pilots. Delta announced the tentative agreement. An ALPA spokeswoman told The Washington Post that once final language is crafted, the ALPA board and then the pilots themselves must vote on it. That pushes a decision into January.
Delta's pilots have been working under their old and technically expired contract for almost three years. That pact was signed  in 2016, and became amendable at the end of 2019, according to federal law covering bargaining for rail and airline workers.
But the coronavirus pandemic forced talks to be suspended for the past two years, announcements on ALPA's website said.
Delta is the only one of the big four U.S. transcontinental airlines which is not fully unionized. Between 82% and 86% of workers at the other three—Southwest, United, and American—are union members, and the contracts at those carriers cover the rest, too.
But there's an indication that not all may be well at those carriers, which like Delta are now highly profitable again. Southwest announced Dec. 8 it would resume paying dividends to shareholders, potentially yanking away millions of dollars otherwise available to its pilots. Their union, which is in the midst of bargaining for a new pact, protested.
An overwhelming vote by the Delta pilots to authorize a strike helped push the company back to serious bargaining. Informational picketing at various airports, especially over the Labor Day weekend, followed.
"Delta has invested billions in stock buybacks, foreign carriers, and wholly owned subsidiaries as well as rewarded our fellow employees with pay raises," said Capt. Jason Ambrosi, board chair of ALPA's Master Executive Council local at Delta.
"Management praises the pilots for our leadership. Meanwhile, we continue to work under pay rates, working conditions and benefits negotiated six years ago," added Ambrosi, who will become president of ALPA on Jan. 1 after a contested election where both candidates agreed current ALPA leaders have not been aggressive enough.
The Teamsters, the Machinists, and the Association of Flight Attendants intend to be very aggressive in aiding the rest of Delta's workers who want to unionize. They will face off against bosses infamous for their rabid anti-unionism.
That hate dates back decades. Delta's bosses fended off past organizing drives by the Association of Flight Attendants and the Machinists. Those Delta honchos, operating out of then red state Georgia, devoured and de-unionized wall-to-wall union Northwest Airlines in 2010. Northwest was headquartered in union-friendly Minnesota. Its hubs were Minneapolis-St. Paul and pro-union Detroit.
Key issues in the joint AFA-Teamsters-Machinists organizing drive at Delta will include—but not be limited to–high Delta profits, and high pay for its honchos versus low pay, lack of respect and management high-handedness in moving workers around and suddenly changing schedules. Delta CEO Ed Bastian's pay was 26% higher last year than that of his colleagues, the three unions said.
"Delta workers are ready to secure a union and a contract to keep their share of the profits they create in the communities where they live and work," their joint statement added.
Delta flight attendants, giving only their first names to the Guardian for fear of retaliation, added another cause: Short-staffing. So many flight attendants left the carrier due to the coronavirus pandemic that it's had trouble replacing them.
AFA was conducting its own organizing drive among Delta's 22,000 flight attendants, but withdrew its petition for a National Mediation Board-supervised election at Delta just before the joint announcement. The NMB oversees labor-management relations at railroads and airlines.
AFA's  withdrawal notice to members said double-checking revealed identification problems with so many signed union election authorization cards there was doubt the union reached the required absolute majority—50%+1—it needed to file. By withdrawing now, that notice said, AFA could come back and try again within a year.
In announcing the new joint drive, AFA President Sara Nelson said "flight attendants have been organizing over the course of the turbulent pandemic and have begun officially collecting cards.
"We're thrilled to support Delta fleet service workers organizing with the IAM and Delta mechanics organizing with the Teamsters. Together, workers will lock in what they love about their work at Delta and gain the respect that comes with a union contract." AFA is a Communications Workers sector, with its own identity and clout.
"Delta fleet service workers deliver for both customers and the carrier, and now the time has come to deliver an industry-leading contract for the people who truly make Delta a world-class airline," said Richie Johnsen, the Machinists' Air Transport vice president.
"Workers make Delta profitable, and by organizing wall-to-wall we will ensure workers share in the airline's success. Delta mechanics will have powerful union representation when they join the Teamsters," said union President Sean O'Brien. "We will win industry-leading standards for workers at Delta and we will do it together."