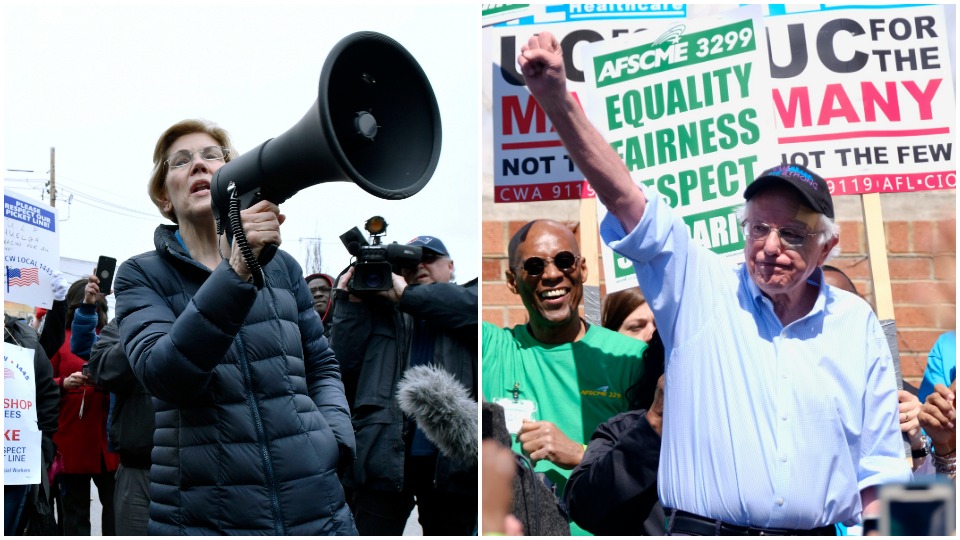 DES MOINES, Iowa (PAI)—The Jan. 14 debate between six Democratic presidential hopefuls in Des Moines, Iowa, almost fell through.
The reason it didn't was pressure on its broadcaster, the Cable News Network (CNN), by Democratic National Chairman Thomas Perez, a former Obama administration Labor Secretary, and the promise by the six not to cross a picket line.
Instead, after a 15-year fight to avoid punishment for its rampant labor law-breaking against more than 300 of its technicians, CNN agreed on Jan. 10 to turn over $76 million in backpay and interest to them, the National Labor Relations Board and the techs' union, NABET-CWA, announced.
The settlement, the largest in labor board history, came just in the nick of time. With no settlement, the Communications Workers planned a picket line, union President Chris Shelton said. All six Democratic candidates vowed not to cross it. Perez got CNN to settle, aided by lobbying by two corporate CEOs who regularly deal with CWA.
Perez did the same thing in December. Then, the food company employing cafeteria workers at the debate site, Loyola-Marymount College in Los Angeles, refused to bargain a new contract. That raised the possibility of a picket line by Unite Here Local 11. And the debating Democrats, starting with Sen. Elizabeth Warren, D-Mass., vowed not to cross it.
The struggle began in 2003. CNN moved against the techs, from its New York and Washington bureaus, in an attempt to destroy their rights and their unions. The techs had unionized with NABET (National Association of Broadcast Employees and Technicians) Locals 11 and 31, and were working then for CNN's subcontractor, Team Video Services.
To oust the locals, CNN ended its contract with Team Video, brought the work in-house, refused to bargain with NABET-CWA as a "successor," to Team Video, fired long-term techs and unilaterally cut wages and changed working conditions for the rest. It also subcontracted some of the techs' work to free-lancers.
Even the NLRB said CNN, as a joint employer with Team Video, broke labor law.
"After terminating the contract, CNN hired new employees to perform the same work without recognizing or bargaining with the two unions that represented the TVS employees. CNN sought to operate as a nonunion workplace and conveyed to the workers that their prior employment with TVS and union affiliation disqualified them from employment," the board said.
An NLRB administrative law judge ruled for the workers in 2008. But CNN kept delaying the final decision by filing 1,600 objections to the judge's ruling. It also took the board to the U.S. Circuit Court of Appeals in D.C. after the ALJ and the board ruled for the union in 2014. So did the appellate judges, three years later.
In an irony, Chief Judge Merrick Garland and then-Appellate Judge Brett Kavanaugh were two of the three-judge panel that sided with the board and the workers.
Obama nominated Garland to a vacant U.S. Supreme Court seat, but Senate Majority Leader Mitch McConnell, R-Kent., single-handedly blocked even holding a hearing. GOP President Donald Trump later nominated Kavanaugh to another vacancy. Despite Kavanaugh's record of sexual predations against women, as a teenager, McConnell jammed his High Court nomination through.
Though the judges sided with the workers in 2017, they also told the board to determine the backpay – and the back withheld dues CNN owed the two union locals. The backpay took another two years to settle.
"After more than 15 years, this settlement finally delivers justice for workers who experienced serious hardship in their lives due to CNN's union-busting practices," said NABET-CWA President Charlie Braico.
"This incredible settlement in workers' favor should send a very clear message to CNN and to other employers that union-busting is illegal and has consequences."
Shelton lauded Perez for pushing CNN to settle, adding that CEOs of AT&T and Time-Warner also helped. But Shelton also said the lengthy delays just strengthen the case for comprehensive pro-worker labor law reform. That reform, the Protect the Right to Organize (Pro) Act, will come to the U.S. House floor in mid-February.
"CNN's ability to avoid taking responsibility for its unlawful behavior for over 15 years shows just how far U.S. labor laws that are supposed to protect workers have become rigged in favor of corporations," the union leader explained.