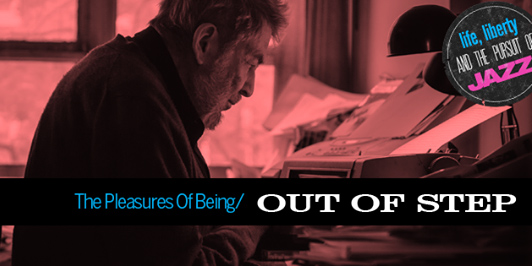 According to production notes for producer/director David L. Lewis's well-made documentary The Pleasures of Being Out of Step: Notes on the Life of Nat Hentoff, the longtime, former Village Voice columnist, now pushing 90, was the first non-musician to be named a Jazz Master by the National Endowment for the Arts. A renowned First Amendment champion for more than half a century, Hentoff has also been a prolific chronicler and advocate of jazz, from liner notes to newspaper and magazine articles to radio and TV.
Even if its subject is unconventional, Step is conventionally crafted, including archival footage and photos, as well as original interviews with a colorful cast of characters who have encountered Hentoff throughout his career. In audio and visual clips (many never publicly seen) we see some of the cultural and political titans Hentoff met, including Charles Mingus and a young Bob Dylan, as well as Lenny Bruce and Malcolm X. Interviews apparently conducted for this documentary include the poet/playwright Amiri Baraka, fellow critic Stanley Crouch, and constitutional attorney Floyd Abrams, as well as Nat's wife, Margot Hentoff. It's compelling viewing.
Although the film celebrates its title character, it is not without criticism. Some interviewees are none too enamored of the irascible Hentoff, or some of his stances on issues. Former VV editor Karen Durbin takes him to task for his anti-abortion views. Also, while the Boston-born Hentoff, long a Manhattan fixture, has been a civil rights stalwart, the same cannot be said about his stand on gay rights and the AIDS crisis. As Lewis demonstrates, it is dubious when self-proclaimed "libertarians" somehow deny to those with alternative sexual orientations the freedom of expression they espouse for others.
It's refreshing to have naysayers included amongst the interviewees: Too often biodocumentaries are hagiographies. But shouldn't detractors be included to give a better-rounded picture of the subject?
The documentary includes brief interviews with current VV boss Tony Ortega, who comes across like a hatchet man shamefully doing the bidding of the new owner of what was once a lefty press bastion.
One suspects that Hentoff relishes the fact that some of his opponents have their say about him in Step. After all, Hentoff is nothing if not a contrarian. At least their criticism is still about – himself! Nat's wife Margot suggests that the diffident Hentoff is predisposed to go against the prevailing wisdom simply to be different, perhaps to stand out from the crowd. He seems constitutionally ingrained to go against the grain, whether on behalf of misunderstood musicians and oppressed minorities or, among the New York left, opposing feminism and gay rights.
Hentoff's response to his critics is simply to allow them their say, and for him to reply in kind. He'd never call to curtail their right to say what they want.
I knew Hentoff (telephonically) when I was the features editor for a national magazine where I brought him onboard – at first, to write an article, and then as a monthly columnist. Nat was a royal pain in the ass: Very old school, he insisted on typing his pieces on one of those typewriter thingamajiggies and then faxing it across the continent. Of course, his disinclination to use computers and email was a generational holdover. But however hard it was to work with this curmudgeonly "Thoreau-back," it was well worth bending over backwards for him (especially as monthly deadlines loomed) because he wrote so well and about such important topics. His byline conveyed the prestige of more than half a century of (generally) fighting the good fight.
Step is at its best and most creative when it shows Hentoff's advocacy of free speech in his articulate writings both on First Amendment issues and on jazz as an improvisational art form that relies on free expression. Insightful comments liken jazz to our constitutional liberties. It is truly odious what the penny-pinching Village Voice did to one of its original writers in his old age, a columnist who earned that once alternative newsweekly so much prestige and money over the years. At least we have this documentary to remind us.
The Pleasures of Being Out of Step: Notes on the Life of Nat Hentoff is playing at the Laemmle Music Hall in Beverly Hills, Calif. Watch for local distribution.
Movie information:
"The Pleasures of Being Out of Step: Notes on the Life of Nat Hentoff"
Directed by David L. Lewis
Narrated by Andre Braugher
2013, 86 minutes