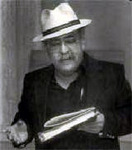 SAN ANTONIO — Chicano activist and poet Trinidad Sanchez Jr. passed away at age 63 on July 30 as a consequence of two strokes suffered 12 days earlier. Sanchez was best known for his poem "Why Am I So Brown?" and the collection of poems bearing its title.
Trino, as he was affectionately called by friends and admirers, was a prolific poet who also gave numerous workshops and lectures including in the San Antonio Independent School District. He hosted open mic poetry readings throughout San Antonio. His poems appeared periodically in the People's Weekly World.
His "Why Am I So Brown?" addresses childhood insecurities about ethnic identity among Chicano youth. The collection of poems with the same name is widely used as a textbook in literature classes.
During a 1997 interview, he informed me that he began attending poetry readings in the early 1970s in San Antonio but did not begin to write until 1981 when he lived in Detroit. At that time his activism and poems dealt with Central American issues. That was also when he began a 10-year involvement with a poetry group called Horizons in Poetry. "It was in the African American community," he said. "Most of the participants were African American, and they taught me how to shout my poems. They also taught me how to raise issues and bring them into my writing."
Touching on the subject of the role of the poet, he told me, "I believe we are called to be prophets."
"We are called to announce and denounce," he said. "Denounce the injustice in our community and in the world and also announce. Sometimes all a poet does is denounce, but we also need to challenge ourselves. OK, if that's the way the world is, how do we want to see it? We need to be for something so that we can make the world a better place."
Because Sanchez had no medical insurance, three fund-raisers were organized on his behalf, with the poet and music community rushing to offer help.
Shortly after his death, his wife Regina Chavez y Sanchez circulated via e-mail an essay Sanchez had written on a visit he had made to Camp Casey — the war protest encampment at Bush's ranch last year. In it he saw hope in unity even across religious lines: "I returned for the prayer service. This was a very powerful moment as all denominations were asked to step forward and others of the same denomination were asked to join the prayer leader for the prayer for peace. Three Muslims were present and stood to share their prayer for peace."