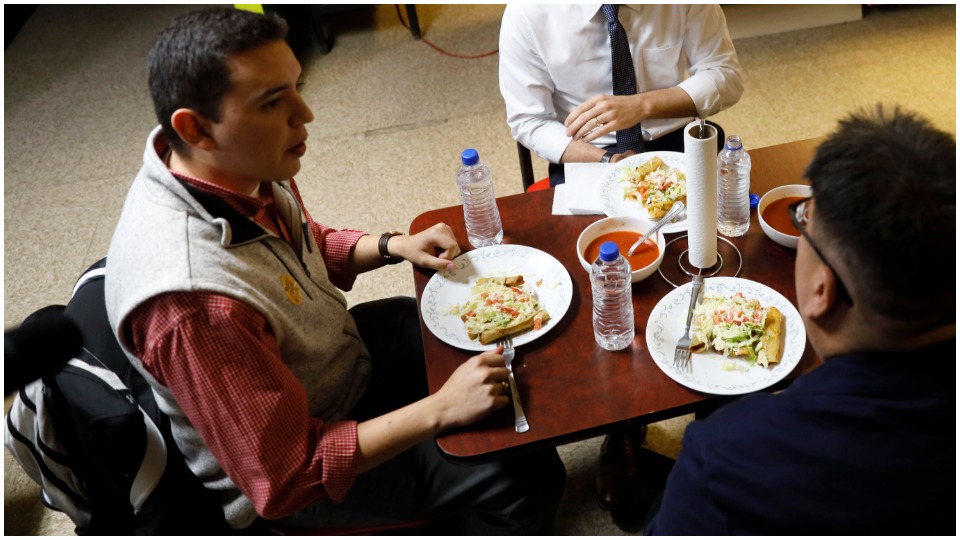 "The U.S. government should
live within its means
just like the Coppola family does,"
Jack the custodian says.
"There is no free lunch
in industry—
why should there be one
in government?"
says Camille, the office associate.
I argue with them,
I throw everything I have into it.
Tea Party's witch-hunt
of "big government"
is a smokescreen
for the Corporate Right
to give to the rich
and take from the poor.
If I can't convince those
whom I work with,
whom can I win,
I ask myself
as we tumble on.
I try.
Obama comes after Bush
then Trump is elected
on that same damn program of supply side economics
and me, Jack and Camille are still here,
working the line.
Tax cuts to the rich,
creating the very whopping hole in the budget
Jack and Camille decried to me
so many years before,
bloody cuts to health care,
savage cuts to schools.
And when I see Jack
later in the lunch room,
new alligators in the swamp
he voted to be drained,
I tell him
I told you so.
But something tells me
it is not the end
but a continuing
conversation.
And if our argument remains
within this context,
too much is lost.
"What if I told you,"
I ask Camille and Jack
in the lunch room,
"of a people free to vote
for any government it wants
in a brave new world
of galloping rich and plummeting poor
unless it flouts the program
of a strange creature called
the International Monetary Fund,
its tentacles deep and long.
Then, the world's biggest armies
go on red alert,
the most fearsome propaganda machine
on the face of the earth
having sprung into furious action."
FREE TRADE!
A SHIRT MADE BY SOMEONE
AT 75 CENTS AN HOUR
MUST COMPETE AGAINST A SHIRT
MADE BY SOMEONE
AT $30 AN HOUR.
SLOW GROWTH AND LOW WAGES!
IF TOO MANY PEOPLE GET A GOOD JOB
WALL STREET STOCKS GO DOWN.
A COMPANY THAT LAYS OFF WORKERS
HAS PROVEN ITSELF TO BE A GOOD COMPANY.
SHRINK THE PUBLIC SECTOR!
ALL GOVERNMENT IS BAD.
PUT THE WEALTH BACK IN THE JAWS
OF THE MARKETPLACE.
DEREGULATE THE LABOR MARKET!
THERE WILL BE NO RULES OR MINIMUM STANDARDS
AND ANYBODY WHO GETS TOGETHER
WILL BE BEATEN DOWN.
"Well, I would say it's awful,"
says Jack, the custodian.
"I would say I guess it stinks,"
says Camille, the office associate.
"In this country a right-wing cabal
emerges out of nowhere
to crusade against "big government.
"A movement for democracy and human rights
discovers it must fight
the banks and corporations
if it is to triumph.
"What if I told you all this
about a country?
What place would you say
it was?"
"Haiti, I guess," says Jack.
"Russia," says Camille.
"Wrong," I say.
"Wrong—
and again wrong.
"Where have you guys been
all these years?" I ask.
"In an ivory tower?
On a tropical island?
"It is the same country where
companies downsize their workers
so the stock market can
skyrocket.
"It is the country where
the government
balances its budget
on the backs of the poor.
"It is the country where
unions are bashed
and a once heralded middle class
becomes fiction.
"It is the country where
big money is speech
and health care is
a prayer
"and every day the rich
grow richer,
and the poor
grow poorer.
"It is— —."