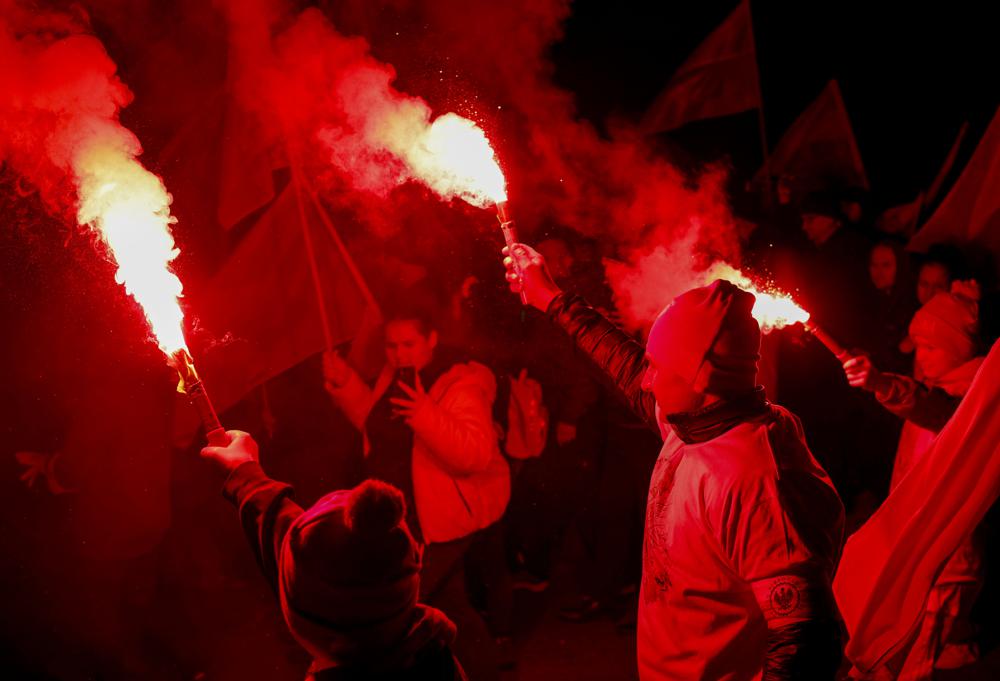 Polish opposition politicians condemned police this weekend for detaining anti-fascist counter-protesters on Friday while ignoring Nazi symbols at the annual far right-led "Independence Day" march through Warsaw.
And the American Jewish Committee raised the alarm at events in Krakow, where an Independence Day rally speaker talked about burning Jews and the crowd chanted: "Down with the Jewish occupation."
Polish Senator Krzysztof Brejza of the opposition Civic Platform tweeted a photo of march participants bearing a banner with the Black Sun symbol used by the Nazi SS.
"During the Warsaw Uprising in 1944, thousands of Poles died at the hands of German Nazis from the SS.
"I don't know why the police didn't respond to such criminal symbolism in Warsaw, which suffered so much in World War II. On the other hand, demonstrators with democratic views were forcibly removed," he said.
Poland bans the promotion of "totalitarian ideologies," though exactly which symbols fall under the ban remains contentious. The Black Sun symbol has drawn attention recently as it is prominently used by Ukrainian far-right militias like the Azov Battalion, and NATO has been forced to delete tweets celebrating Ukrainian military action where the symbol has been spotted on troops' clothing.
Police removed protesters in Warsaw holding white roses and a banner reading "Nationalism is not patriotism" from their place alongside the march route, and held some for hours. Police spokesman Sylwester Marczak said they were held because they restricted police work and refused to show ID, but Poland's deputy human rights commissioner Hanna Machinska said the protesters had not been given a legal reason why they must show ID.
The annual Independence Day march in Poland has long been dominated by far-right groups, and as usual, this year saw banners proclaiming "white pride" and denouncing homosexuality, as well as abortion, which Poland's Law & Justice government has largely banned.
Open anti-Semitism is regularly expressed at Polish Independence Day rallies. Last year in the city of Kalisz, a crowd chanted "Death to Jews" in front of the town hall while burning a copy of the Statute of Kalisz, a 13th-century document granting Jews legal protections.