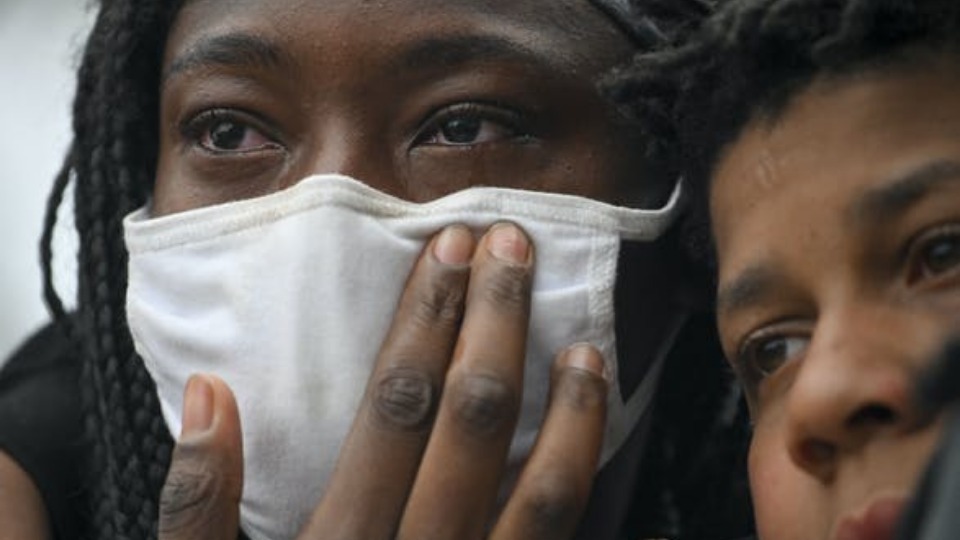 As Minneapolis approaches the halfway point of the trial of Derek Chauvin, the officer who murdered George Floyd, the Twin Cities region faces yet another incident of a cop killing a young Black man. On Sunday afternoon, police in the suburb of Brooklyn Center shot and killed 20-year-old Daunte Wright during a traffic stop.
Protests broke out almost immediately Sunday evening as news of Wright's killing spread. Hundreds of community members and local activists, outraged and distraught that the epidemic of police violence continues, hit the streets of Brooklyn Center, congregating near the building that houses the town's police department.
Chemical smoke filled the air and loud bangs were heard throughout the evening as Brooklyn Center police, supported by Minnesota State Patrol and National Guard forces already on standby for the Chauvin trial, pushed back demonstrators. A curfew was imposed by Mayor Mike Elliott and schools were ordered to move to virtual learning on Monday.
The Twin Cities Coalition for Justice 4 Lamar, formed in the wake of the police killing of Jamar Clark in Minneapolis in 2015, helped mobilize peaceful protests Sunday, disseminating information within hours of Wright's killing. The coalition has played a central role in the campaign for justice around the Chauvin trial and leads the fight to win community control of the police through the establishment of a Civilian Police Accountability Council.
In a statement on Twitter late Sunday night responding to Wright's killing, the NAACP said: "We don't want the hashtag. Don't want to wait and hear an explanation after all the facts come out. We are tired of offering thoughts and prayers in response to thoughtless law enforcement. We want to make it home. We want our families to make it home."
Family members of Wright told demonstrators that Daunte drove his car for a short distance after he was shot before crashing it and dying. His mother, Katie Wright, was present at one protest near the shooting scene. She asked that attention be kept on her son and how and why he died.
Anticipating that the media would focus on looting and property crimes—as it has—Daunte's mother appealed for the crowd to give television cameras no excuse to take attention away from her son and the actions of police.
"All the violence, if it keeps going, it's only going to be about the violence. We need it to be about why my son got shot for no reason at all," she pleaded. "We need to make sure it's about him and not about smashing police cars because that's not going to bring my son back."
Daunte's mother said that her son called her as the police were pulling him over. "All he did was have air fresheners in the car and they told him to get out of the car," she told the crowd. She said that Daunte told her he was being pulled over for having air fresheners hanging from his rearview mirror.
Police have not yet disclosed the alleged traffic violation that prompted officers to stop Wright as of this writing.
His mother said that she next heard scuffling on the other end of the line and someone yelling "Daunte, don't run" before the call was disconnected. When she was able to get through to his phone again, it was Daunte's girlfriend who answered, saying he'd been shot.
"He got out of the car, and his girlfriend said they shot him," Katie Wright said. "He got back in the car, and he drove away and crashed and now he's dead on the ground since 1:47. … Nobody will tell us anything. Nobody will talk to us. … I said please take my son off the ground."
Daunte Wright's body reportedly remained on the ground at the scene for several hours after he was killed.
The girlfriend, whose name has not been released, was in the car with Daunte and sustained non-life-threatening injuries when the car crashed.
Minnesota Public Safety Commissioner John Harrington said that Brooklyn Center police officers have body cameras, so there should be video—if they followed policy and had them turned on.
The Brooklyn Center Police Department claims that officers stopped a motorist—they haven't yet identified Daunte Wright—at around 2 p.m. on Sunday for a traffic violation. Upon discovering the driver had an outstanding arrest warrant, the department says officers attempted to arrest him. The statement alleges that the driver got back into the car, and then an officer fired at the vehicle, striking the driver. The car then went several blocks before hitting another vehicle.
The killing of Daunte Wright is already spilling over into the Derek Chauvin trial. On Monday morning, defense attorneys asked the judge to sequester the jury, blocking them from learning that police in the area had just killed another Black man. The judge turned down the plea from Eric Nelson, Chauvin's top lawyer.
Black Lives Matter St. Paul slammed the Chauvin team's tactics of trying to hide Wright's death from jurors, calling them "dirtbags" in a Facebook post Monday.
The organization also issued a call for another protest Monday evening at the headquarters of the Brooklyn Center Police Officers Association to demand that any video footage of Daunte's killing be released and the officers involved be arrested and charged as warranted.