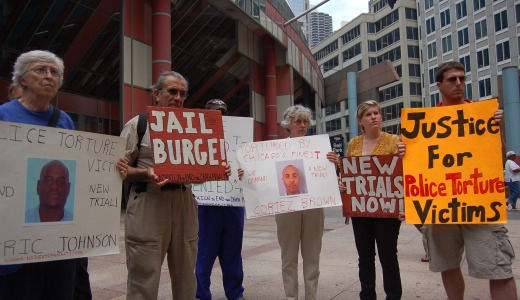 CHICAGO – A federal judge recently ruled that former Mayor Richard M. Daley can be sued as a defendant in a lawsuit filed over decades-old allegations of police torture and a citywide conspiracy to cover it up.
Daley is one of 16 others being sued by Michael Tillman, who says he was tortured into confessing to a 1986 murder under the command of former Chicago Police Cmdr. Jon Burge.
Burge is also one of the defendants in the Tillman suit.
More than 100 mostly African American and Latino men say Burge and men under his watch tortured false confessions out of them from the 1970s to the 1990s.
Attorneys note 15 men with torture claims against Burge and his cohorts are still behind bars and several others have been freed or exonerated. At least six men have civil suits pending against Burge.
Burge has never faced criminal charges for abuse. In 1993, he was fired from the Chicago Police Department over the 1982 beating and burning of Andrew Wilson, a suspect later convicted of killing two police officers.
Last year, Burge was convicted of perjury and obstruction of justice for lying in a civil court case when asked if he knew about the torture. He is currently serving a four-and-a-half year sentence in a federal prison.
Tillman served nearly 24 years behind bars before he was finally released last year and given a certificate of innocence from the Cook County Circuit Court. In his civil lawsuit, Tillman alleges the city conspired to cover up the torture cases.
Daley stepped down as mayor in May after 22 years in office. He served as Cook County state's attorney for eight years before becoming mayor and has been named in previous lawsuits filed by torture victims. However, judges have repeatedly dismissed him as a defendant, citing the absolute immunity given to prosecutors.
Attorneys for Tillman argue Daley could still be sued for his role in the alleged torture cover up as mayor.
Judge Rebecca Pallmeyer agreed, ruling in July that Daley should remain as a defendant on counts that accuse him in participating in an alleged conspiracy to cover up torture during his mayoral tenure.
Tillman's attorney, Flint Taylor, with the People's Law Office, told the Chicago Tribune the ruling is a very significant victory in the case. "It's the first time that a federal judge has acknowledged that Daley was part of a conspiracy to cover up the torture," he said.
Daley and his city-hired attorneys have received notice to appear for deposition on Sept. 8. However, Daley filed a motion asking to be dismissed from Tillman's suit. A ruling on the motion has not been issued yet.
Meanwhile Chicago's current Mayor Rahm Emanuel says he and the city have an obligation to front Daley's legal expenses.
The city also continues to pay the legal bills of Jon Burge, yet Emanuel agrees with Ill. Attorney General Lisa Madigan that Burge should lose his city pension because he was convicted.
In other news, a group of 60 elected officials, judges and attorneys are calling on the Illinois Supreme Court to order hearings into allegations that at least 15 men remain in jail despite their claims of torture under Burge.
The friend-of-the-court brief, filed this week, includes the signatures of former Illinois Gov. Jim Thompson and former U.S. Sen. Adlai E. Stevenson III.
Lawyers filed the brief in the case of Stanley Wrice, an inmate that has been claiming since 1982 that Burge's officers tortured him into confessing a sexual assault crime he says he never committed.
Wrice, 57, is serving a 100-year sentence and is one of the longest-serving inmates with a Burge torture claim. He says Burge's men beat him.
Each of Wrice's attempts for a new hearing had been turned down until December, when the appellate court granted him a new evidentiary hearing.
Attorneys note the brief marks the first effort on behalf of alleged Burge victims as a group and not separate individual cases.
The brief asks the high court to order prosecutors to identify each inmate who claims their confessions was coerced by Burge or his men, appoint lawyers to inmates who need them, order evidentiary hearings in the cases and to order the Cook County Circuit Court to vacate the convictions of inmates whose convictions were based on coerced confessions.
Photo: Pepe Lozano/PW