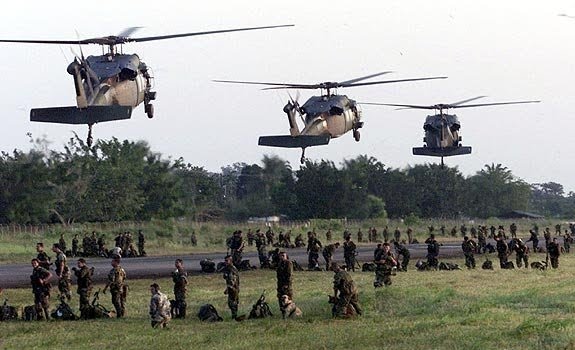 The year 2014 had barely begun and already assassins had killed activist rapper Gerson Martínez, community leader Giovanny Leiton, Leiton's life partner, and unionist Ever Luis Marin Rolong. A police projectile thrown at Sintraelecol union president Óscar Arturo Orozco gravely injured his left eye. He had been speaking at a union rally in Manizales, Caldas,
On Jan. 4 in Cucuta, the Catatumbo epicenter of a June 2013 agrarian revolt, authorities detained university professor Francisco Toloza. Leiton and Toloza are leaders of the two-year-old Patriotic March grouping of social movements. Patriotic March is spearheading revived agitation for agrarian rights.
War in Colombia has long reflected opposed views of control and use of land. Land use was the first agenda item in peace talks under way in Cuba between the Colombian government and the Revolutionary Armed Forces of Colombia (FARC).
The killers of 25 Patriotic March activists murdered in 2013 are still at large. Assassins that year also took the lives of 26 unionists associated with the CUT labor federation. Over 90 percent of those targeted were union leaders. The National Labor School reports that paramilitary groups accounted for 92 percent of the violations, with the police or military responsible for 19 percent.
News of deadly assaults against Colombian advocates for change is not new. Over the course of decades, tens of thousands of poor farmers, marginalized city dwellers, teachers, unionists, and political activists were murdered. The toll of murdered unionists since 1984 is estimated at 3,000.
What may be new is the turn to filling jails with political adversaries, especially with leaders like Francisco Toloza. Jail time for him and detained counterparts may be advantageous for those in charge. They gain credit for using courts rather than killing. And hoopla surrounding such cases bolsters the image of the FARC as the enemy and of opposition figures as loyal to the FARC.
The government alleges that Toloza and many others belong to the FARC and are guilty of "aggravated rebellion." Supposed evidence comes from computers retrieved, as the story goes, from sites ravaged by bombs that killed FARC leaders.
Toloza is a sociology professor and researcher at Colombia's National University who, encouraged by peace negotiators in Havana, organized national forums allowing the public to discuss issues covered in the talks. Olga Quintero, collaborator of Toloza in agrarian organizing in Catatumbo, describes him as "more than a leader, he has great intellectual capabilities and is committed to contributing to the social process and change the country requires."
Fellow Patriotic March leader Lilia Solano said, "The persecution of dissident thought is not only a problem for Patriotic March, but is also one for thousands of Colombians who don't accept the politics of hate and plunder they [the authorities] have imposed."
Toloza's persecution follows the imprisonment earlier of similarly charged Huber Bellesteros, another Patriotic March member. The CUT unionist and vice president of the Fensuagro agricultural workers' union was spokesperson for the MIA collective that in August 2013 organized a nationwide strike for agrarian rights and against Colombia's "free trade" agreement with the United States. Authorities jailed Bellesteros at the strike's onset.
After almost three years of incarceration, Fensuagro human rights director Liliany Obando is at conditional liberty as she awaits a Supreme Judicial Court ruling on her appeal. Convicted of rebellion, she was sentenced to house arrest for five years and fined the equivalent of $368,347.
Political prisoner David Ravelo is serving an 18-year prison term because he publicized ex-President Alvaro Uribe's close ties with paramilitary chieftains who then and now were terrorizing Ravelo's native Barrancabermeja. Their false accusation that Ravelo helped out with a 1991 murder led to his conviction in December 2012. Ravelo is a Colombian Communist Party leader, an educator, a union organizer, and an award-winning human rights human rights activist.
Such prisoners join 9,500 other Colombians incarcerated for politics of resistance. The political prisoner population is rising along with a 70.4 percent increase in the overall prison population between 1998 and 2009. Prisons are overfilled: 17.2 percent over capacity in 2007, 25.5 percent in 2008; 35.8 percent in 2009, and 41.7 percent in 2010.
The Jan. 4 jailing of the two Patriotic March leaders has evoked outpourings of support and condemnation of governmental repression. Left political parties worldwide, unions, and human rights groups have come to Toloza's defense. "We demand immediate freedom for Francisco Tolozo and end of persecution of Patriotic March," wrote Carlos Lozano, editor of Colombia's Voz weekly newspaper. "Huber Ballesteros and now Francisco Toloza: those are not gestures of peace."
Surely commentator Sara Leukos' concerns are widely shared: "Inside Colombia the peace talks express one reality and [President] Juan Manuel Santos' constitutional powers establish another. Are they different languages?" She adds: "Incarceration of Professor Francisco Javier Toloza, just like the assassinations, political prisoners, persecution, and threats … generate open debate over the importance of real, structural changes required of the Colombian state. The people have called for popular rebellion, and necessarily so."
Photo: Colombian Army Blackhawks transporting troops to an area of combat with FARC guerrillas, in an undated photo. Wikipedia Commons