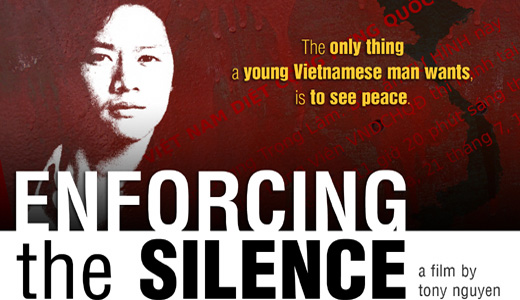 We all know the Vietnam War did not end in 1975: the 20-year U.S. embargo, boat people, re-education camps, sick and disabled veterans from all sides, the never-ending effects of Agent Orange and unexploded ordinance, and much more.
An unexplored and deadly consequence of the war, however, occurred on U.S. soil – the political assassinations of six Vietnamese-Americans, five of them journalists – between 1981 and 1990.
"Enforcing the Silence" is a brave new hour-long documentary film by Tony Nguyen, a 35-year-old Bay Area-based community worker turned filmmaker.
Nguyen was only 5 when a handsome young journalist and community organizer named Lam Duong was shot and killed in broad daylight on a San Francisco street as he stepped out of his apartment building on July 21, 1981. More than 25 years later, Nguyen came upon the story while working at his former job with the American Friends Service Committee (the Quakers). It was then that he intersected with the Vietnamese Youth Development Center in San Francisco, where Duong had worked and which he had founded in 1978.
Inspired to tell this hidden story, Nguyen interviewed former colleagues, classmates, reporters and police investigators who handled Duong's case, but was struck by the refusal to this day of the victim's family members to speak on camera for fear of reprisals. Within a week of the murder, a Vietnamese group had claimed the assassination. Not surprisingly, Nguyen was unable to interview any members of local Vietnamese anti-communist groups for the film.
Many members of the large San Francisco-Bay Area Vietnamese community still assert that Duong, then 27, was killed for his unpopular political views, which included reprinting stories from communist post-war Vietnam in his self-published community newspaper The Village Temple. Some also said that his successful social work, which he combined with his liberal views, made him a target.
Tony Nguyen's moving documentary premiered at the Los Angeles Asian Pacific Film Festival, to a rave review in the L.A. Times, on April 30th – the 36th anniversary of the war's end. With growing funding, it will be screened across the nation, including a San Francisco premiere at the Roxie cinema in the Mission District on July 21st – the 30th anniversary of Lam Duong's death.
A vociferous, and sometimes violent, right-wing political current still courses through the Vietnamese-American community today – enforcing a silence over many issues that the youth especially feel need to be openly aired.
As Lam Duong himself said, "The only thing a young Vietnamese man wants, is to see peace." This is clearly the sentiment of the filmmaker and many of his generation.
As America finds itself entrenched in conflicts in Iraq, Afghanistan, Pakistan and now Libya, this film offers fresh insight into the long-term costs of war.
Photo: enforcingthesilence.com. Also visit the website for a trailer, reviews, and to leave comments.