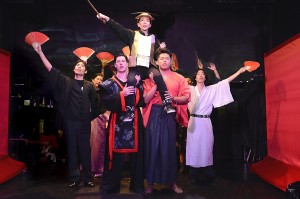 LOS ANGELES – Seriously? A musical about the HIV-tainted blood supply that killed off an estimated 2,000 unsuspecting Japanese hemophiliacs and others receiving transfusions? Yes, seriously. Unlikely and improbable, but very seriously.
World-renowned film and theater director Robert Allan Ackerman (Google him if you want to know who he is) lived and worked in Tokyo for nearly two decades just when the blood scandal emerged in the early 1980s. At the time, he wrote a screenplay about it, but it never got produced. Now in Los Angeles, working with a group of mostly young, multicultural performers who wanted to be in a play, Ackerman remembered the episode. His script morphed into Blood, a world premiere political thriller with music that he has written and directed. Some of the characters and details have changed, but it is essentially the factual story as it has gradually come to light.
U.S. companies knowingly sold contaminated blood to Japan, where pharmaceutical companies continued to distribute raw blood products despite the existence of heat treatments proven to prevent the spread of infection. The scandal triggered public outrage against the drug industry and the Japanese government officials charged with regulating it. Conspiracy charges were filed against high-ranking officials in the Ministry of Health and Welfare, executives of the manufacturing company involved, and a leading doctor in the field of hemophilia.
The trial lasted over a decade. It wasn't until early 2000 that an Osaka court handed down prison sentences and official apologies were tendered. No defendants on the American side of the corruption were ever brought to justice. There are hints in Blood of right-wing political connections to the scandal, and also of organized crime involvement, but these are not fully explored.
"One of the reasons this case took so long to unfold is that none of the victims or their families were willing to come forward," explains Ackerman, who got to know Japanese culture intimately. "Being polite, softspoken and deferential to authority is ingrained in the culture. To be sick with AIDS was a source of great shame. Even when the case finally went to trial, the plaintiffs testified from behind black curtains. In the end, it was a young boy who broke the silence, although even he did not publicly reveal his name for another 10 years. Today, Ryuhei Kawada, who miraculously survived, serves as a member of the Japanese Parliament."
A member of the House of Councilors since 2007, and active on health, welfare and labor issues, Kawada recalls, "In 1995, at the age of 19, I revealed my real name as a victim of AIDS-tainted blood product, in order to fully fight against the government and the pharmaceutical company in the trial, wishing to never have such a disaster repeated ever again. Today, more than 20 years later and across the ocean in the United States, this stage play is created based on that incident – I am more than thrilled."
Today Blood takes on additional layers of meaning owing to malfeasance surrounding the recent nuclear accident at Fukushima, the methane gas leak at Porter Ranch in California, the discovery of lead in the drinking water in Flint, Michigan, and hospital medical devices, promoted by manufacturers and their bought-off physician advocates, that cannot be adequately cleaned to prevent infection by fatal superbugs.
"If You Want to Know Who We Are…"
An ambitious multimedia semi-documentary event combining elements of kabuki, Japanese dance, ritual and song, projections, portable screens, and a large, hyperactive cast on a postage-stamp stage, Blood incorporates songs such as "If You Want to Know Who We Are…We're the Ministers of Nippon" adapted from Gilbert and Sullivan's The Mikado, which was of course in its day a pointed satire of Victorian officialdom in Great Britain. Other original music, songs and rap are by "The Virgins" bassist Nick Ackerman and "Jet" drummer/vocalist Chris Cester.
Inevitable comparisons can be made to other works that highlight the Japanese-American relationship, such as Sondheim's Pacific Overtures and, naturally, Puccini's opera Madame Butterfly. Blood marks the debut production of The Garage theater company. The fleet-footed ensemble take on multiple roles; ethnic type-casting is not ignored, but is loosely observed.
Alexa Hamilton plays the American reporter Jules Davis who uncovers the story (factually it was a Japanese woman journalist who scooped the scandal), and Sohee Park portrays the Japanese-Korean lawyer who heads up the investigation. (An important side story in Blood is the historic prejudice against non-ethnic Japanese, especially Koreans. The capacity to "come out" about HIV is paralleled by the movement to erase the social stigma over not being of "pure" Japanese, uh, blood.) Other important roles are Takuma Anzai as Ken, Jules' former Tokyo college buddy, and Kazumi Aihara as a hospital nurse who becomes an unwilling witness to unfolding events. Miho Ando portrays Koyo Ninomiya, the young whistle-blower based on Councilor Kawada, and Saki Miata plays his mother.
Toshi Toda's Dr. Kazema is based on the real-life Dr. Takeshi Abe who served as president of Japan's AIDS Research Committee and the Hemophilia Society. He believed that "pure" Japanese were genetically immune to AIDS, so his cavalier experiments on his patients with HIV-tainted blood were perhaps meant to prove a point of racial superiority, even as he saw them dying and even as he covered up their cause of death. Years earlier, during World War II, he was thought to have conducted medical experiments on Chinese and Korean prisoners.
Fast moving, eye-catching, colorful, deeply affecting, cathartic and redemptive, Blood holds your interest from beginning to end. Even if the subject matter as such might not be of particular interest, it's a gift to see such powerful themes and such varied theatrical discipline poured into this absorbing tale. I can't believe that five weeks of this little production will mark the end of this work's saga.
Blood is performed now through April 3, Fridays and Saturdays at 8 pm, and Sundays at 3 pm, at The Complex, 6476 Santa Monica Blvd. Hollywood 90038. For tickets and further information: (323) 960-7745 or www.plays411.com/blood.
Photo: Takaaki Hirakawa,Mika Santoh, Michael Joseph, Miho Ando (center), Ash Ashina, Takuma Anzai. Photo by Ed Krieger.