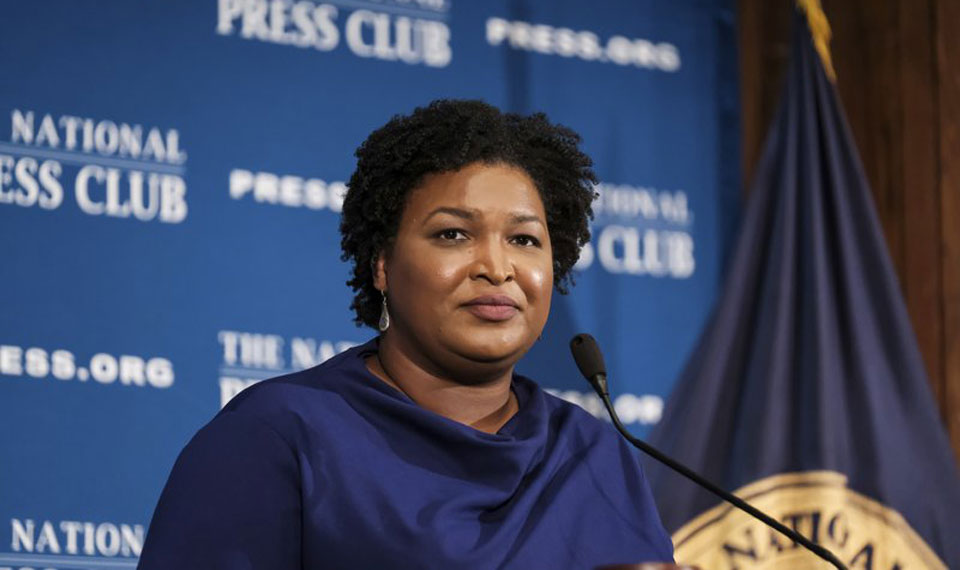 WASHINGTON—State by state and on Capitol Hill, the war in the U.S. over voting rights versus voter suppression is heating up.
On the side of voting rights: Congressional Democrats, Democratic President Joe Biden, 83% of the public—including 74% of Republicans—according to a recent poll, and a coalition of 190 labor, progressive, civil rights, religious, women's, gay, green and other groups, who plan to take to the streets and lobby their lawmakers while Congress is in recess during the week of April 5-9.
On the side of voter suppression: Congressional and state Republicans, notably those in deep-red states led by Iowa and Georgia, right-wing ideologues and think tanks, white nativist and racist groups, and, the latest entry, the secretive cabal of the often-criminal corporate class, the American Legislative Exchange Council. Its participation makes the class war over voting obvious.
At stake: The future of U.S. democracy and who will rule—the 1%, the white nationalists, the right-wing ideologues and their GOP puppets, or the rest of us?
Right now, the suppressors are marching, state by state, jamming through legislation that virtually takes away the right to vote through a wide range of methods. They're rigging the system by imposing laws that even exceed the South's racist Jim Crow laws, Georgia voting rights leader Stacey Abrams, says. So does Biden.
The suppressors' schemes include but are not limited to making voter registration harder, curbing absentee balloting, banning early voting, eliminating alternatives—such as drop boxes for ballots—to in-person voting, and imposing onerous "voter ID" laws. In Georgia, they even made it a felony to offer food and water to voters, especially voters of color. They are putting control of local election boards in minority areas in the hands of statewide Republican legislators and they are allowing those legislators to override voters and send their own slates of electors to the electoral college.
Backers of voting rights are striking back, through the mass mobilization planned by the Defend American Democracy Coalition. Details are at www.dfadcoalition.org.
They'll pressure Congress to back comprehensive pro-voter reforms embodied in HR1, the For The People Act, which the Democratic-run House passed earlier this year, and its companion in the 50-50 Senate, S1. Majority Leader Chuck Schumer, D-N.Y., plans to soon bring it to the floor. And there'll be a separate Senate hearing on a pro-Voting Rights Act measure, HR4, too.
HR1/S1 would modernize, open access, and restore public trust" in elections, Michael Waldman, president of NYU's Brennan Center for Law and Justice, told the Senate Rules Committee in March.
"The Senate considers S1 at a time of crisis for our democracy. Legislatures are moving to enact curbs on voting, an assault on voting rights that targets people of color. This legislation would stop the new wave of voter suppression, cold. Congress has the power to do so—legally and constitutionally. We urge the Senate to do so," he said.
It "sets national standards to ensure all eligible citizens can cast a ballot—guaranteeing access to the vote by mail and early voting, and extending automatic voter registration nationwide, bans partisan gerrymandering and sets clear rules for drawing congressional districts, curbs the corrosive role of big money in politics, requiring disclosure and enforcement, and enacts a system of voluntary small donor matching funds."
The measure, which Waldman calls the most significant election reform since Watergate, "would foil state efforts to manipulate voting rules to exclude eligible voters or create discriminatory outcomes," the Brennan Center wrote to senators. The center also announced HR1/S1 picked up a key swing vote supporter, Sen. Joe Manchin, D-W. Va., whose vote is necessary in the 50-50 Senate.
Strengthens the Voting Rights Act
HR1/S1 also codifies and toughens federal ethics codes, strengthens the Voting Rights Act, and restores the right to vote for people with past criminal convictions who served their sentences. That provision would help people of color, especially Blacks, who are disproportionately convicted and jailed by a skewed criminal justice system.
"Each of these bold reforms meets an urgent need. Each has been found to work at the national, state, or local level. They work together to advance our system of self-government," Waldman said.
All this was triggered by former Oval Office occupant Donald Trump's lies about "voter fraud" and absentee balloting and "Stop the steal!" which prompted the Jan. 6 U.S. Capitol Trumpite invasion and insurrection, an attempt to engineer a coup to keep Trump and his backers in power.
The war itself has been going on for decades. It intensified after the U.S. Supreme Court's 2010 Citizens United decision. There, the five-man GOP-named majority opened the floodgates to a tsunami of corporate cash flooding into politics—and then followed it up several years later with another ruling, in a case from the Deep South, allowing a second flood of individual contributions, too.
But it's not just state legislation that's the problem. It's the ideological alliance joined together to keep people of color, women, workers, and youth of all races from exercising their fundamental right to vote.
Republicans, racists, corporate interests, and white nationalists are out to suppress the vote and stop what they snidely and falsely call "The Corrupt Politicians Act."
That's just one lie they're already propagating, including flooding social media, again. Other lies charge the measure would finance politicians' campaigns, encourage widespread fraud and lead to "taxpayer funded bumper stickers and attack ads," said Senate Minority Leader Mitch McConnell, R-Ky., a longtime foe of campaign reform and recipient of millions of dollars in corporate campaign cash.
The GOP's main action is in the states. How bad is it? Georgia had long lines for its presidential primaries last July, in high heat and humidity during the pandemic, especially in Black-dominated precincts. Ruling Republicans had shut down polling stations. The Georgia law would not only make registration and mail-in voting harder but would make it a felony for anyone to offer food or water to a voter standing in line.
Georgia's law pissed off Biden, a strong supporter of HR1/S1. He's asked his Justice Department to look into what it can do about Georgia's law. Three Georgian civil rights groups have already sued to stop it in federal court in Atlanta.
But it tells you everything you need to know about the voter suppression movement that a leader of it, Sen. Ted Cruz, R-Texas, found ALEC as an ally, the Center for Media and Democracy reports.
Cruz, of course, was one of the two leading GOP senators scheming to keep Trump in the White House after Jan. 20, even though Biden officially won the election. Cruz didn't stop scheming even after the white nationalist invasion. As might be expected, he loudly and violently opposes S1.
But Republican extremists, such as Cruz or Sen. Lindsay Graham, R-S.C.,–who told GOP megaphone Fox News Sunday the bill is the "biggest power grab" in U.S. history—aren't its sole foes. It's the rest of the GOP and their backers.
Sen. Pat Toomey, R-Pa., told Chuck Todd on NBC's Meet the Press HR1/S1, would never pass. "There is a completely false narrative about so-called voter suppression," the senator contended. He even falsely said the Georgia law expands voter access—something its provisions make clear it drastically restricts.
"Won't be cowed," he says
"We're not going to be cowed by being called racists over a policy that has nothing to do with race," Toomey told a disbelieving Todd.
Lurking behind Trump, Cruz, Graham, ALEC, and Toomey in the voter suppression campaign are other ideologues. They include Heritage Action, the Center for National Policy, a so-called "Christian" group, and the Family Research Council, which has been officially labeled a racist hate group by the nation's leading tracker of such organizations, the Southern Poverty Law Center.
The association of GOP state attorneys general has already declared if HR1/S1 becomes law, they'll sue to overturn it on constitutional grounds—counting on the six GOP-named U.S. Supreme Court justices to agree.
Arrayed against them and for HR1/S1, are Biden, congressional Democrats, and the democracy coalition.
The coalition includes the Teachers (AFT), Pride at Work, SEIU, the Jewish labor group Workers Circle, Color of Change, Common Cause, Indivisible, Rock The Vote, March For Our Lives, the Brady Campaign Against Gun Violence, the Sunlight Coalition, Democracy 21, the League of Conservation Voters, Planned Parenthood's political action arm, MoveOn, the National Abortion Rights Action League and the National Partnership for Women and Families, among others.
As for Biden, he told reporters on March 26 "we're working on that"—how to respond to the Georgian GOP's assault on voting rights—"right now."
"We don't know quite exactly what we can do at this point. The Justice Department's taking a look as well." The Georgia suppression law, pushed and signed by right-wing GOP Gov. Brian Kemp after no fraud was found at all in Biden's 11,779-vote win in the Peach State, is "an atrocity."
"It has nothing to do with fairness, nothing to do with decency. They passed the law saying you can't provide water for people standing in line while they're waiting to vote? You don't need anything else to know that this is nothing but punitive, designed to keep people from voting. You can't provide water for people about to vote? Give me a break."