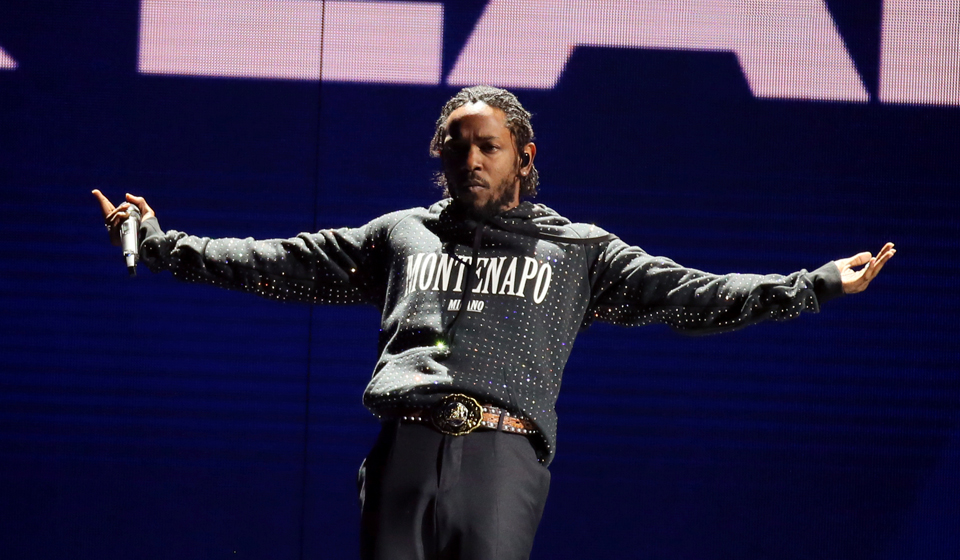 Compton-born rapper Kendrick Lamar has made history after being awarded the Pulitzer Prize for his 2017 rap album, Damn. During a press conference at the World Room inside Columbia University, Pulitzer administrator Dana Canedy listed off the various winners and finalists, saving Lamar for last. The California-based artist became the first non-jazz or classical artist to collect that honor in its 75-year existence.
Damn was Lamar's fourth studio album and featured hits such as "Humble" and "DNA." The Pulitzer board called the album a "virtuosic song collection unified by its vernacular authenticity," marking a shift in the public's perception of rap as a valid literary genre.
Hip hop has battled against public disapproval and respectability politics for decades; it has historically not received the same critical acclaim that other genres have been awarded, despite its massive commercial success. Even Lamar himself has been passed over multiple times for Album of the Year by the Grammys. Despite its ongoing struggle to be taken seriously, rap has never shied away from political discourse. Old school hip hop heads, such as Public Enemy, KRS-1, and Rakim, had long ago been calling for radical social transformation.
The different variations of rap have allowed hip hop to evolve into a versatile and heavily commercialized genre. Mumble rap, trap, alternative, and underground are just some of the many different faces that rap takes on. It was during the '80s that hip hop really became a tool to challenge the hegemonic authoritarianism of its time. Gangster rap, for example, utilized lyricism in order to make political, and what some considered politically incorrect, statements about society.
NWA (N*ggaz Wit Attitudes) was one of the pioneers of political gangster rap; the controversial group rose to fame in 1988 after the release of their debut album, Straight Outta Compton. The hip hop group often rapped about their run-ins with the law, and the struggles with growing up in the ghettos of Compton.
Not afraid to scream what was being whispered, NWA became known for their outspoken disdain toward the police and declared themselves the "world's most dangerous group." Their unapologetic nature led to clashes with law enforcement and backlash from conservatives. According to BBC, this behavior prompted FBI assistant director Milt Ahlerich to issue a letter to NWA's record label complaining about them. "Music plays a significant role in society," he said, claiming the song "encourages violence against and disrespect for the law enforcement officer."
Fast forward three decades later and Lamar has put Compton on the map once again—this time with his individualistic style of alternative rapping, intricate lyricisms, and racially charged messages. K-Dot (Lamar's rapper name) released his debut album, good kid, m.A.A.d city, in 2012 and has since dropped a multitude of popular tracks. Lamar's most recent album included songs such as "XXX," a scathing critique of U.S. imperialism that includes verses such as, "The great American flag is wrapped and dragged with explosives, Compulsive disorder, sons and daughters barricaded blocks and borders." The rapper's work has been met with overwhelmingly positive reactions and has been praised for raising the bar in rap.
Regardless of his commercial and critical acclaim, Lamar's Pulitzer Prize is emblematic of something bigger than himself. Damn's recognition is indicative of a changing attitude towards genres, like hip hop, that have suffered under the respectability politics of musical elitism.
Rap has now surpassed rock as the most popular music genre in the world, but it has sacrificed much to be accepted in the mainstream music industry. Rappers have faced controversy over hyper-sexualization, misogyny, racial overtones, and excessive mentions of violence. Songs such as Ice-T's "Cop Killer" were banned in music stores nationwide due to continual threats of boycott. Similarly, popular rappers like Eminem have been censured due to their crude lyrics and explicit verses.
In recent years, however, hip hop has taken a drastically different shape. Artists like Kendrick Lamar have accomplished what rappers before him were unable to: He has generated a dominant platform for political rap. Lamar creates music that is representative of radical black diaspora, while also packaging sociopolitical discourse for mainstream consumerism. This was something that predecessors, such as Lupe FIasco, Common, Killer Mike, and Mos Def, were not able to do in the same mainstream capacity.
Regardless of how or why this shift is occurring, no one can deny the unrelenting talent that is Kendrick Lamar. The 30-year-old is setting the bar high for all musicians, and continues to push himself beyond the industry's artistic limits. Between his melodic perfectionism and compelling political verses, it is easy to see that Damn is only the tip of the lyrical iceberg.