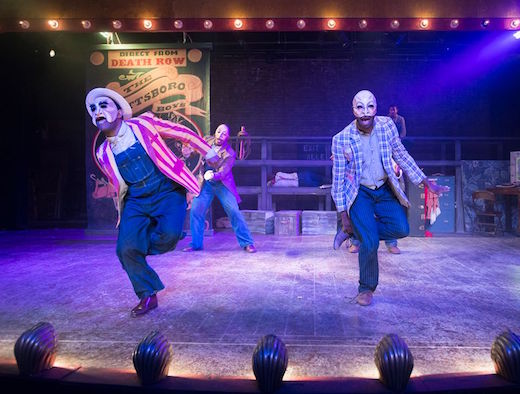 Rapper Vic Mensa's latest release There's A Lot Going On (a response to Marvin Gaye's What's Going On?) features as cover art an image of Mensa with a target tattooing his torso, front and back. Mensa's answer to Gaye's question is clear: African Americans are being murdered across the U.S., as if wearing targets, especially for police, as evidenced by the killings of Laquan McDonald, Sandra Bland, Michael Brown, Tamir Rice, Eric Garner, Trayvon Martin, Oscar Grant, Amadou Diallo, and on and on.
Being Black in America means living on death row. Indeed, the famous rap label title Death Row Records signifies rap artists' giving voice in their songs to the African American experience, which in part entails highlighting the fatal risks attached to having black skin in America.
Chicago's Raven Theatre's current but soon-to-be-gone political musical production Direct from Death Row The Scottsboro Boys (An Evening of Vaudeville and Sorrow), directed by Michael Menendian, written by Mark Stein with music and lyrics by Harley White Jr., is a must-see show that underscores this theme, powerfully dramatizing in historical perspective-in social, political, and cultural terms-the recursive violence and deadly threat African Americans endure both as a matter of everyday living in the United States and at the hands of a racist U.S. justice system.
Creatively documenting while also analyzing the historical case involving nine African American teenagers falsely accused of raping two white women on a train in Alabama in 1931, this production, featuring an all-African American cast, charts these teenagers' experiences of enduring multiple unfair trials riddled with blatant racist prejudice, of living years in prison on death row, and of becoming lightning rods in larger political struggles such that their individual lives at times became secondary to the political causes their experiences emblematized.
Portraying interventions by the American Communist Party (CPUSA) and the NAACP both to legally represent the Scottsboro boys and draw attention to and mobilize people around their political agendas, the play invites us to think about the possibilities and pitfalls of political representation -of how political organizations represent the lives and interests of others and of how they need to develop political movements that address larger social issues while remaining attentive to the human lives suffering under the injustices.
White face turns vaudeville upside down
The most striking dimension of this political musical is the use of white face. The cast, when portraying white characters (and even when portraying NAACP head Walter White), wear white masks, reversing the power dynamic involved in the racist cultural practice of the minstrel show. Popular in the vaudeville tradition, which this show draws on, the minstrel show often featured white performers wearing black face and presenting racist caricatures of African Americans and their culture.
With the white masks, the play explores issues of representation, cultural and otherwise, in conditioning our political understanding of others, and also takes control of those representational practices it critiques, using them for its own purposes. The African American characters take on the roles of, speaking for, white authority figures from the racist Southern judges and attorneys to elite African American political authorities such as NAACP's White to a Northern Jewish lawyer such as Sam Leibowitz (whom the CPUSA hires to represent the nine young men in an appeal) to CPUSA lawyer Brodsky. All these characters are portrayed as having their own ideological or personal interests to uphold, none of which, arguably, fully align with the boys' immediate human concerns. Representing these interests in white face, the Black characters reveal this lack of alignment, highlighting the distances that develop between ideologies and human lives.
Who speaks for the Scottsboro nine?
For example, actor Breon Arzell, who plays Scottsboro boy Willie Roberson, also wonderfully plays Brodsky, the lawyer from the International Labor Defense, an arm of the CPUSA, wearing a white mask. In contrast to the typical dynamic in our political and cultural spheres where white people in positions of cultural and political authority represent African Americans and their interests, in Direct from Death Row the dynamic is reversed as the Scottsboro boys speak for white authorities with the effect of not so much caricaturing them but rather decoding in blunt terms the unspoken or coded realities and interests behind their rhetoric and dog-whistle expressions. The question arises, as the NAACP and CPUSA vie for the role of providing exclusive legal representation for the Scottsboro boys, as to whether these groups are fully engaged in representing the interests of the teenagers or have flocked to the case in order to promote their political agendas.
In one of the most remarkable scenes, representative of the drama's creativity and brilliance, Brodsky performs, while singing and dancing, an extended magic trick, an exercise in political deftness as he makes links of scarves alternately grow and disappear, folding them into his closed palms or those of the Scottsboro boys and then pulling them out the other end, finally producing one large piece of fabric that, when unraveled, reveals a Soviet flag with the Communist-associated image of the hammer and sickle. As he dances, he is spouting what we might take to be traditional communist rhetoric about the need for "mass action," about the shared interests of Black and white workers under the exploitative system of capitalism, about the class struggle and so forth.
When done, Brodsky asks the boys if they understand. They nod and smile, and then as he turns away shrug their shoulders sharing puzzled looks, indicating that they don't comprehend the larger ideological orbit into which they are being thrust. As the scene ends, Brodsky unfurls a comically long scroll of a contract for the boys to sign, suggesting a certain sneakiness on Brodsky's part that suggests the CPUSA's interest in the case just may have a self-serving dimension-or, perhaps more fairly, the CPUSA's interest exceeds that of the boys and their interest in the boys lies first and foremost in their value in furthering a larger political cause, not in simply freeing them.
Later, a similar contract-signing and song and dance scene with NAACP leader Walter White, who, despite being African American, also appears in white face (although his mask might have been beiger than the others), suggesting the NAACP's more conservative ideological stances, at the time, particularly in terms of class ideology, and even its complicity with or internalization of racist cultural norms (White does say at one point in the play that the NAACP was slow to take interest in the case because it figured the boys were guilty, indicating their own prejudicial beliefs in Black criminality, particularly around the rape of white women). These scenes suggest that the case has different ideological meanings for these groups and thus different political uses for each.
The production recognizes the important roles of the CPUSA and the NAACP in aiding the boys and addressing issues of our racist justice system. As Brodsky notes, without the CPUSA there wouldn't have been a Scottsboro boys, only nine dead Black youth. White's character highlights the NAACP's role in in hoeing the long legal road-as opposed to the CPUSA's more dramatic mass action tactics-yielding important Supreme Court decisions from the trials: Powell vs. Alabama, ruling the teenagers did not receive proper legal counsel in the first trial and Norris vs. Alabama which ruled they were deprived of a jury of one's peers because of the lack of African American jurors.
Anti-communist politics too
As one who studies the CPUSA, appreciating its role in U.S. society, I was at times uncomfortable with the representation of the CPUSA, even when I saw some truth. I always worry that such representations will only fuel anti-communist ideology, which has been so disarming and damaging to efforts to achieve social justice in the U.S.
It is worth recognizing, in ways the play doesn't, that the CPUSA had a long history of and engagement in anti-racist struggle and had a substantial African American membership active around and leading the Scottsboro case, as well as other anti-racist struggles, including the renowned Councilman from Harlem, Ben Davis. Thus, it would be historically inaccurate to see the CPUSA as a largely white organization exploiting Black issues as opposed to understanding this organization as a vibrant and important vehicle through which Blacks in the United States sought justice.
In the end, Direct from Death Row is fair and profound in raising issues, making us reflect on the need to be vigilant that any movement sustains an attentiveness to the people whose lives it seeks to transform. It is easy for the cause to overwhelm our attention to individuals' lives.
Also, the play raises important questions about issues of representation in political and cultural spheres. Through the music, the play effectively interrogates a range of "American" cultural traditions and practices in terms of their complicity with racist ideology.
From Mensa to Clinton
The show also made me think about Michael Dyson's comments that Hillary Clinton might be more effective addressing racial issues than President Barack Obama. The play asks us to think in complex ways about who can represent Black interests, interrogating both the NAACP and the CPUSA.
In a grotesque political season, Direct from Death Row brings entertainment to politics in a way that, for all the pain and tragedy of the story, allows us to enjoy it aesthetically, energizing us to think critically and engage an unpleasant world from which we might naturally want to turn away.
Direct from Death Row The Scottsboro Boys (An Evening of Vaudeville and Sorrow) plays Aug. 26 and Aug. 27 at 7:30 p.m. at The Raven Theatre, 6157 N. Clark St, Chicago, Ill. For information and tickets, please contact 773-338-2177 or www.raventheatre.com.
Photo: With Breon Arzell Jackson as Joe Brodsky, left front, Semaj Miller, back left as Attorney General Knight, and Andrew Malone, right as Sam Leibowitz. (via Raven Theatre Facebook page)