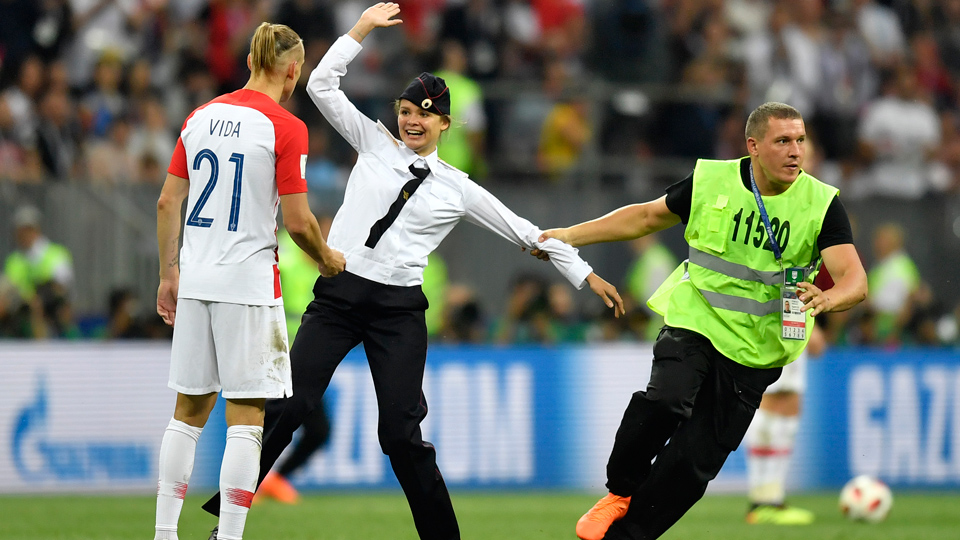 It is finally over. That one moment every four years when U.S sports fans all of a sudden care deeply and passionately about fútbol—gee, I wonder if it's because we're a nation of immigrants?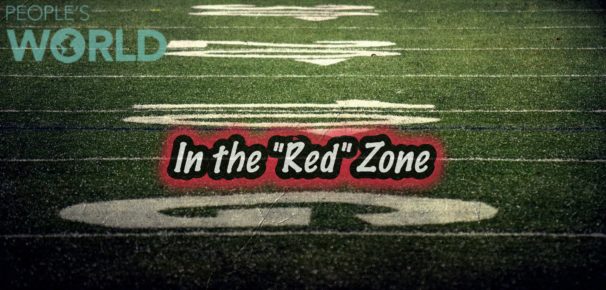 The championship round between France and Croatia went down Sunday and was a spectacular climax to a month filled with some of the most exciting fútbol played in World Cup history.
France beat Croatia 4-2, which led to images of France's players leaping into the crowds, dancing on tables, and spraying champagne. Above the pitches' fray was French President Emmanuel Macron jumping out of his cushioned seat, both fists in the air celebrating the victory. This World Cup win marks the second in the team's history.
But even such fierce gameplay, followed by post-game elation for fans on one side, sadness on the other, could not block out the politics found inside the Moscow stadium.
Dressed in Russian police uniforms, four members of the anti-Kremlin, anti-Putin group Pussy Riot stormed onto the pitch, with two making it all the way to the midfield, before being detained by actual police. Shortly after, Pussy Riot took to social media claiming responsibility for the direct action and released a lyrical statement of demands inspired by the words of Russian poet Dmitri Prigov that included the immediate "stop of illegal arrests at rallies" and the release of all political prisoners:
1. Free all political prisoners.
2. Don't plant for likes.
3. Stop illegal arrests at rallies.
4. Allow political competition in the country.
5. Don't fabricate criminal cases and don't keep people just like that in sizo.
6. Turn the earth militiamen into the heavenly militiamen.
The Pussy Riot pitch invaders were sentenced to 15 days in jail Monday, July 16, and have been banned from attending any sports event for three years.
Of course, while Pussy Riot's action was a visibly political protest, behind the scenes and off the pitch both France and Croatia face the rising tides of racism, Islamophobia, fascism, and extreme nationalism.
Les Blues fans shouted "Liberté, Egalité, (Kylian)Mbappe," referring to the 19-year old fútbol prodigy who helped France win its second World Cup, and sang praises of the beautiful diversity found on their team. With 19 of 23 players on the squad being migrants or children of migrants, it is hard to imagine that their country is riddled with visible prejudice towards minorities—especially Muslims, and Black Muslims particularly.
Adil Rami, Djibril Sidibé, Benjamin Mendy, Paul Pogba, N'Golo Kanté, Nabil Fekir, and Ousmane Dembélé all practice the Muslim faith.
A report by the French National Commission on Human Rights (CNCDH) found that Muslims "remain among the least accepted minorities, with the rejection often extending from Islam to the entirety of its practitioners."
Currently, 44 percent of French people believe Islam is a threat to French identity, while 30 percent go as far as saying that even Muslim prayer is "not compatible with French Society."
And just last year, France's Front National (FN) party received more than 20 percent of votes in a presidential election, with Marine Le Pen netting a record number of FN voters, 7.6 million, running on a nationalist platform.
How far back they have gone since their 1998 World Cup win, where multiculturalism was celebrated as "black, blanc, beur" (black, white, or Arab), and former team captain Zinedine Zidane remembered the win as "not about religion, the color of your skin, we didn't care about that, we were just together and enjoyed the moment."
France has a right to celebrate its triumph and diversity on the fútbol pitch, but it must also realize its failure in upholding the ideals of Liberté, Egalité, and Fraternité. The next French revolution should focus on tackling racism and prejudice.
On the other end, there's Croatia, the smallest nation to reach the World Cup final since 1950. How could you not root for a country looking to bring home its first World Cup victory? Easy, because its players and fans acted in morally repulsive ways.
Before Croatia made it to the final match, the team's fans did not shy away from controversy by displaying fascist banners and chanting fascist slogans. Players also got involved in the fascist rhetoric. After their group stage win over Argentina, Croat footballers were caught on video singing a song with the words "Za dom—spremni" (ready for home). While it may sound just like a chant to bring the World Cup home to Croatia, the phrase is actually associated with the fascist Ustase movement, which shared close ties with the German Nazi Party during World War II.
In the 20 years since Croatia declared independence, the upsurge of extreme right voices and politics has been linked with fútbol. In 2006, during the EURO 2008 Qualification, fans created a human swastika in the stands, while giving Nazi salutes. In June 2015, a Croat fan ran onto the pitch and drew a swastika in the grass during a qualifier game against Italy.
Then came Croatian defender Domagoj Vida's Instagram video clip showing him and former Croatian national team player Ongjen Vukojevic shouting, "Glory to Ukraine."
Tensions between Russia and Ukraine have been high since Russia's annexation of Crimea in 2014. The phrase "Glory to Ukraine" has frequently been used as a slogan by Ukrainian anti-Russian nationalists, who strongly oppose the Russian annexation. As a result, Vukojevic, now an assistant coach, was sacked for the politically charged video which was seen as provoking the ongoing tensions between his country and Russia.
The upsurge in extreme right politics in public life resonates in sports, too. Just like Trump's nationalist crusade against NFL players' taking a knee, supporters of Croatia's nationalist side use fútbol to play out their extreme politics.
All in all, this year's World Cup has shown the worst parts of our society and is a clear indication of how dark our reality can truly be.
Like free stuff? So do we. Here at People's World, we believe strongly in the mission of keeping the labor and democratic movements informed so they are prepared for the struggle. But we need your help. While our content is free for readers (something we are proud of) it takes money — a lot of it — to produce and cover the stories you see in our pages. Only you, our readers and supporters, can keep us going. Only you can make sure we keep the news that matters free of paywalls and advertisements. If you enjoy reading People's World and the stories we bring you, support our work by becoming a $5 monthly sustainer today.