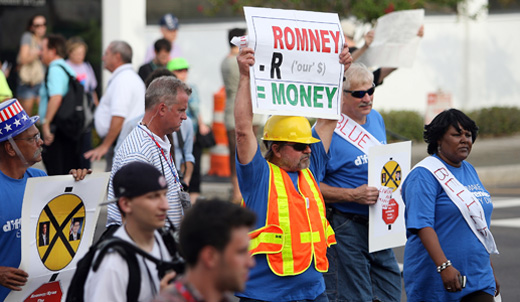 CHICAGO – The Quinnipiac/New York Times/CBS News poll of likely voters released today, taken entirely after Mitt Romney's 47% remarks, show his campaign running aground.
In Ohio, which no Republican has won the presidency without, the president led Romney 53 percent to 43 percent.
In Florida, Obama leads Romney 53 to 44 percent.
The president led Romney by 12 percentage points in Pennsylvania.
The apparent cratering of the Romney campaign is blamed by the poll takers themselves on falling support for Romney among white working-class voters angry about the candidate's now-famous 47 percent speech to wealthy campaign donors gathered in Boca Raton, Fla.
The New York Times reported that Sharon Whalen, 56, a former travel agent from Dade City who told pollsters that she and her husband voted for the Republican Sen. John McCain in 2008, said she had developed "a very bad impression of Romney." She said she intended to support President Obama and was troubled by the Romney-Ryan plan for Medicare.
"There's just something about him I don't trust," Whalen told the Times in a follow-up interview. "It's not so much that I don't believe what he is saying, but I just don't think he's for the middle and lower class. He's more for helping the rich."
"This last thing, where he was going on about the 47 percent who are dependent on government , is hard to swallow," said Kenneth Myers, a Republican who lives in Mansfield, Ohio and is unemployed. "I think I'm part of the 47 percent he is talking about. But I don't want to be dependent on the government."
Romney, meanwhile, in an attempt to chip away at Obama's widening lead, continued what the Obama campaign says is a strategy of brazen lying about the President's record.
First, he continues to defend his well-debunked claim that the president is trying to take the work requirement out of welfare. He added a claim this week, however, that the president is now also "trying to take the work requirement out of food stamps."
Obama campaign spokeswoman Lis Smith called the new food stamp attack "another fallacy" and explained that participants in the food stamp program are required to be actively looking for work, take part in training programs as directed, and accept jobs that are offered.
Adding to Romney's troubles, reports were out today that the few tax returns he has released show that he made huge gains from a questionable Bain Capital deal. According to the Huffington Post, Bain allowed Romney to receive his retirement payments as "carried interest." Romney's tax return does not detail the amount of income he received in "carried interest" but his campaign told the Huffington Post it was about $5.5 million.
Recording this $5.5 million in retirement income as "carried interest" rather than income enabled Romney to wiggle out of $147,000 in self-employment taxes including Medicare and Social Security and enabled him to avoid $700,000 in income taxes.
Romney's troubles seem to be filtering down to the Senate races where Democrats now have an edge.
Republicans need to gain a net of four seats to take the majority the Democrats have held since 2006. In races from Virginia to Wisconsin, however, the polls now show a shift in Senate contests in favor of Democrats.
Not to be outdone by his Party's leader in the blooper department, Tommy Thompson, the GOP's Senate candidate in Wisconsin, has allowed the surfacing of videos in which he promises to do away with Medicare and Medicaid. "Who better than me to accomplish this," he asks in the videos that were never supposed to have surfaced.
In Massachusetts the Republican Senatorial candidate, incumbent Scott Brown, is resorting to purely negative campaigning in what looks increasingly like a desperate attempt to hold onto his seat. Video surfaced yesterday showing supporters of Brown making tomahawk gestures with their arms and yelling Indian war hoops at supporters of Democrat Elizabeth Warren. With only a bit more than a month left and the race close, Brown is trying to turn almost everything into an issue of Warren's "character."
"He's voted against jobs, against women, against college students, he has worked in secret to weaken the rules against Wall Street, and the best he's got is personal attacks," said Warren.
Photo: Protesters marching in a parade during the Republican National Convention in Tampa, Fla., August 29. Alex Menendez/AP