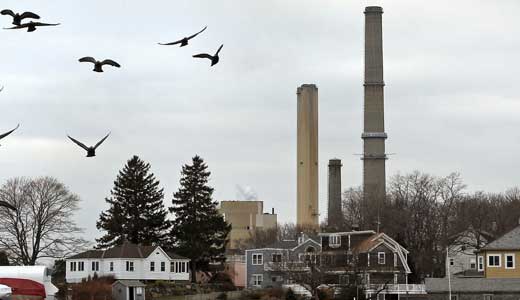 On Dec. 30, an Obama administration regulation aimed at cutting power plant pollution was put on hold by a federal court, reported the Huffington Post.
The regulation is intended to reduce, in 27 states, pollution that plays a large factor in unhealthy air downwind. However, over a dozen electric power companies, municipal power plant operators, and states had opted to delay this new development until litigation plays out. A Washington federal appeals court approved their request.
Congress Republicans have previously attempted to block this rule, their excuse being that it would stunt the growth of coal-fired power plants and kill jobs. The GOP's efforts succeeded in the House, but in November, the Senate foiled their attempt to halt the regulation.
The Environmental Protection Agency, which defends the regulation, said it was confident that the rule would ultimately be upheld, though it was disappointed by the delay. The EPA is confident that the regulation would save lives and draw in hundreds of billions of dollars in health care savings from cleaner air.
Progressive environmentalists said they would keep supporting the regulation, and that is imperative in order to ensure that some states meet air quality standards for soot and smog. Concerned activists also note that the new rule would be far more protective than one previously proposed – and rejected by a federal court – in 2005.
This latest anti-pollution development comes as a direct response to the worrying levels of sulfur dioxide and nitrogen oxide from power plant smokestacks, which are carried long distances by wind and weather. As these pollutants drift through the atmosphere, they mix with and react to other substances, forming smog and soot.
Both smog and soot have been linked with several illnesses, including asthma, and have rendered some states and cities incapable of adhering to the health-based standards set by law.
"The pollution reductions at stake are some of the single most important clean air protections for children's, families, and communities across the eastern half of the United States," said Vickie Patton, general counsel for the Environmental Defense Fund.
Despite Republicans' claims that environmental pursuits like pollution cuts are job killers, environmental groups like the Chesapeake Bay Foundation would strongly disagree, according to a report by CNN.
"Environmental regulations do not kill jobs," said William Baker, president of the foundation. "Environmental regulations actually create jobs.
"We're showing the analysis, the evidence, [and] the data, and people are gonna start believing the truth that environmental protection and a healthy economy go hand in hand."
A prime example, said the CNN report, was plain to see in Maryland, at the Constellation Energy Brandon Shores power plant, where a worker called a 'scrubber' is taking smokestack emissions from coal burning and cleaning the output – complying with a state law called the Maryland Healthy Air Act of 2006.
But the Chesapeake Bay Foundation used another means to dispute the GOP's assessment of anti-pollution regulation. The Foundation developed a report called "Debunking the 'Job Killer' Myth," and filled it with examples and data regarding efforts to clean up the Chesapeake Bay region – efforts which are resulting in a strong uptick in job growth.
Baker criticized Republicans for viciously attacking power plant pollution control methods, noting, "You have elected officials like House Majority Leader Eric Cantor, who just this past summer called environmental regulations 'job destroyers.'" But Baker said they have provided no proof to back up such claims.
Photo: A coal-fired power plant near Salem, Mass. It is one of more than 32 plants that will shut down in accordance with new air pollution regulations. Charles Krupa/AP Photos