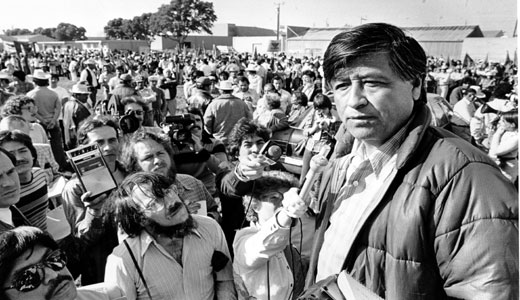 All over the country this weekend there were celebrations in honor of the 85th birthday of Cesar Chavez, founder of the United Farm Workers union and leader in the fight for the rights of immigrant workers.
The celebrations took place as workers all over the country were in motion actually carrying on the fights for which Chavez is so revered.
One such struggle, at Pomona College in Los Angeles, has been going on for more than two years. Things took a dramatically sharp turn, however, in December after the college fired 17 immigrant workers for not having required paperwork.
Since then the school has been the scene of continual protests with a solid alliance forming between students and workers. Since most of the 1,500-member student body lives on campus students and workers, whether they be cooks, dishwashers or maintenance personnel, often know one another personally.
One of the fired dishwashers, Juan Gonzalez, for example, was a ten-year veteran loved by co-workers and students alike. He now spends his time organizing for a union on the campus and says he gets a lot of help from students.
"The indignation that the students showed gave us strength to keep going," he told the Los Angeles Times recently.
Since the firings there have been marches, vigils and picket lines on campus. Students and workers alike see the firings as conveniently timed to hurt the union organizing drive.
Los Angeles County Federation of Labor Secretary-Treasurer Maria Elena Durazo talked about the union-busting effort in an interview: "It did not matter that the workers had spent years – in some cases, decades, as part of Pomona College community. It did not matter that these workers had served the students and faculty faithfully," she said.
Durazo compared the struggle of the workers on the campus to both the struggles of the farm workers led by Chavez and the struggles of European immigrants in the earlier part of the 20th century: "Through organizing, strikes and boycotts with the United Farm Workers, men and women stepped out of the shadows and into the moral reckoning of an entire nation," she said. "The fact that the food we eat was harvested with suffering, transformed how Americans think about food. The movement work of the '60's and '70's continues to resound today in fields, supermarkets, and kitchens, as well as on the tables of millions of Americans.
"I is terrible," Durazo said, "that in a nation composed of immigrants employers so readily resort to immigration status as a weapon of fear and division.
"But like the farm workers who laid claim to the American Dream by founding a union of their own, to secure in a contract, fair wages, safe working conditions, and respect for their humanity there is strength in the determination and solidarity of these campus workers."
She described the cooperation between workers and students as "a fitting nod to Cesar's memory, to bring together so many people, from many different backgrounds, to break bread together and ask for something very, very simple – freedom from fear."
Photo: Chavez talks to striking farmworkers in Salina, Calif. Today's struggle is seen as building on his legacy. Sakuma/AP