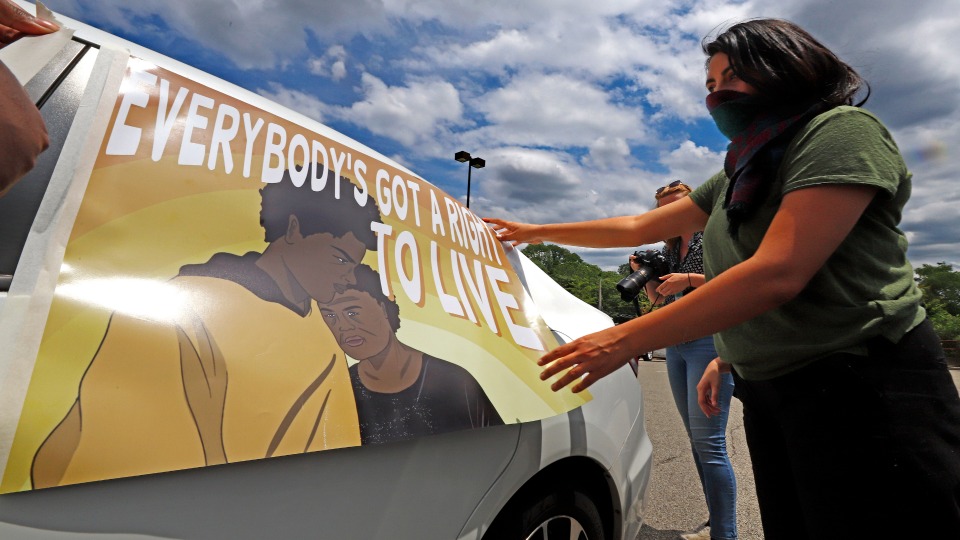 WASHINGTON—Demanding justice for the living and remembering those killed by the coronavirus, car caravans organized by the New Poor People's Campaign descended Nov. 23 on Washington, D.C., and 25 state capitals to demand further financial and medical relief from top government officials in the nation's fight against that modern-day plague.
"In their memory, we must respond, and call this nation to do better, now," declared NPPC co-chair the Rev. William Barber II, at an interfaith service in D.C., at the end of the day. That observance began a week of remembrance and people's lobbying.
Protesters stood in front of scenes of headstones erected on the capitol lawn in Albany, N.Y., and in the middle of a snowstorm in Des Moines, Iowa, and spoke amid honking horns everywhere from Little Rock, Ark., to Salt Lake City to Augusta, Maine. Thousands raised their voices to demand aid.
Whether the U.S. Senate's ruling Republicans or GOP counterparts in states will listen is another matter. The benefits from the last $3 trillion coronavirus relief bill are expiring. Congress doesn't return until Nov. 30. GOP senators are in no hurry to enact a new one, even though "more than a quarter of a million souls" have been lost to the virus, said NPPC Co-Chair the Rev. Liz Theoharis.
But Senate Majority Leader Mitch McConnell, R-Ky., refuses to even consider further money beyond his own skimpy legislation. And his measure's key feature would let the criminal corporate class off the hook if they failed to protect workers and customers against the virus, by barring lawsuits against firms.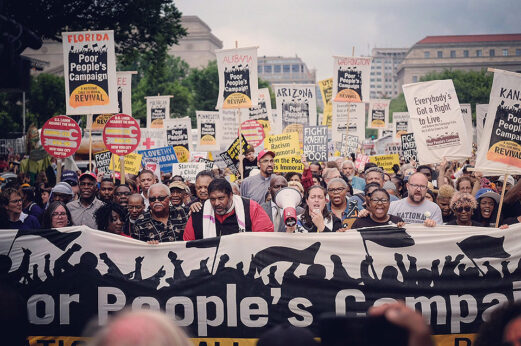 "People shouldn't have to choose between going back to work and having a chance to live," Theoharis told one of the NPPC members who spoke out, via video and Zoom, from around the country.
Meanwhile, GOP President Donald Trump plays golf or did last weekend at a club his conglomerate owns.
To budge the Republicans off dead center, the New Poor People's Campaign organized the Moral Monday car caravans to put pressure on lawmakers to act and Trump to follow. It also mounted a petition for action at an Online Wall of Remembrance at vote.poorpeoplescampaign.org. People can post pictures and remembrances of the dead. The petition is open to all comers.
"We must refuse to be easily comforted and live and strive and fight for a better world," Barber said.
House Democrats have done their job, twice passing the Heroes Act, which would restore the supplemental $600 in federal aid to jobless workers, aid cash-starved state and local governments, and order the feds to force firms to protect workers against the virus, among other plans. McConnell has killed both the initial $3 trillion measure and the later $2 trillion version.
Republican-run state governments have followed the national GOP's and Trump's lead. That upsets the NPPC members, who have lost homes, jobs, health care, and worst of all, lives, to the virus.
"We've lost family members, we've lost jobs, we've lost income, and we've lost places to live," said Bobbi Taylor of Little Rock as she drove her car in the caravan around the Arkansas capitol building. "You have the resources for relief, and we need it, Gov. Asa Hutchinson, and we need it now."
"I've lost 11 people in my family already," said masked University of Mississippi student Olivia Womack, standing in front of a statue on the campus in Jackson, in the poorest state in the U.S. Due to quarantines and bans on visits to hospitals, kids "could not see their mother and father before they [the parents] died."
"Our governor," Republican Tate Reeves, "was the last to enact a mask mandate and the first to lift it," Womack noted. In Mississippi, 4,811 people per 100,000 have tested positive for the virus, tied with Arkansas for 12th worst among the states.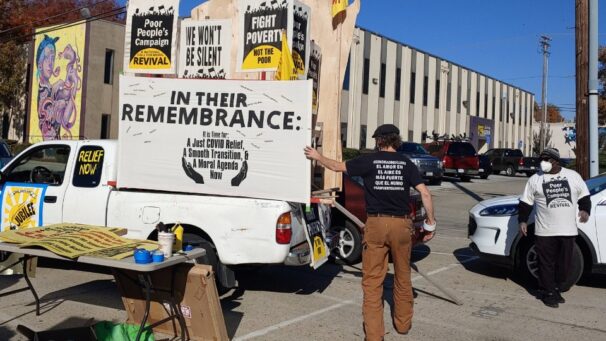 "We've got overwhelming sadness" in West Virginia, said Pam Garrison, driving her car to the capital in Charlestown. "Deaths have broken records here for 10 consecutive days, but our governor issued a mask mandate"—ordering people to wear protective masks in public—"only last week." The Mountaineer State's governor, multimillionaire corporate mogul Jim Justice, is a Republican.
Meanwhile, Stevens Prison in mountainous and poor McDowell County "has 300 inmates, and 200 of them have tested positive," Garrison said.
Poverty only makes things even worse, Garrison added. She's jobless because the pandemic closed her prior employer. Garrison and her husband are trying to survive on his $1,000 monthly Social Security check—which is just enough so they can't get food stamps. Some 18% of West Virginians lived below the official federal poverty line, and that was before the virus and the ensuing depression hit.
"We've had 4,283 people die" in South Carolina, said Bianca Richardson, who drove from her Charleston home to the state capital, Columbia, for the car caravan there. "People of color are three times more likely" than whites "to die, because of systemic racism and pre-existing conditions. We lost my aunt on Nov. 2. She had" a pre-existing condition "but COVID took her out."
"We must rise up for a moral mandate, a moral agenda, during the first 100 days" of the incoming Biden agenda, Theoharis added. "From mourning to a moral mandate, we invite you to join this movement."