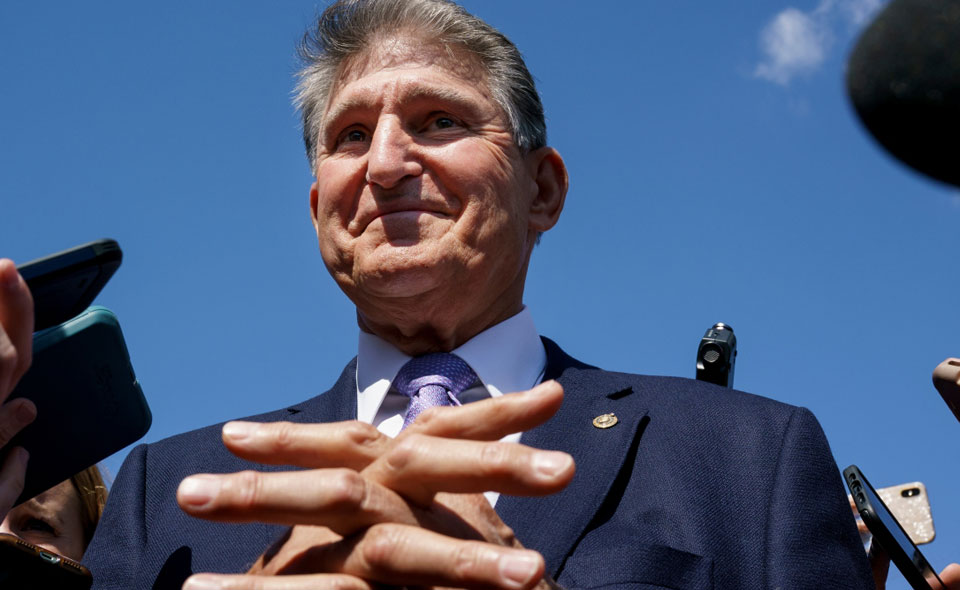 CHARLESTON, W. Va.—The closer the midterm election looms, the sharper the words to Congress from the Poor People's Campaign, both for passing the Build Back Better bill and for defending democracy against white nationalism and the radical right.
The warnings came from campaign members—the rank and file, if you will—from New York and West Virginia as well as from campaign co-chairs the Revs. William Barber II and Liz Theoharis at a February 4 Zoom press conference from Charleston, W. Va., after campaigners met there.
Their targets: Holdout Sen. Joe Manchin, D-W. Va., who reiterated his opposition to the BBB, Democratic President Joe Biden's plan to strengthen the tattered U.S. social safety net, and Senate Majority Leader Charles Schumer, D-N.Y., who has yet to move Manchin or the other holdouts among the Senate's 50 Democrats, Arizonan Kyrsten Sinema.
Manchin and Sinema don't support the BBB or voting rights legislation, and do support retaining the Senate filibuster, which lets 41 of the Senate's 50 Republicans defeat both by preventing debate.
Those defeats not only hurt the poor, but imperil democracy, too, speakers said.
"If you don't do something about this stress, the country's going to implode," Barber warned.
The campaign released a letter to both lawmakers, and posted it as a petition on the Action Network for allies to sign. "Meet with us before it's too late," its introduction reads.
Barber explained the U.S. Constitution's 15th amendment, abolishing slavery, linked "citizenship and the economy" for millions of people "who had been fleeced by the Southern aristocracy."
They're still linked, 152 years after it was ratified. Without voting rights, which let people elect lawmakers who represent persons, not property, there is no way people can lift themselves out of poverty, speakers explained.
"We're calling on Sen. Schumer—my senator—and Sen. Manchin to do the right thing and show which side they're on: To pass the full Build Back Better Act"—not the stripped-down version Manchin forced the White House to accept, even though he still won't sign on—"and to restore voting rights," said Theoharis.  "The party in power is especially responsible" for tackling such basic issues.
Speakers from both West Virginia and New York hit those same themes.
"There is no political democracy without economic democracy," declared West Virginia campaign co-chair Stewart Acuff, a former top AFL-CIO staffer. "This state is poor because of colonialism and corrupt corporate masters who care nothing for the people."
"We've watched insurrection raised to new heights," West Virginia campaign co-chair Pam Garrison warned both lawmakers, referring to the Jan. 6, 2021 Trumpite white nationalist invasion and trashing of the U.S. Capitol. "It's a coup on democracy that is still ongoing."
Invoking the state's history—West Virginians, as a proportion of the state's population have, for years, led the nation in military service—she declared: "The military defends the Constitution. Are you going to use your votes to protect our rights…and our democracy?"
Democracy, if it exists, could help people through passing the Build Back Better Agenda, added fellow West Virginian Jean Evansmore. "There is no reason not to take care of poor people," she added.
"What kind of human being can be against children?" Acuff asked, referring to Manchin's absolute opposition, which the Senate's 50 Republicans share, against extending the expanded Child Care Tax Credit. That's in the BBB legislation, too.
The Rev. Paul Dunn of Charleston's First Baptist Church said his senator, Manchin, commits "a moral crime" by adamant refusal to support the BBB and to end the filibuster, the antique and racist Senate rule that lets 41 Republican senators block both it and voting rights bills.
"Taking the position that the BBB is dead is not 'reasoning together.' Opposing voting rights is not 'reasoning together.' Your position reeks," the pastor said.
"How do you sleep at night?" West Virginia campaign co-chair Pam Garrison asked both senators.
The New Yorkers chimed in, too. "We're being beaten down by 'compromises' and the filibuster," stated the Rev. Jacqui Lewis, senior pastor at Manhattan's First Collegiate Church and a civil rights Freedom Rider in her youth. "We need voting rights. That's how we can effect change.
"We need Schumer to call the question and bring the BBB bill and the Voting Rights Act" to the Senate floor for up-or-down votes, added New York Fight for 15 activist Adam Thiesen, a barista organizing coffee shop workers in the Big Apple.
The letter to the lawmakers reiterates and knits the same political and economic points.
"For more than a decade there has been a coordinated effort across the country to abridge the voting rights of Black, Latino, Native, and low-income white Americans," it reads. "Despite 19 states enacting laws that do this in 2021, the Senate has failed to meet the moral urgency of the moment and pass federal voting rights protections. Today it seems the focus of some senators is to do the least rather than the most for justice. In this political atmosphere, the rights of millions are being denied and abridged.
"Congress must move past outdated Senate traditions and act now to save the country.
"Our voting rights are under attack because we exercised them to vote for change in 2020. Too many have put the interest of wealthy corporations over the needs and demands of the people and blocked the Build Back Better Agenda, including a full Child Tax Credit without work requirements or restrictive means testing," it adds. "People are suffering needlessly."
Whether Manchin will listen is doubtful. At one point, Barber compared him to racist antebellum Sen. John C. Calhoun, D-S.C., the leading Southern pre-Civil War secessionist. The difference, Barber said, was that while Calhoun served the white nationalists and slavocracy, Manchin is serving their modern equivalent: The Chamber of Commerce.
And while Schumer may be listening, his hands may also be tied, at least for a month or more, though nobody said so at the Charleston zoomed press conference. The normally 50-50 Senate right now is 50-49 in the GOP's favor, as Sen. Ben Ray Lujan, D-N.M., is hospitalized in Albuquerque after suffering a stroke in late January.
The letter is posted at https://actionnetwork.org/petitions/sens-schumer-and-manchin-meet-with-constituents-now