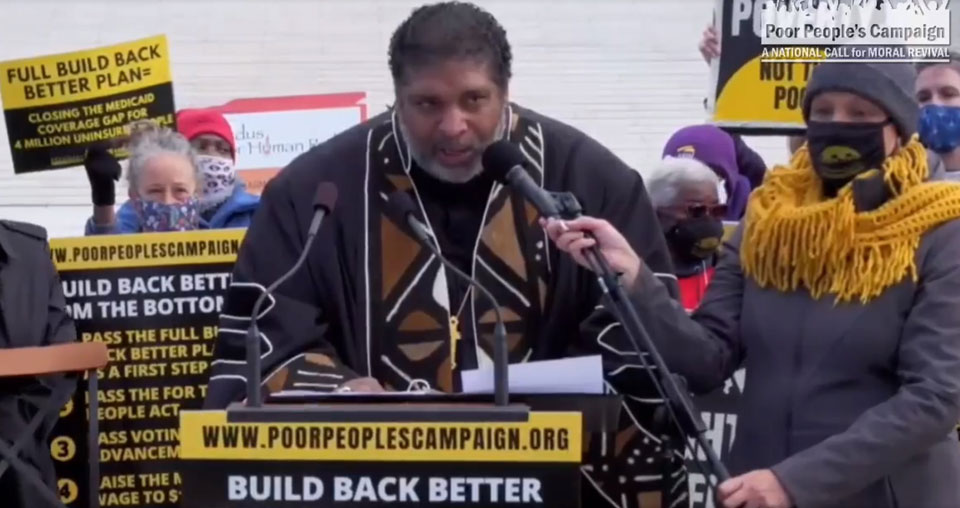 WASHINGTON—The Poor People's Campaign did not allow the signing into law yesterday of President Biden's historic Infrastructure bill to prevent them from taking even a one minute break from pushing for passage of Part II of his agenda, the $1.75 trillion Build Back Better plan.
Quoting prophets from both the Jewish Torah and the Christian New Testament, the leaders of the Poor People's Campaign warned here of a moral crisis, as well as a democracy crisis, facing the U.S. unless politicians address the yawning gap between the rich and the rest of us.
President Biden cited his signing yesterday of the hard infrastructure bill as proof that democracy can work. The Poor Peoples Campaign did not disagree with that but warned yesterday that there is also a moral crisis facing the country and that it can only be addressed if Build Back Better and more comes to pass in the country.
The first step in resolving the moral crisis, they said, although it is by no means enough, is for lawmakers to approve President Joe Biden's 10-year $1.75-billion-yearly Build Back Better reconciliation bill.
The campaigners, led by PPC co-chairs the Rev. William Barber II and the Rev. Liz Theoharis, made their point before at least 100 people—including a contingent of Service Employees–at a noontime rally in front of the U.S. Supreme Court, followed by a march to the U.S. Capitol's front plaza.
Leaders later engaged in a peaceful, moral refusal to leave corridors in front of recalcitrant senators' offices. Police arrested 16 people, including both pastors, on misdemeanor charges.
"What do you mean by crushing my people, grinding the face of the poor?" Theoharis asked, quoting the Jewish prophet Isaiah, just before the march across the street.
The rally carried echoes of the original Poor People's Campaign of 1968, including an emphasis on voting rights as well as economic rights, and songs from that era such as Ain't Gonna Let Nobody Turn Me Around."
Of course, there were a few more-modern verses, such as "Ain't gonna let no filibuster turn us around."
That refers to the Senate rule which lets the chamber's 50 Republicans stall the BBB legislation and to vote down, three times, legislation to strengthen and restore the Voting Rights Act. Renegade Democrats Joe Manchin of West Virginia and Kyrsten Sinema of Arizona both join the GOP, so far, in opposing Build Back Better.
And in doing so, the lawmakers are also doing the bidding of their corporate campaign contributors and of the 1%, a point Barber, Theoharis, other speakers, signs and the songs all made.
Which led to another repeated song, particularly directed at Manchin. It's the old West Virginia-crafted labor anthem, Which Side Are You On?
Before the crowd marched across the street to the Capitol, speakers made a strong moral case that lawmakers must heed Isaiah and also James, the brother of Jesus, and approve the legislation to help the least of us—some 140 million people, or 43% of the country, pre-pandemic.
"No one's talking about the Voting Rights Act," Barber declared. "And is America, even in the midst of a pandemic, going to continue to give, give, give to the billionaires? Or is it going to lift people up from the bottom?
"And are we going to pass infrastructure for roads, bridges and technology and leave infrastructure for education and health care unfinished?" Biden signed the "hard" infrastructure bill into law on Nov. 15.
Whether lawmakers are listening is uncertain. House Speaker Nancy Pelosi, D-Calif., expected to bring up the BBB bill by the end of the week of Nov. 19, though news reports later said it may slip to—or through—the congressional Thanksgiving recess. "I don't know if they'll listen," Barber said of lawmakers. "But it's our responsibility to say 'Woe.'"
Speakers particularly targeted the two stubborn senators, whose votes are key to passing the BBB agenda and its expansion of the nation's swiss cheese social safety net, and to ending the filibuster, thus allowing passage of the John Lewis Voting Rights Advancement Act. The Build Back Better bill has presumably been crafted to avoid that GOP-used roadblock.
The John Lewis Act would restore and strengthen the 1965 Voting Rights Act, by overriding hostile anti-voter rights rulings by the Supreme Court's GOP-named majority. It also would outlaw all the voter repression laws passed or pending in GOP-run red states. Both are moral issues, speakers said.
"Restoring the Voting Rights Act is part of putting the planet, not the rich and greedy, first," said Theoharis. She also pointed out that God's first commandment to human beings, while Adam and Eve were still in the Garden of Eden, was to care for the Earth.
"Now listen, you rich people, weep and wail, because of the misery that is coming on you," Barber said, quoting chapter five of the New Testament book of James. "Your gold and silver will eat you. The wages that you failed to pay your workers will cry out against you."
Presenting a comprehensive list of statistics, taken from a recent Economic Policy Institute report the two pastors and EPI's two top analysts co-authored, Barber added lawmakers are "talking about how much it would cost the greedy," via the Build Back Better legislation. "Not how much it would cost not to do it."
Costs of not approving Biden's social services agenda include $1.9 trillion people must shell out, per year, for out-of-pocket health care costs and private insurance premiums, $153 billion yearly the government must pick up when greedy low-wage firms such  as Walmart and McDonald's don't pay workers living wages—forcing workers to turn to public aid—and $328 billion more into workers' pockets if Congress raises the federal minimum wage to $15 hourly. It's been $7.25 since 2009.
Yet "too many of them (lawmakers) are trying to please the billionaires and make sure they're getting even more," Barber commented.
Rank-and-file Poor People's Campaigners, including from West Virginia and Arizona, took up the same theme.
"Trickle-down is tinkle-down. Feeding the mules so the sparrows can eat doesn't work," said West Virginia native Stewart Acuff, a longtime union organizer and AFL-CIO activist, now a West Virginia PPC leader.  "We're here to say let the coal miners," who face job loss due to declining coal production in the shift to non-fossil fuels, be paid to "clean up the mess the coal corporations left us."
Acuff added he also spoke and marched "for poor and hungry children and for low-wage workers Manchin abandoned to take money from the most corrupt corporations in the world.
"I'm sick of our Democratic senator who could with his vote for Build Back Better lift so many poor families out of poverty," Acuff added. "Our essential workers providing home care are desperate for wage increases. They keep our aged and disabled out of nursing homes"–a point Barber noted actually saves money.
"Poverty, hopelessness and heroin are overwhelming too many of our communities. It is an abomination that Manchin stuffs his pockets from fossil fuel polluters instead of helping our state and our people," Acuff said.
Besides SEIU, other union sponsors of the event were the National Education Association and United For Respect. NEA is the dominant teachers' union in both West Virginia and Arizona.
A little more than two years ago, West Virginian members and parents led statewide successful nine-day shutdown of all public schools statewide to protest, and overturn, the GOP government's skimpy raises and large health care cuts. That prompted similar "Red for Ed" forced strikes elsewhere, for the same reasons and causes. The one in Arizona forced a partial shutdown, also successful, there.
The entire event is at https://www.facebook.com/anewppc/videos/1009700756263661/