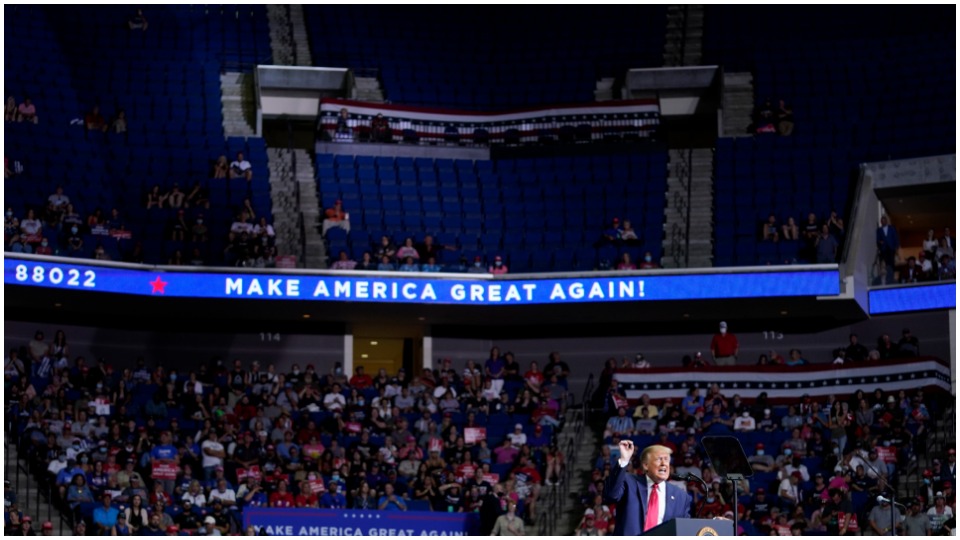 TULSA, Okla.—President Donald Trump addressed his flop of a rally Saturday in a speech that tried to convince his supporters that literally everywhere they turn there are "left-wing radicals" waiting for Joe Biden to be elected so that they can make their move and destroy the American way of life.
He praised Confederate statues and memorials to slave owners as "cherished parts of our American heritage." He admitted that he has issued orders to slow down COVID-19 testing because that testing, he said, is the reason there is such a large number of coronavirus cases in the U.S. And with racist but not surprising terminology, he referred to COVID-19 at different points in his speech as "the Chinese virus" and the "Kung Flu."
But his planned attempt to pull off an enormous show of support for his racism and hate in the midst of a pandemic flopped miserably as the nation and the world viewed an arena that was largely empty. The entire upper bowl of the arena, which holds 10,000 seats, had only handfuls of people sitting in it, and the main floor and the lower bowl of seats also had many unoccupied areas. Police in Tulsa estimated that there were little more than 6,000 in attendance inside the arena at a rally for which Trump had predicted a turnout of one million. The Bank of Oklahoma (BOK) arena, the venue at which Trump spoke, has a capacity of 19,200.
Trump ignored health warnings and went ahead with his rally on a day that the grim landmark of 120,000 dead from COVID-19 was passed in America and at the end of a week in which economic collapse had pushed the number of unemployed to more than 50 million.
The president faces the voters just five months from now and is working overtime to stop efforts like vote-by-mail which would enable millions to vote safely. Republicans, fearful that voter suppression is the only way they can win, are making moves to disenfranchise voters across the country.
"The choice in 2020 is very simple," Trump said at the arena on Saturday. "Do you want to bow before the left-wing mob, or do you want to stand up tall and proud as Americans?"
Trump played to anxiety and fear about the coronavirus, which he dubbed the "Kung Flu," a racist term for COVID-19, which originated in China. He also tried to defend his handling of the pandemic, claiming he had saved hundreds of thousands of lives, even as cases continue to spiral out of control in many states, including Oklahoma.
He complained that coronavirus testing was making his record look bad—and suggested the testing effort should be slowed down.
"Here's the bad part. When you do testing to that extent, you're going to find more cases," he said. "So I said to my people, 'Slow the testing down.' They test and they test."
Ahead of the rally, the numbers of people arriving were far smaller than expected, so Trump's people cancelled plans for the president to address an overflow crowd outside the main arena.
Trump tried to explain away the small crowd size by blaming the media for "scaring" people and by insisting there were protesters outside who were "doing bad things." Tulsa police, however, said that the Black Lives Matter crowds outside were peaceful and that no one who wanted to get into the BOK arena was prevented from entering.
As if Oklahoma does not have enough problems with the coronavirus now spiraling out of control, six members of Trump's advance team that went into Tulsa just ahead of the president tested positive for COVID-19.
Trump is reported to have ranted and raged to his staff when he found out that the news of his people bringing even more infection into Tulsa got out. Aides spoke to the press anonymously about this out of fear of being fired by the president.
Following the lead of Trump and Vice President Pence, most of the people at the rally did not wear masks.
"I don't think it's anything worse than the flu," Brian Bernard, 54, a retired IT worker from Baton Rouge, Louisiana, told the AP. Sporting a Trump 2020 hat, he said, "I haven't caught a cold or a flu in probably 15 years, and if I haven't caught a cold or flu yet, I don't think I'm gonna catch COVID."
Not once during his speech did Trump pay his respects to the more than 120,000 Americans who have died of the virus. He found 15 minutes, however, to explain that it was his shoes, not his health, that had caused him to slip on a ramp after his West Point speech last week.
Trump defended Confederate monuments and vowed to block attempts to change the names of military installations that are named for Confederate traitors.
"The unhinged left-wing mob is trying to vandalize our history, desecrate our monuments, our beautiful monuments," Trump said. "They want to demolish our heritage so they can impose their new repressive regime in its place."
Trump also called for a one-year prison sentence for anyone convicted of burning an American flag, an act of protest protected by the First Amendment.
He launched into a racist attack on Minnesota Rep. Ilhan Omar, who came to the United States from Somalia as a child, claiming she would want "to make the government of our country just like the country from where she came, Somalia: no government, no safety, no police, no nothing—just anarchy."
"And now she's telling us how to run our country," Trump continued. "No, thank you."
Trump spent much of the time in his speech bragging about his alleged accomplishments. He claimed to have been the creator of a pre-pandemic economy that was "the greatest economy the world had ever seen."
He made no mention of any of the setbacks he has dealt with this week, including a string of losing court decisions and rising outrage over his abrupt firing of the U.S. Attorney for the Southern District of New York who has been investigating cases involving the Trump family and his lawyer Rudy Giuliani.
Speaking on the 25th day of nationwide and worldwide demonstrations following the police murder of George Floyd, the president also chose to say nothing about the historical uprising against racism happening across the nation. Instead, he was determined to stir up hate and division.
The rally was scheduled over the protests of Tulsa health officials and as COVID-19 cases spike in many states, while the choice of host city and date—it was originally set for Friday, Juneteenth, in a city where a 1921 racist massacre killed at least 300 Black people—prompted anger amid the national wave of protests against racial injustice.
One of the factors believed to have motivated Trump to push ahead with the rally is his anger over his slipping further and further behind former Vice President Joe Biden in the polls.
AP contributed to this article.