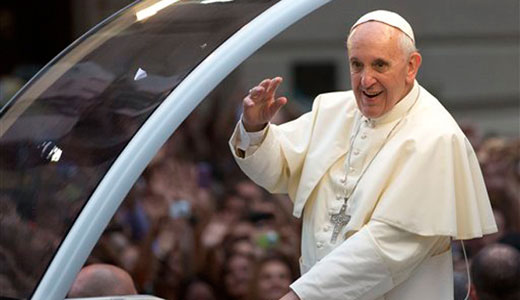 DAVOS, Switzerland (PAI)– As corporate and government leaders gathered in Davos, Switzerland, for the annual World Economic Forum in mid-January, a new poll showed that workers around the globe are struggling to survive on low wages.
And those same leaders got a notable message from Pope Francis I, who has already made news for strongly supporting workers. He told the leaders they have a responsibility to actively improve the lives of the world's workers and poor.
"The growth of equality demands something more than economic growth, even though it presupposes it," the Pope's message said. "It also calls for decisions, mechanisms and processes directed to a better distribution of wealth, the creation of sources of employment and an integral promotion of the poor which goes beyond a simple welfare mentality."
In its first years, union leaders participated in the World Economic Forum, but recently, they've been staying away. AFL-CIO President Richard Trumka, for example, was not on its list of speakers this year.
And as the business and government leaders met, an International Trade Union Confederation (ITUC) global poll of 13 countries found 87 percent of people say their wages are falling behind the cost of living or stagnant. One out of eight respondents said they are struggling financially and can no longer pay for basic living expenses.
John Evans, chief economist for the confederation, said financial forecasts point to stagnation – not recovery – with nearly 200 million people unemployed.
"The World Economic Forum's own Global Risks Report identifies widening income disparities and structural unemployment as the most serious problems confronting the global economy this year, yet government policies are worsening these trends; we need a change in policy direction," Evans explained.
The new ITUC Economic Briefing released ahead of the Davos meeting pointed to high unemployment, wage cuts and high levels of household debt, all of which have kept demand in key economies in the doldrums, while growth strategies are still most focused on exports, specifically in Europe.
"In a stagnant global economy, it is investment that will kick start jobs and demand. We cannot assume that growth alone will create jobs. The global economy cannot recover on export-led growth if wages don't rise. There must be an expansion of demand – particularly from working households," warned Sharan Burrow, the ITUC's general secretary.
The past year has seen growing inequality and a widening gap between leaders and citizens. Only 13 percent of people in the ITUC global poll think governments are acting in their interests. Some 28 percent of people are disenchanted or worse, disengaged, believing governments are acting in the interest of neither people nor business.
"There is profound mistrust of governments and institutions. Leaders must stand by their promises to end speculative behavior, stand up to the banks and end tax avoidance to demonstrate to working people they are acting in their interests," said Burrow.
The Davos 2014 plan set out by labor leaders for investment and jobs, wages and social protection includes:
Targeted investments in infrastructure to improve long-term productive potential and move to a low-carbon economy;
Raising the purchasing power of low- and middle-income households by reducing inequality and strengthening collective bargaining and minimum wages;
Investing in active labor market policies to raise skill levels and reduce youth unemployment; and
Reducing informality and creating decent work in emerging and developing countries.
The Pope had his own message for the business leaders: Take responsibility not just for economic success, but for improving the lot of all.
"The successes which have been achieved, even if they have reduced poverty for a great number of people, often have led to a widespread social exclusion," he said. "Indeed, the majority of the men and women of our time still continue to experience daily insecurity, often with dramatic consequences.
"In the context of your meeting, I wish to emphasize the importance the various political and economic sectors have in promoting an inclusive approach which takes into consideration the dignity of every human person and the common good. I am referring to a concern that ought to shape every political and economic decision, but which at times seems to be little more than an afterthought. Those working in these sectors have a precise responsibility towards others, particularly those who are most frail, weak and vulnerable," the Pope declared.
Photo: Felipe Dana/AP