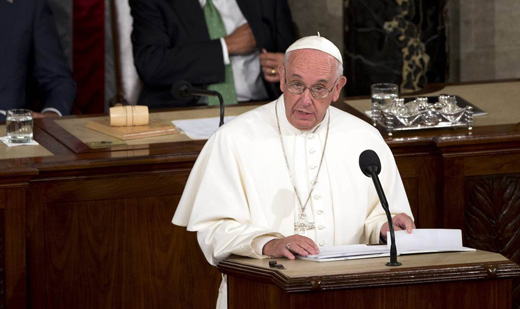 WASHINGTON – Pope Francis today admonished U.S. representatives and senators not to be "slaves of finance." He is the first pope in history to address a joint session of Congress.
Francis said, "If politics must be at the service of the human person, it follows that it cannot be a slave to the economy or finance."
He spoke about the men and women who struggle every day to support themselves and their families, yet are trapped by poverty. "They need to be given hope," he said.
The fight against poverty and hunger takes many forms, the Pope continued. "Part of this great effort is the creation and redistribution of wealth."
"Business," he said, "is a noble profession," but only if it sees as one of its priorities, "the creation of jobs."
Aside from his reminding representatives and senators of their obligations, during his 45 minute address, Francis touched on the causes of war and the need for environmental action. He reiterated his call to abolish the death penalty and repeated his plea on behalf of immigrants.
Francis cited four individuals who he said represent what is best in American history: Abraham Lincoln, who "fought for liberty," the Rev. Martin Luther King Jr., who "fought for full civil and citizenship rights for African Americans," Dorothy Day, the leader of the Catholic Workers movement who "advocated for the oppressed," and Thomas Merton, an American theologian who encouraged people of all views to "enter into dialogue" and "contemplation."
He warned against "religious fundamentalism of all types" because it encourages hatred and promotes war.
He asked, "Why are weapons given to those who use them to inflict harm on innocent people?" The answer, he said, "is money."
He called for action to "protect nature," because we all share this planet and are responsible for the human actions that are destroying it.
"From the beginning of my ministry," Francis said, "I have advocated for the global abolition of the death penalty. I believe that even for those convicted of crime, punishment should never exclude the hope and possibility of rehabilitation."
The Pontiff devoted much of his speech to advocating for aide to immigrants. "Today we face an immigrant crisis that is the largest since World War II," he said. "But we must never see the crisis in terms of numbers. We must see the faces of human beings. We must understand the sacrifices of people who come north to find a better way of life."
He received a standing ovation when he said, "I address you as a son of immigrants, and I know many of you are the sons and daughters of immigrants, too."
The Pope continued, "Sadly, the rights of those who lived [in North and South America] were not respected. First contacts were turbulent and violent.
"We must not repeat the injustices of the past. We must never again treat strangers in our midst" with anything less than the Golden Rule: "Do unto others as you would have them do unto you."
The Pope was greeted by an enthusiastic standing ovation when he first entered the Senate chamber to begin his address. But most Republicans noticeably did not applaud when he discussed economic justice, environmental protection and immigrant rights.
When he left the Capitol building, however, he was greeted by thousands of people calling "Father" and chanting, "What do we want? Freedom."
Photo: Alessandra Tarantino/AP