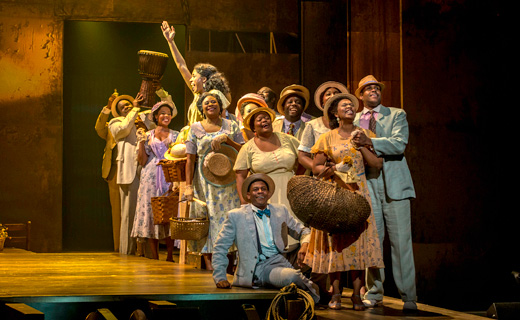 Quite simply, the Ahmanson Theatre's splendiferous production of The Gershwins' Porgy and Bess, directed by Diane Paulus, is a joy. Accompanied by a 23-piece orchestra under Dale Rieling, the hits include the haunting "Summertime"; the ebullient "I Got Plenty of Nothing"; "It Ain't Necessarily So"; and the heart-melting duet "Bess, You Is My Woman Now." A delight for the ears, the show is also a feast for the eyes, with the cast of about 20 performing dazzling dances choreographed by Ronald Brown in colorful costumes by Esosa.
Inspired by a newspaper clipping about a true-life crime, this perennial classic takes place in Charleston's fictionalized Catfish Row (alas, Riccardo Hernández's nondescript sets are the show's one letdown) during the 1920s or 1930s. Porgy was originally a 1925 novel by the white Southerner DuBose Heyward, which his wife Dorothy adapted into a 1927 play, prior to their collaboration with the Gershwins. Catfish Row's African Americans are a mix of the God-fearing, typified by the matriarchal Mariah (Danielle Lee Greaves) and Serena (Denisha Ballew); hardworking fishermen; gamblers and criminals, exemplified by the flashy lowlife Sporting Life (Kingsley Leggs), a dope dealer.
Among Sporting Life's clientele is the beauty Bess (sizzling mezzo-soprano Alicia Hall Moran), a character who once would have been considered "a fallen woman." In addition to having an addiction to cocaine-"happy dust"-Bess appears to be abused by her partner, the brutal, brawny Crown (Alvin Crawford).
Enter into this combustible mix the disabled, poignant Porgy (the touching Nathaniel Stampley). Porgy's disability has set him apart from others, rendering his days-and his nights-lonely. In the Gershwins' 1935 iteration, Porgy gets around in a goat cart, which Sidney Poitier also used in the 1959 movie, although in the current production Stampley hobbles bent over a cane.
After Crown commits a crime and flees Catfish Row, Porgy takes in the abused, drug-abusing Bess and, against all odds, they fall in love. Both find a happiness and tenderness that had previously eluded the unlikely pair. But temptation, in the form of the drug-dealing, glitzy Sporting Life and Crown, who is lurking about, lures the reformed Bess back to her old wild ways.
Sporting Life has sampled the sophisticated life in Harlem and sneers at the religiosity of Catfish Row's Bible thumpers. Indeed, the "It" in Sporting Life's big solo number refers to the Bible, as he humorously disputes some of the Good Book's assertions.
In addition to that song's atheistic assertions, over the decades, Porgy and Bess has experienced its share of controversy. Is it a play, a musical, or an opera? I say "yes"; George Gershwin called it a "folk opera." This version, its score adapted by Diedre L. Murray, presents as more of a musical per se.
Even more contentious has been the issue of Porgy and Bess' depiction of Black people and culture, as construed by white Southerners and then by Jewish New Yorkers. With their strutting, high-stepping dances, vernacular that's not exactly the King's English, drinking, gambling, coke snorting, crime and prayer, are Porgy's characters stereotypical?
However, the book for the current production was adapted by Suzan-Lori Parks, the first African American woman to win a Pulitzer Prize for Drama, who wrote the screenplay for a Spike Lee movie and a 2005 TV movie adaptation of Zora Neale Hurston's novel Their Eyes Were Watching God, starring Halle Berry. Parks and company have made the work more accessible to 21st-century theatergoers. Much of the audience at Porgy's premiere was Black, and gave the Catfish Row cast a sustained standing ovation.
During the Ahmanson's run a dozen post-show discussions are scheduled, providing ticket buyers with opportunities to explore the issue of racial clichés and more.
After almost three hours, the grand finale transcends race and expresses that which is ultimately, profoundly most universally human: True love. As Porgy gallantly rises to the occasion, my heart was bursting and I wanted to sing not "I'm On My Way" but:
"Gershwin, you is my man now, you is, you is! …Now and forever."
The Gershwins' Porgy and Bess is playing Tuesdays through Fridays at 8 p.m., Saturdays at 2 and 8 p.m., and Sundays at 1 and 6:30 p.m. (except for May 25 and June 1 when there are only 1 p.m. performances), through June 1 at the Ahmanson Theatre, 135 N. Grand Ave., Los Angeles. For more info: www.centertheatregroup.org/; (213) 628-2772.
Photo: The cast of "The Gershwins' Porgy and Bess." Michael J. Lutch