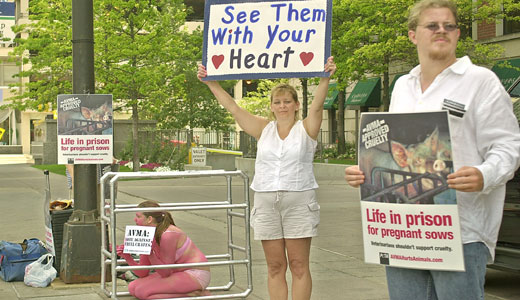 Meat company Hormel announced plans to end the practice of keeping most female pigs in small, cramped gestation crates by 2017, following a similar development last year by Smithfield Foods, Inc. Activists are urging other pork producers to follow suit, but some of these corporations are still engaging in animal abuse.
In most instances, gestation crates are inhumane two-by-seven foot enclosures, which prevent pregnant pigs from being able to move around, lie down, or take a step backward or forward. The animals are forced to lie in their own excrement, and they exhibit nervous coping behaviors, including bar biting, constant shaking of the head, and tongue rolling.
Temple Grandin, an animal welfare expert, noted that a pig's life in a gestation crate is comparable to a person being stuck in an airline seat for their entire life.
Hormel – the makers of SPAM – have 54,000 breeding pigs at facilities in Arizona, Colorado, and Wyoming. While Arizona and Colorado have passed laws to eventually ban the crates, Wyoming so far has not.
The company's move comes just two months after Smithfield Foods also made plans to do away with the crates by 2017.
By the end of 2011, Smithfield claimed that 30 percent of its female pigs were now in group housing situations instead of crates. Their decision to phase out the abuse arose after The Humane Society of the United States filed a complaint with the U.S. Securities and Exchange Commission, declaring that Smithfield was tricking consumers by insisting it did not abuse pigs. The animal rights group said the presence of the crates violated federal security laws, under which corporations cannot make false or misleading statements.
Smithfield has come under fire before, due to other alleged abuse, including a female pig being shot with a stun gun and thrown into a garbage bin while still alive, and piglets that were born prematurely falling through gestation crate grates and left to die in large manure pits.
Two other companies – Seaboard Foods (which supplies pork for Walmart) and Prestage Farms – have continued to severely mistreat their pigs through use of the crates, the Humane Society recently discovered.
Force Change recently organized a petition to convince Seaboard and Prestage to follow the example set by Smithfield and Hormel, and to implement more humane and responsible practices for hog rearing in general.
The caging practice, said Force Change, is largely being recognized as a cruel one, and the crates have already been outlawed by Sweden and the U.K.
The only reason some industry policy has improved so far, said Grandin, is due to grassroots coalitions of animal welfare advocates standing up against these meat corporations. "It's pressure from activist groups," she said, not the goodwill of Smithfield executives, which has caused the company to phase out the crates. "Gestation stalls have got to go," she concluded.
Photo: "Animal rights activist Ashley Curtis, painted pink and joined by fellow demonstrators, crouches in a crate to illustrate the abusive conditions female pigs suffer at the hands of some meat companies." Janet Hostetter/AP Photos