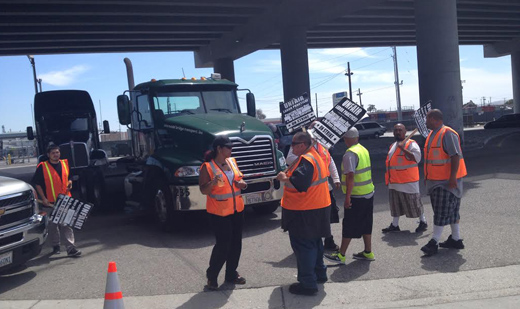 Port truck drivers gathered before sunrise on Apr. 27, carrying signs and wearing reflective safety vests as they began picketing company trucks at marine terminals, rail yards, warehouses and targets as far away as San Diego.
Since drivers last struck in November 2014, the U.S. Department of Labor (DOL) has joined the National Labor Relations Board (NLRB), California courts, the California Division Labor Standards Enforcement (DLSE), Employment Development Department (EDD), and Disability Insurance (SDI), in ruling that drivers are misclassified as "independent contractors." As a result of the U.S. DOL ruling, major drayage company Shippers Transport Express (STE) reclassified its "independent contractors" as employees. But not all have complied.
Hector Flores, of Intermodal Bridge Transport, (IBT) in Wilmington, California stated that "the company claims that we are independent contractors, yet we are not allowed to take our trucks home, we are charged $60 per day use and $60 per night use. In addition drivers are charged the cost of insurance payments, the cost of the fuel used, any fees required to maintain the truck such as new tires etc." All of which is deducted from the driver's paycheck leaving them with less than minimum wage in most cases and or owing the company money.
"Biggest issue is that we don't have a voice on the job. It is important to me that I practice what I am trying t teach my children and that is to stand up for what is right, maintain your respect and your dignity." This was the message Hector Flores was sending as he walked out on strike on May 27 from his job at IBT.
According to the Port of Los Angeles web site, "The Port of Los Angeles' Clean Truck Program is a central element of the Clean Air Action Plan, which targets major sources of air emissions at the Ports of Los Angeles and Long Beach -By 2010 all trucks that did not fit the standards were banned. Through the Concessions Program companies were able to apply for grants and funding which were used to purchase trucks that met these standards."
IBT obtained a fleet of trucks under this act, which they then leased to the port drivers, but according to Hector they are not allowed to take them home, they are charged for the fuel they use and the cost of the insurance which clearly indicates that the company does not recognize them as employees. Hector also states that workers do not have a say as to how much they will get paid for the load they are to deliver, which if they were "independent contractors" they should be able to determine. Another issue is that port drivers do not have a say if they want to work or not, "sometimes I see workers hiding from the manager so they can go home early and spend time with their families" Flores said. "Once again if they were truly "independent contractors" as the company claims, then they should have the right to chose their own jobs", continued Flores.
This is why truck drivers are targeting several companies in a massive action against wage theft.
The companies being struck are Pac 9 Transportation, Pacer Cartage, Harbor Rail Transport and Intermodal Bridge Transport. Another company, Green Fleet Systems (GFS), avoided the strike with an announcement that it reached a labor peace agreement with the Teamsters that recognizes its drivers' union rights. Reported on the Teamsters web page.
Hector states that products such as Haines, Sony, General Electric, Michael Kors, may not be getting to stores like Target and its consumers due to the strike
"Officials know this injustice is going on and we have been waiting for them to do something about it. We can't wait any longer. We are tired of our paychecks being short knowing full well how much work we have put in." said Flores
Port drivers are calling on elected officials, Los Angeles Mayor Garcetti & Long Beach Mayor Garcia to put rules in place that end law-breaking for profit in the form of misclassification, which effectively allows companies to take the costs of doing business out of workers' pockets (i.e. stealing their wages). They ask for the publics support by signing their petition. Click here to sign the petition.