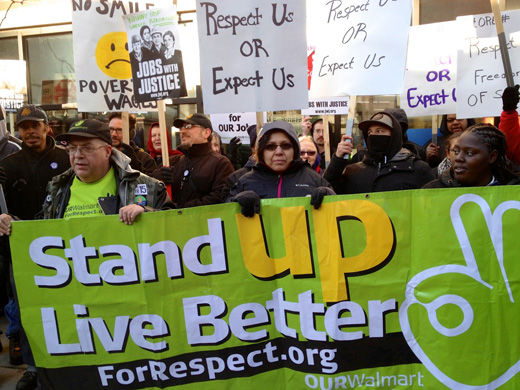 PORTLAND, Ore. (PAI)–Cheered on by OURWalmart – the group of Walmart workers who campaign for better wages and working conditions nationwide at the monster retailer – and United Food and Commercial Workers Local 555, the Portland, Ore., City Council voted May 15 to dump Walmart.
The council instructed the city Treasurer to get rid of $9 million worth of Walmart bonds in its investment portfolio that just matured and to dump the remaining bonds when they mature, too. That's another $27 million in bonds, the last of which matures in April 2016.
City Commissioner Steve Novick's resolution also bans any future Walmart bond buys. The legislation makes Oregon's largest city a leader in putting its money where its mouth is, by ridding itself of securities in a firm known for its low prices, rock-bottom wages, bad benefits and rampant labor law-breaking. Novick says it's the first city to do so.
"From what I can tell, no other U.S. city has looked at socially responsible investing in quite the same way as Portland," he told a May 15 press conference. "I'm hopeful other cities and states take note and adopt similar investment principles to hold companies accountable and align our investment policies with our values."
Portland's investments average $1.1 billion yearly, so Walmart is approximately 3 percent of that total. The resolution also establishes a temporary committee to report to the council by July 31 on how to implement the city's socially responsible investment principles covering health and the environment, labor practices and corporate ethics and governance.
"A company's policies and practices have a direct impact on families and individuals living and working in Portland," said UFCW Local 555 representative Bob Marshall. "A city's investments should reflect the values of its taxpayers, and Walmart is consistently out of step with Portland values."
Photo: At a protest supporting Walmart workers, Chicago 2013. PW file photo.