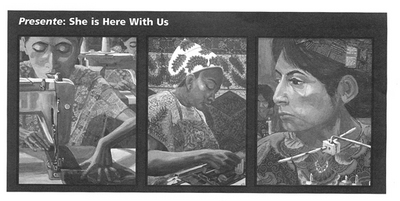 When the people of White Salmon, Wash., stepped into their community library last fall, they probably didn't think they'd be leaving without the labels on their clothing. That is unless they knew they were going to encounter Janet Essley's interactive painting exhibit titled "Presente: She is Here With Us."
Essley, a visual artist who lives in the rural, northwest town, displayed her portraits of women garment workers from around the world along with "doll" forms, a map of the world, scissors, and safety pins. As part of the exhibit, the public was invited to cut the labels off their own clothing and pin them to the doll forms. Over the course of the month, several of the dolls evolved into a visceral "graph" of where the clothing in most American closets is made — 20 percent U.S., 20 percent Mexico and Central America, 20 percent Southeast Asia, 20 percent India, Bangladesh, Sri Lanka, a smattering from Europe, South Africa, Pacific Islands, Arabian Peninsula, and the rest from China.
"These women are valued because they adapt easily to industrial discipline, are quiet, patient, and dexterous. Each is willing to work 40, 60, 80 hours a week, often as the sole support of her family, at subsistence wages in even the poorest of countries. … She does this because corporate globalization has crushed the traditional world into which she was born … including the U.S. The paintings encourage a globalization of empathy and the human right for work with dignity," Essley says.
For more information about this exhibit or to arrange to bring it to an event or venue near you, contact Janet Essley at essmoy@gorge.net.
Reprinted from FaithWorks, newsletter of Interfaith Worker Justice