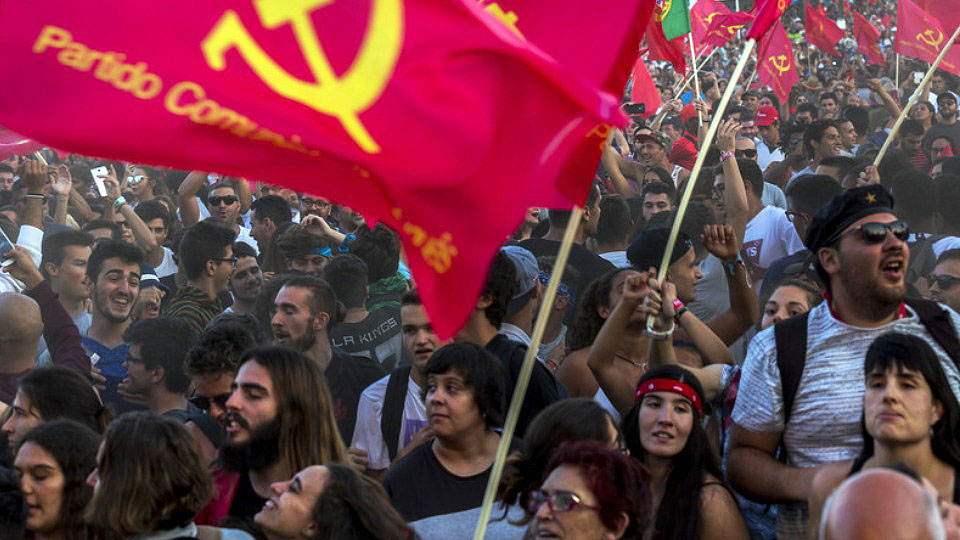 When I was 19 and went to the Woodstock music festival in upstate New York, I thought I was at the ultimate festival—there had never been anything like it and never would be again, I was sure.
Three years ago, however, I attended what had to be the greatest Communist festival in the world, the Avante Festival in Portugal. Woodstock was indeed unique among festivals, but Avante actually was more unique in many ways.
And now, during the celebrations in Portugal of the 100th anniversary of the founding of the Portuguese Communist Party (PCP), my thoughts return to the Avante festival in Amora, the small town outside Lisbon where the event has been held for more than 40 years.
As I rode by bus to Amora, we passed over a giant red bridge—the 25th of April Bridge—that reminded me of the Golden Gate in San Francisco, and I thought about a nearby section of Lisbon that has seen so much history. It was there that thousands poured into the streets back in 1974 celebrating the collapse of the fascist dictatorship. When people in Portugal talk about "April," it is those events they are talking about.
The PCP's role as a major leader of that uprising is acknowledged and respected by everyone in Portugal. When the commanders of ships still loyal to the fascist regime were turning their guns on the thousands assembled in a public square on the shore of the bay in Lisbon, army troops, many of whom were Communists, put themselves between those guns and the crowds.
Cheering people put red carnations in the barrels of the guns of the troops that were joining them in the fight to topple the fascists—giving the uprising its name, the Carnation Revolution.
The cooperative military was the result of many years of work by the PCP as it cultivated the working-class elements in the armed forces, winning them for the cause of the Portuguese people.
And so it was that on April 25, 1974, a left-leaning, Communist-organized uprising of officers in the Portuguese army joined the workers and their allies, rising up against fascism to trigger a massive, peaceful resistance movement across the country.
Those days of "April" were only the beginning of what would turn out to be a unique and influential role the PCP would continue to play in Portugal, a role they carry on to this day.
People's culture
It was only two years after the events of April that the Portuguese Communist Party threw the first Festa do Avante in Lisbon, naming the massive gathering after its newspaper, Avante! (Forward!).
Until COVID, as it surely will after COVID, the festival has grown each time, bringing hundreds of thousands to the suburbs of Lisbon every year.
"This is a big party we are going to," a member of Die Linke, Germany's Left Party, sitting next to me on the bus said. "I've been to America," she said, "and I know that even in America, where everything goes, you have never seen anything like this."
I didn't know what to expect, but I figured that no matter what I was about to experience, I already had seen more red flags than I had ever seen in my life. The highways were lined with those flags all along the route we were following to the festival. They all had little hammers and sickles and "PCP" emblazoned on them. In Portugal, where the fascists persecuted and killed Communists up until 1974, no one today has to hide their allegiance to the party.
There were about 15 young Portuguese passengers on the bus. Ten minutes after our journey to Amora began, they broke out into a verse of "Avante Camarada" (Forward, Comrade), the anthem of the PCP.
As we pulled into one of the many parking lots surrounding the festival, the whole scene looked a lot like other big festivals I'd attended. You could see in the distance big tents with large numbers of people milling around them.
But as we walked onto the festival grounds, it became immediately clear that in many ways what was happening in and around the mind-boggling array of huge tents and numerous stages was something quite new for me.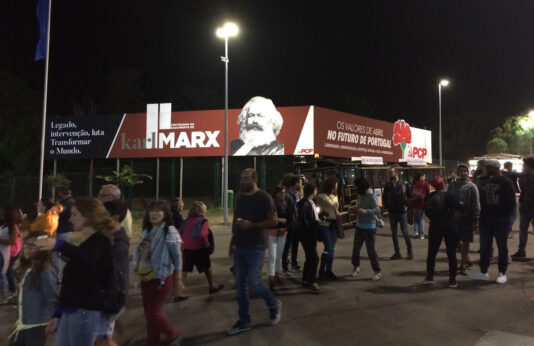 There were tents full of books (Books at a carnival or festival?), others were devoted to science exhibitions, some organized by top Portuguese and European scientists and others put together by school children from rural Portuguese towns. There were stages full of musical acts, ranging from classical music concerts to performances by metal musicians. Small theaters were screening both old and new films. At other venues, live political rallies and debates were taking place.
There were puppet shows for toddlers in some of the tents, and puppet shows for adults who normally don't even like puppet shows in others.
There were tents where you could sample the national foods of every single immigrant group living in Portugal. Every conceivable Portuguese dish, too, including the incredible variety of foods available in the different regions, were also there to be enjoyed. And it was all at reasonable costs—no fancy restaurants out of reach to working-class people at this festival.
If you were into sports, the Avante Festival was a paradise. If you were a spectator you could watch every type of ball game, racing, boxing, wrestling, and so many other activities. If you preferred to be an active participant, you could engage in all of those sports yourself.
You could get a ticket to enjoy unlimited attendance at everything going on there for three days, or you could attend for just one day. Even if you held a three-day ticket, however, you could never get to sample and do everything available.
Woven into everything and everywhere around you, however, were the politics of the people. You could find vintage "Free Angela Davis" pins demanding freedom for the famous political prisoner in the U.S. and t-shirts emblazoned with the names and faces of progressive political heroes from around the world.
Little kids wore tie-dyed t-shirts with the faces of Fidel Castro and Che Guevara printed on them. Nelson Mandela gear was worn by teenagers milling around the music tents.
I went to a food pavilion for a snack but couldn't get out of there for over an hour. The Portuguese wine they poured freely into my cup was excellent. I had to stop and enjoy it for a while.
In a debate tent, I joined in on lively discourse about how long it would take socialism to replace capitalism.
At another meeting, I heard from long-time activists, some now advanced in age, who had lived during the years of the dictatorship. They described life in a society where their politics had to be practiced underground, and they talked with the people in the tent about the issues of today.
The politics of the PCP are as exciting and different as its Avante Festival.
People's politics
After the 2015 elections, the PCP and Left Bloc went to the Socialist Party which did not have a majority. Because of the role of the PCP in putting together a coalition, the right-wing party was kept out of power, allowing the socialists to claim the premiership.
Few expected the PCP-backed plan to succeed. It was derisively called a geringonça, or "contraption," comparing the coalition to a rickety old machine prone to breakdown.
Since 2015, however, Portugal has seen impressive economic growth as the European Union, meanwhile, has struggled through various crises.
PCP-pushed policy has resulted in increases in the minimum wage, decreases in unemployment, cancellation of EU-imposed austerity measures, and restoration of four public holidays that had been removed by the previous center-right government.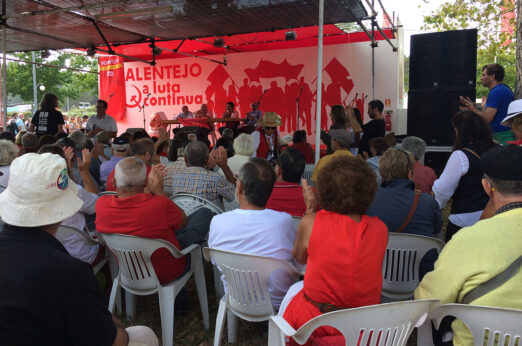 By its flexible approach to coalition building, combined with its single-minded aim of doing whatever it takes to improve the lives of the working-class majority, the PCP has been able to help form governments that do just that. It has allied with the Greens, the parties in the Left Bloc, and with the Socialists, when, by themselves, the Socialists don't win a majority in the parliament.
In return for its parliamentary support, the PCP advocates for and wins social welfare programs and workers' rights, including things as practical as free textbooks in public schools and cheaper public transport. Reading the classic works of Marx and Lenin is important to this party, which continues to pride itself on being a Marxist-Leninist party, but all of that is meaningless, its members say, if the people don't see them as fighters for their basic everyday needs.
There is something very similar in the approach that the Avante Festival organizers take when putting together one of the biggest cultural celebrations in the world and that taken by the PCP's leaders in assembling a national government in Portugal. It's an approach that says there is a pro-worker angle to everything in life. Whether one is overthrowing fascism, fighting for equality and peace, helping people to survive day by day, or just plain having a good time, the important thing always is to put the people first.
At one point during the day, I joined a huge crowd cheering on PCP General Secretary Jerónimo de Sousa, who spoke to loud crowds surrounded by those same fluttering red flags.
The scene got more musical and celebratory and seemingly less overtly political as the day went on. After sundown, you could see and hear people with those Che t-shirts enjoying the music of groups like the all-female pop-punk band Anarchicks or the heavy metal group Moonspell.
There were also highly political vocalists, whose names I cannot recall. They came from countries all over the world. I heard that Richie Havens, who performed at Woodstock back in 1969, had also made an appearance at a prior Avante festival.
I couldn't help but think that if this is the way Communists have a good time in Portugal, it is no wonder that the left is having success in this country at a time when right-wing so-called "populists" are making gains in other countries, including my own.
The lesson the PCP has for all of us now during its 100th anniversary is that if you are going to be for the people, then you have to be with the people.
More on Portugal and the Avante Festival:

> Beyond the music: Portugal's Avante! festival combines culture and Marxist politics

> The Values of April: 45 years since Portugal overthrew fascism

> Portuguese Communists chart a 'patriotic politics of the left'