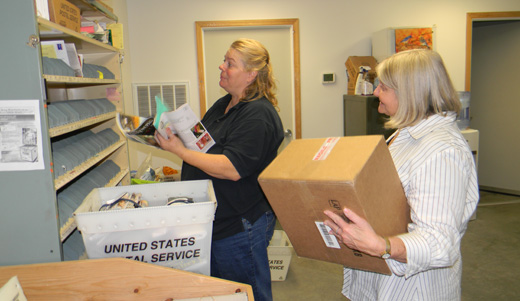 Possibly it is a day when I don't have enough to do, but I did read an email that referred to postal mail as "snail mail." That is a popular term with all the younger folks and those who are really hip with computers, tablets, phone apps, and such.
But I wonder if they have really given thought to what they are saying. Of course, digital, electronic, etc., is fast and probably everyone who can, uses them. But consider that the U.S. Postal Service is vital to many urban communities and indispensable to small towns and rural areas.
Even in New York City neighborhoods, where I live, honeycombed with every kind of cell phone, email, and apps galore, every threat to close a post office has been met with community protests, most of which have won.
Further, it is the communications monopolies and their tea party, ultra-right allies who are trying to get rid of the Postal Service and privatize all communication to boost their profits, as well as dispense with the union membership among postal and other communications workers.
For several generations, a job with the U.S. Postal Service was a road out of poverty for tens of thousands. It was a steady job with decent benefits, which meant a family could get a mortgage on a modest house and plan for their future. A great many African American, and Latino families benefited from a family member working for the USPS, and still do.
It is important to engender respect for civil service jobs and the positive role that government can fill in our social fabric. Postal workers work hard to fulfill their role. Why should their work be thought of as "snail" mail? It is no more difficult to use "postal mail," and it adds a tone of respect.
Photo: Sorting mail in a small town post office before an afternoon delivery run. (AP)