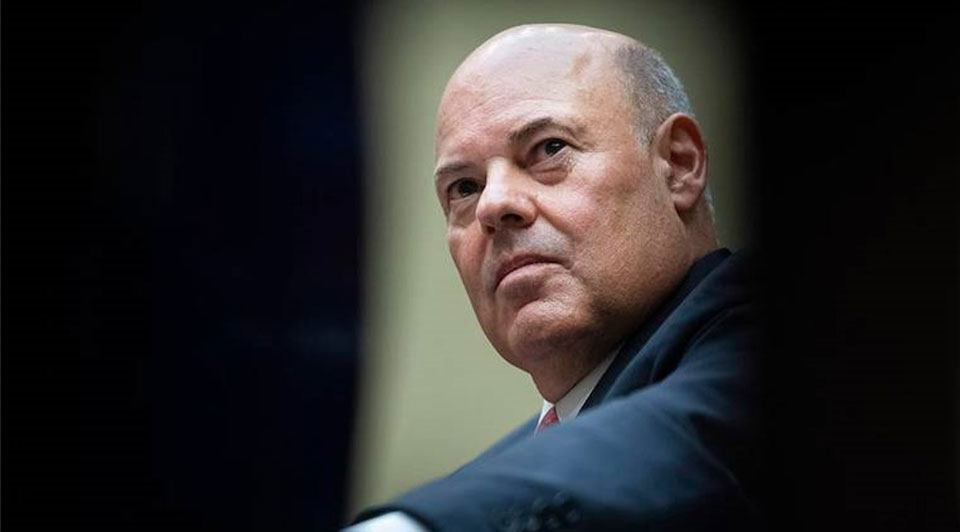 WASHINGTON (PAI)—The nation's two big postal unions, the Letter Carriers (NALC) and the Postal Workers (APWU), are taking a wait-and-see attitude on Democratic President Joe Biden's two nominees for seats on the U.S. Postal Service's Board of Governors.
And nominees Democrat Dan Tangherlini and Republican Derek Kan could determine whether the board when it reaches its full nine-member strength, cans controversial Trumpite and GOP donor Louis DeJoy from his job as Postmaster General, and his minions with him.
Biden had to nominate a Republican and chose Kan, a former Transportation Department official during the GOP Trump regime and aide to Senate Republican Leader Mitch McConnell of Kentucky, to replace Republican John Barger.
But the important nominee is Tangherlini, a former top Obama administration official and top official for the  D.C. government. That's because Tangherlini would succeed current chair Ron Bloom, also a Democrat, but a strong backer of DeJoy and his "reorganization."
DeJoy imposed service cuts to allegedly try to reduce USPS's congressionally imposed flow of red ink—even though USPS's financial report for fiscal 2021, which ended Sept. 30, showed a revenue increase, NALC President Fredric Rolando noted.
The increase "makes two things clear," Rolando said. "The first is how much the American people and their businesses rely on the Postal Service. During the pandemic, Letter Carriers helped tens of millions of Americans shelter safely at home, while also helping them vote safely from home—and providing a sense of normalcy through the worst months.
"Secondly, even with the demonstrated strength of the postal business model, USPS reported a net loss, which drives home the need for postal reform to address the artificial red ink caused by the 2006 congressional mandate that the USPS, alone among all U.S. companies and agencies, pre-fund future retiree benefits" at a yearly $5 billion cost.
DeJoy's business model to cut that deficit, though, is to slow service, loosen on-time delivery standards, ban overtime—which workers use to make sure people get their mail—raise prices, and close and consolidate sorting centers, eliminating jobs. Bloom backs all that.
And as Barack Obama's auto czar after the 2008 Bush crash, Bloom forced the two-tier wage system on the Detroit 3 car companies and the Auto Workers as the price for the federal loan guarantees which rescued and restructured GM and what became (then) FiatChrysler.
Foes of DeJoy look to the board when Bloom is gone on Dec. 8, to oust the controversial corporate executive and GOP big giver. Those foes include signers to a petition on Change.org.
Citizens for Responsibility and Ethics in Washington, a watchdog group on corruption, isn't waiting for the board to dump DeJoy, though. It filed a formal Freedom of Information Act request with USPS demanding records of deliberations and rulings on whether DeJoy has conflicts of interest between his logistics company and his USPS post.
Union Presidents Rolando of NALC and Mark Dimondstein of APWU are reserving judgment on Tangherlini and Kan until they meet them. The unions have been highly critical of DeJoy's destruction at USPS. DeJoy also ripped out mail sorting machines from post offices and mailboxes from central cities, especially those with high shares of people of color.
As a result of all those DeJoy moves, and more, complaints land in Congress about slow deliveries of first-class letters, needed medicines, and delayed bills, which lead to finance charges consumers must shoulder. Mail is particularly slow in Baltimore and Detroit. The USPS board is responsible for keeping him or firing him. Constituents want him canned.
"I look forward to meeting with Mr. Tangherlini and Mr. Kan before their nominations are taken up for approval by the Senate," Rolando said. After thanking Bloom "for his strong support of Letter Carriers and his exceptional public service to the U.S. Postal Service," Rolando promised to update his members when the Senate holds hearings on the two.
Dimondstein's union leads organized labor's "Save The Post Office" campaign, battling DeJoy's depredations, and has for more than 18 months. He took the same wait-and-see attitude towards the two nominees. But Dimondstein didn't mention DeJoy, except for one key word: "public." APWU's leader is a constant critic of DeJoy, his moves, backers, and motives.
"The APWU looks forward to meeting with the nominees, sharing our views on matters affecting postal workers, and learning where they stand on the future of the public United States Postal Service," Dimondstein said.
Both Dimondstein and APWU believe DeJoy's real agenda, pushed by the right-wing Heritage Foundation and the corporate class, is to devour the USPS, then privatize it, selling off its most profitable components to financiers and corporate interests.
Tweeted responses to the nominations were more pointed. One, run by a retired APWU rank and file activist who self-identified as  "21cpw" wrote:
"The board will continue to have 4 Democrats, 4 Republicans, and one Independent, but with 5 of the 9 members as Biden appointees, maybe they'll finally replace DeJoy. Barger's exit is a plus; he chaired the search committee that selected DeJoy."
And Chuck Zlatkin, legislative and political director for the New York Metro APWU, tweeted in response: "Obviously our work isn't done."