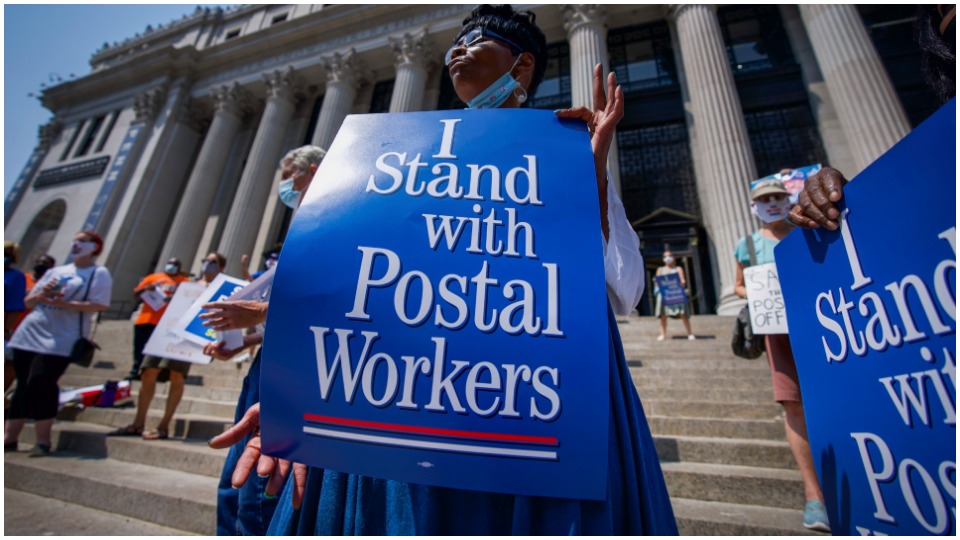 WASHINGTON (PAI)—The 2020 election may be mostly over, but Trump Postmaster General Louis DeJoy's plans to destroy the Postal Service aren't—and the Postal Workers are leading a wide-ranging national coalition setting up Nov. 17 events to stop him.
The union announced its plans in a Nov. 12 video teleconference nationwide, urging viewers and their allies to stage pro-Postal Service rallies, including "virtual" rallies at post offices nationwide. Rally details and signups available from the American Postal Workers Union.
And if you can't make it to a rally—or even if you can—call Congress, too, says Postal Workers President Mark Dimondstein. The toll-free number is 833-924-0085.
At stake, he explained, is DeJoy's scheme, shelved due to public pressure in the months before the election, to rip out sorting machines, fire thousands of USPS workers—most of whom are unionized, people of color, female, veterans, or combinations thereof—and slow down the delivery of everything from medicines to Social Security checks.
DeJoy made those moves at the behest of his sponsor, GOP Oval Office occupant Donald Trump, to slow, stall, and negate mail-in balloting. The coronavirus pandemic sweeping the country made mail-in ballots needed. Trump feared mail-in ballots would encourage higher turnout and sweep him out. It did.
Also at stake, Dimondstein said, is to stop, once and for all, the GOP-right wing plan, backed by corporate mailers, to carve up the Postal Service, sell off its profitable sections to the private sector, and leave the rest of the country to suffer.
"Our opponents are moving in for the kill and exploiting this pandemic with shameful cuts" to services and trying "to sell it off and privatize it," he stated.
DeJoy, a major Republican donor whom Trump had his hand-picked Postal Service board install earlier this year, began the destructive moves. One result: They left first-class mail, and especially ballot materials, on postal work room floors.
His actions led to a public uproar and lawsuits by postal unions, too. They culminated in DeJoy's retreat, at least temporarily, plus daily oversight of USPS operations, or lack of them, by U.S. District Judge Emmet Sullivan in D.C. In the end, USPS workers successfully delivered 65 million mailed-in ballots to local elections boards, all postmarked on or before Nov. 3.
But DeJoy made it clear his retreat was only temporary. The Nov. 17 events, said Dimondstein, aim to show public support not just for permanently repelling DeJoy's disastrous agenda, but for positive moves to put the USPS back on its financial feet.
The positive moves include $25 billion, in the House-passed Heroes Act, to ensure continued postal service at old standards, and to make up for losses caused by the coronavirus-produced closures and accompanying drastic decline in first-class mail, which makes money.
Republican Senate Majority Leader Mitch McConnell refuses to allow debate or votes on either version of the Heroes Act, thus killing the $25 billion for USPS, too. One point of the calls and demonstrations: To force lawmakers to make McConnell move.
Positive moves also include restoring postal banking services, abolished in the mid-1960s. With them, the one-fourth of the U.S. that is unbanked can cash checks and do other simple financial services at post offices for little charge, rather than depending on high-cost banks or rapacious payday lenders and pawn shops.
They also include permanent repeal of the $5 billion USPS must fork over yearly to the U.S. Treasury to prepay for future retirees' health care benefits. A 2006 GOP-passed postal "reorganization" act imposed that cost on the USPS and it's run in the red, due almost solely to that drag, ever since.
---
Like free stuff? So do we. Here at People's World, we believe strongly in the mission of keeping the labor and democratic movements informed so they are prepared for the struggle. But we need your help. While our content is free for readers (something we are proud of) it takes money — a lot of it — to produce and cover the stories you see in our pages. Only you, our readers and supporters, can keep us going. Only you can make sure we keep the news that matters free of paywalls and advertisements. If you enjoy reading People's World and the stories we bring you, support our work by becoming a $5 monthly sustainer today.