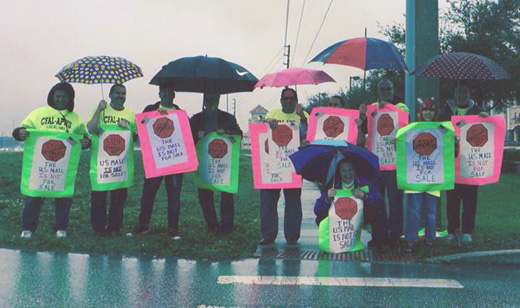 ORLANDO, Fla. – Postal workers and their allies braved the cold and rain to hold a rally here outside of an east Orlando Staples store on Feb. 8. Their goal was to educate the public about the impact on the postal workers' jobs of a deal between the giant office supply chain and the United States Postal Service that has resulted in the opening of counters offering postal services at more than 80 Staples in four states.
"Outsourcing an essential public service to a for-profit corporation staffed with clerks making less than a livable wage and no accountability to the American public is completely irrational," said Steve Morris, president of American Postal Workers Union Local 1462, which represents 1,100 Postal Service employees in Central Florida.
"Not only does it jeopardize the safety and security of the U.S. mail system, but consumers are getting a bad deal, too," said Morris. The union points out that the Staples employees staffing the mail counters won't have the training and expertise required of career postal workers who must qualify for their assignments, pass a civil service exam to be hired, and take an oath to protect the U.S. mail.
"I'm here to lend support to the postal workers union," said Steve Wisniewski, president of Communications Workers of America Local 3108, which represents AT&T and Verizon workers in Central Florida. Offering postal services "in a non-union environment where workers don't have pensions, don't have quality health care, and they pay them a lot less is going to put a downward force on the postal workers' ability to stay" in the middle class, Wisniewski said.
Postal workers earned an average of $25.00 an hourin 2013, and have negotiated benefits such as health care. Non-managerial employees at Staples earn around $8-$9 an hour and often lack benefits. (Staples CEO Ronald L. Sargent was paid $6.5 million in 2012.)
Staples' policies limit part-time workers to less than 25 work hours per week so they don't qualify for the company-funded health plan, according to Fight for Florida. The AFL-CIO-backed group organizes Floridians against what it calls an "assault" on the middle class by Florida's right-wing Gov. Rick Scott and Republican-controlled Legislature.
While the 25 participants held signs that said "Stop Staples-the U.S. Mail Is Not for Sale"and chanted, a small delegation entered the store to deliver a letter to the company. After waiting 20 minutes for a manager to come out of his office, Morris left the letter on the customer service counter and the delegation left, disgusted by the company's apparent lack of interest in APWU's concerns.
Staples CEO Sargent also has refused to meet with APWU national president Mark Dimondstein.
In the letter, the union calls the arrangement between the company and the USPS "an attack on the character and integrity of what the U.S. mail stands for in our country. Post offices are pillars of our community."
"Hundreds of Post Offices, from the small offices to large Mail Processing Plants are at risk. This risk equates to thousands of good well-earned jobs," says the union. "By staffing your stores with non-trained employees, the security and sanctity of the U.S. mail is being exposed and [this] jeopardizes the 'most trusted agency' status of the USPS! Postal employees are sworn to protect the mail, whether the USPS employees are in your store delivering the full-service that our country has come to expect and deserve, or at your neighborhood Post Offices."
This deal is bad for consumers, says APWU, since they "will be paying the same prices for far less service if USPS employees are not in your store."
APWU says it "never has opposed expanding services to the American public, but we do oppose privatization that simply profits corporations! This deal is an attempt to profit Staples. Shuttering Post Offices and deducting Postal Retail office hours does not put the customer's interests first."
Postmaster General Patrick Donahoe claimsthat the deal between Staples and the USPS is not a privatization ploy and that USPS is seeking "to grow our business to provide customer convenience to postal products."
Postal Service employees worry, however, that the arrangement with Staples will divert customers from post offices in the vicinity of the company's stores. This will, they say, lead to the eventual closure of those facilities and cost postal workers their jobs.
"My concern is that the Postal Service is giving our jobs [to employees] of Staples stores, and that's not right," said Juan Rincon, an Orlando-area USPS maintenance employee. "The [mail counters] should be run by actual employees who care about the mail and service."
Donahoe says that he would like to see postal service counters open in all of Staples' 1,600 U.S. stores "as soon as possible." Donahoe also has been dismissive of the postal workers' contention that the mail counters should be staffed by USPS employees, saying that who works at them "is Staples' business. They make their own business decision and it has nothing to do with us."
Photo: Ben Markeson/PW