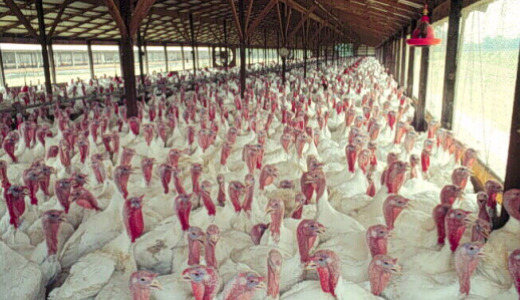 Don McCorkell is a large man. McCorkell, who spent 18 years as an Oklahoma state representative, looks like someone who has enjoyed a fried chicken dinner or two in his day. Yet he has put together, and is the central on-screen figure in, a compelling film that will make you think twice before you buy your next chicken wing.
In fact, you will not want to eat a supermarket chicken anytime soon.
The absorbing and well-researched documentary, "A River of Waste: The Hazardous Truth About Factory Farms," was released this summer as the state of Oklahoma was getting ready to take 11 poultry companies to court, charging them with contaminating the Oklahoma-Arkansas watershed with hundreds of thousands of tons of toxic waste from the 1,800 factory-like poultry "farms" in the area.
Federal District Judge Gregory Frizzell is now hearing the case in a Tulsa, Okla., courtroom.
The chicken waste contains arsenic, hormones and antibiotics that can cause serious illness and even death in humans. They come from the feed and drugs used for chickens and turkeys crammed into "confined animal feeding operations" (CAFOs) that have replaced traditional family farms in much of our country.
These operations, run by contractors, are wholly controlled by the big meat companies. They produce 95 percent of the poultry we find in supermarkets and the majority of beef and pork.
The CAFOs also produce vast amounts of toxic ammonia, sickening odors and poisonous dust. And the runoff into waterways is turning once-blue lakes and rivers green with algae, driving away fishing, recreation and tourism.
The defendants in the Oklahoma lawsuit include Tyson Foods, Inc., the world's largest meat producer, Cargill, Inc., and nine other poultry companies. A Tyson spokesman said the company has spent "in the millions of dollars" on lawyers in the case, Forbes reports.
"It's cheaper for them to hire lawyers and fight" than to fix the problem they have caused, Bill Berry, a Honey Creek, Okla., landowner, comments in the film. "The poultry companies will not do something until they're made to do it."
Interviewed in the film, Oklahoma Attorney General Drew Edmondson contrasts the behavior of Tyson unfavorably with that of the tobacco industry. Phillip Morris, says Edmondson, wanted to settle the class action lawsuit against the tobacco industry and move on. But Tyson, he says, is "almost the exact opposite." The company is "one of the most difficult to deal with" in the industry, he says. "They are used to having their own way."
The poultry companies, the film charges, have used a combination of political power at state and federal levels, money, intimidation and even physical threats to avoid responsibility for cleaning up their act.
The film shows scenic waterways like Oklahoma's Illinois River becoming coated by algae slime, fueled by runoff from the area's poultry operations. And it shows nightmarish scenes of thousands of chickens jammed into pens and onto slaughter assembly lines that are breeding grounds for disease – thus spurring the poultry industry's rampant use of drugs and growth hormones.
But the film makes its most compelling impact through the reasonable voices of scientists, public officials and local residents, as well as McCorkell himself.
"Thirty thousand birds in a barn, and you don't clean it because you believe antibiotics will kill the germs, is a perfect recipe for contamination of the human food supply," says Dr. Robert Lawrence, director of the Center for a Livable Future at the Johns Hopkins Bloomberg School of Public Health.
In Prairie Grove, Ark., where a poultry CAFO sits near a local school, the parents of Holly Green, who died of cancer at age 10, discovered their daughter was one of a cluster of children in the area, from teenagers to a 3-year-old, who had died from cancer. Arsenic levels in household dust there were found to be far above safety levels. Arsenic, used for chicken growth enhancement, is a human carcinogen even at very low levels.
"We just never imagined we were being poisoned by chicken litter, something we'd smelled our entire lives," Holly's mother says.
It's not just an Oklahoma/Arkansas problem, the film shows.
Former Maryland Gov. Parris Glendenning tells how Maryland's Chesapeake Bay and its people have been sickened by discharges from poultry factory farms.
In Clayton, Mich., Dean Henning weeps as he and his wife Lynn describe how his elderly parents "suffer every day" from the stench of a neighboring CAFO. "They are choking to death down there," says Henning. The company, he says, has tried to intimidate his parents and drive them out of their homes.
"If this is considered the future of agriculture, there's going to be nobody living in rural areas," says John Klein, head of Environmental Concerned Citizens of South Central Michigan.
The European Union, Japan and Australia have much stricter regulation and enforcement practices for their meat production than the U.S., the film emphasizes.
"A River of Waste" points to the importance of the court case now under way in Oklahoma. If Tyson and the other poultry companies are forced to clean up their mess, it will set an important precedent for the rest of the food industry.
"A River of Waste" is distributed by Cinema Libre Studio, and can be ordered at www.ariverofwaste.com. It is available on Netflix, or ask for it at your local library or video store.
Photo: http://www.flickr.com/photos/soilscience/ / CC BY 2.0