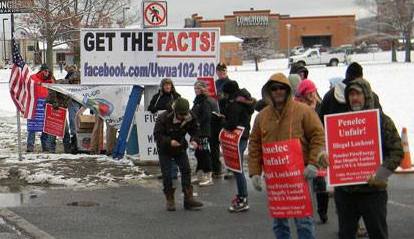 ALTOONA, Pa. – Utility Workers Union of America System Local 102 today strongly criticized the continuing lockout of nearly 150 utility workers by Pennsylvania electric utility Penelec and its parent company FirstEnergy, notwithstanding power outages affecting 750,000 Pennsylvania customers caused by Winter Storm Nika.
"It is reckless and irresponsible for FirstEnergy to keep 142 skilled electric utility workers sidelined while hundreds of thousands of citizens go without power during a dangerous winter storm," declared Bob Whalen, president of System Local 102.
"FirstEnergy has refused to allow these veteran first responders to perform their jobs delivering essential public services since late November. To keep skilled linemen locked out of their jobs during a massive power outage – all for the sake of padding the corporation's profits at the expense of public safety – is inexcusable."
Harsh winter weather conditions such as the existing ice and snowstorm across the northeastern U.S. can severely strain electric power systems throughout the entire region, as power outages force utilities to scramble to find sufficient skilled workers to restore service. Electric utilities routinely call upon other utility companies to supplement emergency power restoration crews.
Despite the havoc inflicted by the ongoing winter storm on the public, FirstEnergy refuses to allow utility workers at Penelec to assist in emergency power restoration work. Management has rejected numerous proposals from the union that the company should immediately return all locked out workers to their jobs, while the parties continue to negotiate a new labor agreement at the bargaining table.
FirstEnergy locked out Penelec employees three days before Thanksgiving to try to coerce them to accept corporate demands for cutbacks in customer service standards, employee working conditions, and benefits. FirstEnergy's demands include scheduling changes and cutbacks in staffing levels that would make it harder for utility crews to respond to emergency outages, such as those taking place during the current winter storm.
The locked out workers include linemen, substation electricians, and other employees at Penelec worksites in Altoona, Lewistown, and Shippensburg, Pa. Management's lockout of these skilled utility workers has now extended into its tenth week.
"Our members are anxious to get back to work to help restore power for customers," stated Whalen. "Top FirstEnergy executives should place the public safety ahead of short-term corporate profits by bringing these employees back to work immediately."
Photo: Utility Workers of America Facebook page.