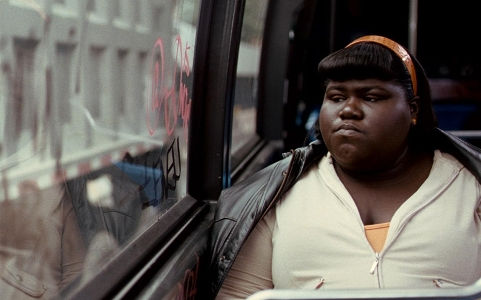 "Precious Based on the novel 'Push' by Sapphire"
Directed by Lee Daniels
2009, 110 min., R
Film producer and promoter Lee Daniels returned to the director's chair, after his 2005 film effort, "Shadowboxer," by taking the book by Sapphire, called "Push" and making an outstanding film: "Precious."
The casting of Gabourey "Gabby" Sidibe as the lead character, Precious, and Mo'Nique as her mother, Mary, were expert decisions. They maintained the mother-daughter relationship and all of the human drama that Sapphire wrote in the film.
This is just one more excellent acting performance by Mo'Nique. She had, probably, the most difficult role in the film and she never disappointed.
Controversy surrounds the book and film. Is it a racist cliché or not? Armond White, the chief film critic of the New York Press and the chairman of the New York Film Critics Circle, was quoted by the NY Times, "Not since 'The Birth of a Nation' has a mainstream movie demeaned the idea of Black America life as much as 'Precious.'"
In reply to White, and, as reported in the same NY Times article, the author of the book "Push," Sapphire said in reply to the stereotypes charge: "Black people are able to say 'Precious' represents some of our children, but some of our children go to Yale."
In reply to the charge that the book and film identify child abuse of being Black, "Child abuse is not Black….What do you call the man in Austria who imprisoned his daughter for years?" Sapphire is not backing down one inch.
I would ask concerning films that have this kind of theme and controversy: What is the purpose of the film? "Birth of a Nation" was meant to promote racism and racist actions; and, it did. "Precious" clearly was meant to do as NY Times critic AO Scott observed in his next day article and further review, "An unstated but self-evident moral of "Precious," set during Ronald Reagan's presidency and based on a book published in the year of Bill Clinton's welfare reform, is that government can provide not only a safety net, but also, in small and consequential ways, a lifeline."
With the financial backing of Oprah Winfrey and her full support of the film's theme, her "Color Purple" film of a couple decades ago came to minds of many. Remember, that film evoked a lot of controversy. At first many avoided that film, but later saw it. It has become a Broadway play. "Precious" might be headed that way.
Daniels had a previous experience with extreme human drama when he produced the Academy Award recognized film, "Monsters Ball." That was also a very rough film. Remember, in that film the main character was a Black woman played by Halle Berry with many serious issues. Billy Bob Thornton was the other lead character.
In this film, the viewer is transfixed with eyes glued to a screen that unfolds a human drama that is as extreme as it is believable. There is not one moment of this film that any unreality is portrayed. When Precious day dreams about being a star singing performer or a white, blond haired woman, these all made sense in the film.
When Precious finally finds some friendly people, she is ready to make something of herself. Paula Patton as Ms. Blu Rain becomes her teacher in a special public school. She is referred to that school by a teacher and principle that recognize her abilities in math go beyond.
Two supporting actors shore up the film's key elements. Mariah Carey plays Precious' social worker, Weiss; and Lenny Kravitz plays male nurse John. They are both excellent and play well within their scripted roles.
Geoffrey Fletcher did a great job in adapting the book to an effective screenplay.
Daniels currently lives in New York City. He was born in Philly and lived a large part of his life in Los Angeles. He will have lots of knuckles knocking on his door.