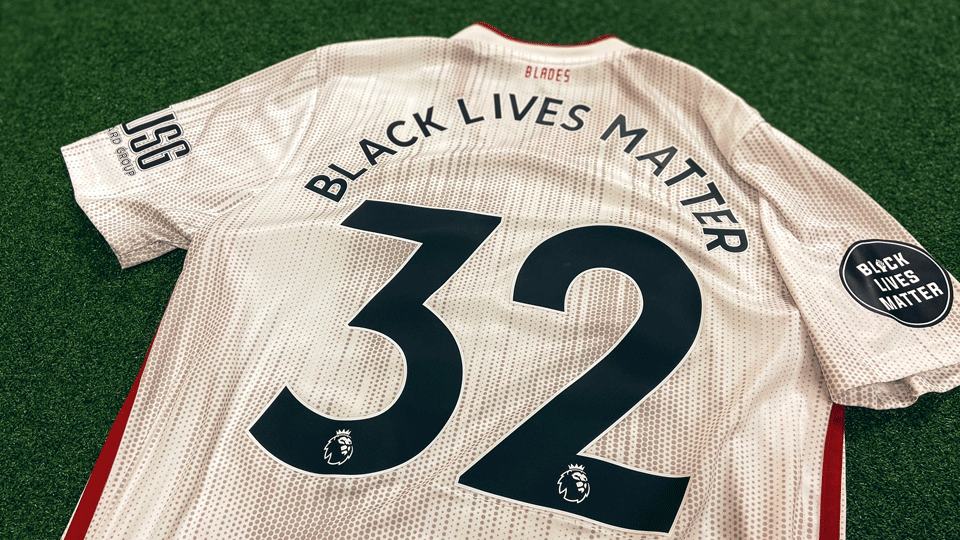 Well, English football fans, the endless waiting period has finally ended. Sheffield United and Aston Villa took the pitch and restarted the Premier League Wednesday, June 17, after a 100-day COVID-19 hiatus. Adding to this moment, and making it truly impressive, was the powerful statement made by players, referees, managers, and staff in solidarity and support of Black Lives Matter, and the worldwide demonstrations demanding an end to racism and police brutality.
As the kick-off whistle echoed throughout the empty football stadium, everyone took a knee. As the camera panned over the scene, you could see all the players' names were removed from their shirts and were replaced with the words "Black Lives Matter" as the entire Premier League joined the international demonstrations following the murder of George Floyd.
Before kneeling, a moment of silence was observed in memory of those who have died from the COVID-19 pandemic.
It was a brilliant scene, and an unusual departure from the Premier League's usual insistence that players refrain from making overtly political statements, but adds credibility to the league's genuine efforts to rid the game of racism through its "No Room for Racism" initiative. And for the next 12 matches all 22 Premier League teams will be wearing "Black Lives Matter" shirts.
"Both clubs hope that the act of  'taking a knee' will send a strong message of unity and amplify the many messages of support from Premier League players and the wider football family," both teams said in a statement immediately after the on-pitch demonstration.
And this moment was not kept to just one out of the two matches scheduled.
Arsenal and Manchester City took a knee before kick-off, too. Their shirts were also re-stitched to say "Black Lives Matter."
Before the official season restart, players had been warming in shirts with slogans like "I Can't Breathe," words uttered by Floyd repeatedly as he was murdered, "Silence Is Violence", "Colour Is Not A Crime" and "I'm Not Black But I Stand With You." And six days earlier, players from all 22 teams released a statement saying: "We, the Players, stand together with the singular objective of eradicating racial prejudice wherever it exists, to bring about a global society of inclusion, respect, and equal opportunities for all, regardless of their colour or creed. This symbol is a sign of unity from all Players, all Staff, all Clubs, all Match Officials, and the Premier League #blacklivesmatter #playerstogether."
When asked about the change in on-pitch activism, Premier League CEO Richard Masters said he did not see the anti-racism messages as political but rather, "I would see them as ethically-based value statements."
He continued: "We have been talking to the players about how they wanted to respond to the two big issues – COVID-19, the global pandemic, and the outpouring of response to events in America. They made it clear how they wanted to respond, and we were happy to support that and the clubs are [too]."
Quite a contrast to the response we've gotten from Donald Trump, and our National Football League wouldn't you say?