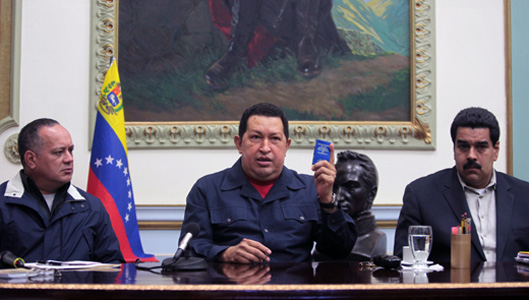 For the fourth time in a year and a half, Venezuelan President Hugo Chavez left for Cuba on Sunday for cancer treatment. He has expressed confidence that he can beat the illness, but has also asked that his supporters vote for Vice President and Foreign Minister Nicolas Maduro in case things turn out otherwise.
Chavez was diagnosed with a cancerous lesion in his hip region last year while on a state visit to Cuba. The story goes that he was conversing with Cuban ex-president Fidel Castro when Castro noticed that Chavez was experiencing discomfort, and insisted that Cuban specialists be allowed to examine him. The lesion was found and excised, but recurred, necessitating another trip to Cuba for surgery. This time, Chavez had gone to Cuba for treatment for after effects of the cancer treatments, and more malignant cells were found.
In October, Chavez was re-elected as president of Venezuela over conservative candidate Henrique Capriles Radonski, the governor of Miranda state, by a margin of 55 to 44 percent. Local elections are due on December 16th, next Saturday. Should Chavez not be able to be inaugurated on January 10, the Venezuelan constitution calls for a new election to be conducted within 30 days.
In an emotional get together with his followers in Caracas on Saturday, Chavez promised to fight the illness but said that should there not be a positive result, he wants them to vote for Vice President and Foreign Minister Nicolas Maduro.
Maduro, 50, is a former driver for the Caracas metro transport system, a labor union leader and a founding member of Chavez' political party, the Venezuelan United Socialist Party, as well as of its predecessor, the Fifth Republic Movement. He was chosen as foreign minister by Chavez in 2006 and vice president earlier this year.
He is described as a skillful politician and has received plaudits for his handling of Venezuela's foreign relations. Along with Chavez, he has been a major factor in the building of alliances in the Latin America-Caribbean region that have created hopes among millions of getting out from under U.S. hegemony. In addition, Maduro was instrumental in facilitating the current peace negotiations between the Colombian government and the FARC-EP Marxist guerillas.
While Western corporate media gloated over Chavez's heath problems and speculated that they could lead to the overthrow of Venezuela's left wing policies and alliances, progressive and working class Venezuelans expressed their full solidarity for Chavez.
Venezuela plays a key role in the leftward movement and unity of Latin America not only because of Chavez's personal popularity and prestige, but because Venezuela's large scale oil production has been used to finance development projects which have been especially useful to other countries which do not have sufficient oil production of their own, such as socialist Cuba. Candidate Capriles had promised to continue some of Chavez's very popular social welfare programs while cutting off economic support to Cuba.
The Venezuelan Communist Party (PCV) published a statement on their website which said in part:
"In the PCV and the JCV (Venezuelan Communist Youth) and in our membership and friends, we have hope and confidence that the comrade president, Hugo Rafael Chavez Frias, will again be able to overcome this challenge which life has placed before him…with the firm and decisive will of President Chavez to continue fighting for the transformation of society to benefit our peoples."
Photo: President of Venezuela, Hugo Chavez holds a copy of the Constitution as President of the Assembly, Diosdado Cabello, left, and Vice President, Nicolas Maduro, look on, during a televised address from the Miraflores Palace in Caracas December 8. Marcelo Garcia / Miraflores Press / AP