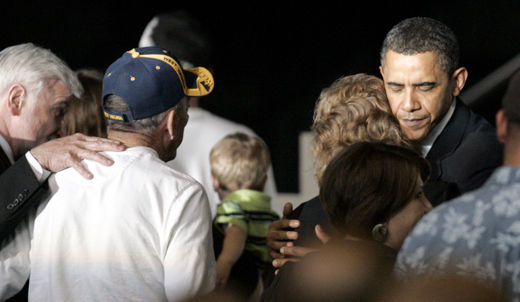 In a dramatic departure from the days when workers were scorned by the White House President Obama yesterday became the first president to issue a proclamation for Workers Memorial Day. In that proclamation he notes that 40 years ago, with passage of the Occupational Safety and Health Act and the Federal Coal Mine Health and Safety Act, the nation was declaring that all American workers have the right to a safe workplace and that all employers have an obligation to provide such a safe workplace.
"Yet today," the president declared, "We remain too far from fulfilling that promise."
The record shows the president could not be more correct. Each workday, it is likely 14 workers won't go home to their loved ones because they will be killed on the job.
In 2008, along with the 5,124 workers killed, there were the 50,000 who died from work caused diseases, the 4.6 million who were reported injured and the almost 10 million who were injured but feared that reporting the injury would result in loss of their jobs.
In his proclamation the president mourned the 29 miners killed recently in West Virginia, the seven killed at the refinery in Washington State, and the 11 killed when an oil platform exploded in the Gulf of Mexico
.
To his credit the president didn't stop there. He noted that as horrible as these tragedies were most workplace deaths happen one at a time, away from the spotlight.
The labor movement notes that the vast majority of these "out of the spotlight" deaths and injuries would not occur if health and safety laws were followed. For too many employers safety takes a back seat to production. For too many employers laws that protect workers are completely ignored.
The president, again to his credit, noted that the health and safety laws that are on the books resulted from many years of struggle by workers themselves and by unions and that the task for his administration now is to achieve safe working conditions for all Americans by strengthening those laws and by creating stronger enforcement.
We applaud the president for his historic and bold proclamation on Workers Memorial Day and we take this opportunity to renew the call for passage of the Employee Free Choice Act. When workers choose unions they get safer workplaces. Millions of new union members will bring us closer to the day when no one, union or non-union, has to risk his or her life when they go to work in the morning.
Photo: United Mine Workers of America president Cecil Roberts, left, and President Barack Obama, right, comfort the families of miners at Beckley, W.Va., memorial for victims of Upper Branch Mine explosion, April 25. Steve Helber/AP.