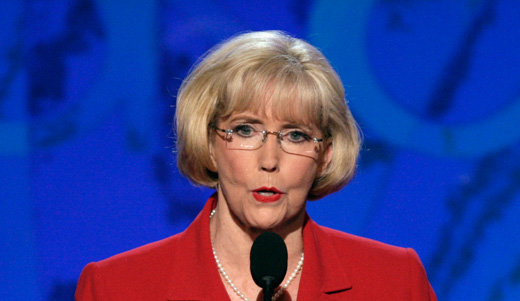 WASHINGTON – As the Senate prepared to vote tomorrow on the Paycheck Fairness Act President Obama issued an executive order today that immediately applies some of the provisions of that act to federal contractors. The president signed the order in a dramatic White House ceremony as Lilly Ledbetter stood beside him watching.
The ceremony marked Equal Pay Day, the day that marks how long a woman must work into 2014 to earn the same as a man did in 2013.
The president's executive order bans federal contractors and the government itself from retaliating against workers who inquire about or give away information regarding the employer's wage policies. The Paycheck Fairness Act would allow all workers to talk to one another about wages so they could, for example, decide whether there is a wage differential for men and women performing the same tasks.
President Obama's executive order will also require that federal contractors provide the Department of Labor with data regarding workers' pay and facts regarding their race and gender.
"Women make up half the workforce so this is an issue of justice for all workers," the President said. "Paying women less means less money for the family, less money for childcare, less money for gas, less money for retirement and less money for all the things families need to survive."
This latest presidential executive order on wages comes only two months after the last such order the president issued – a February executive order requiring federal contractors to pay a minimum wage of $10.10 per hour. In that case too the president was jumping the gun on a bill in Congress that would do the same thing for all workers across the country.
The president's order today follows the release by the National Partnership for Women yesterday of a report that shows the extremely high costs of the gender-based wage gap in America. It breaks down those costs to show the effects in individual states of the wage gap on both the women who are directly affected and on their families.
The report shows that women who are employed full time, year round in the United States are paid just 77 cents for every dollar paid to men, ending up with a yearly wage gap of $11,607. If the gap were eliminated, women would be able to provide much more for both themselves and their families.
In California, the report noted, they could buy 59 more weeks of food. In Ohio women would afford nine more months of mortgage and utility payments and in Georgia 10 more months of rent. Women employed in Florida could afford 1,900 or more gallons of gas.
AFL-CIO Secretary-Treasurer Elizabeth Shuler said, "The best pay equalizer is union membership, but most workers don't have that advantage." That's why, she said, a law like the Paycheck Fairness Act is needed. In addition to protecting employees who inquire about or discuss wages the bill would require employers to show pay disparity is actually related to job performance – not gender.
Most House Republicans are opposed to the Paycheck Fairness Act. In 2012 they blocked a vote on the bill in the Senate.
"So far the Republicans have been gumming up the works on a lot of things, including Paycheck Fairness," Obama said. "But we don't have to accept this. If you have a sister or a daughter and I know you all have a mother – tell them it is time to get on board and pass this law."
In a 2014 nationwide survey, 62 percent of likely voters said they supported the Paycheck Fairness Act – 83 percent of Democrats, 58 percent of independents and 44 percent of Republicans. The majority of Republican women (51 percent) support the bill.
Unions and their allies in the women's movements note that lower pay for women is the result of more than just the wage gap. Among minimum wage workers, for example, women are disproportionately represented.
"Conventional depictions of minimum wage jobs imply that teenagers flipping burgers in fast-food restaurants represent the majority of minimum wage worker populations when, in reality, almost two thirds of minimum wage workers are women," said Thea Lee, AFL-CIO deputy chief of staff. The image of the minimum wage worker as a teenager working at his or her first job is outdated and causes downplaying of the urgency of immediate action to raise the minimum wage, Lee said. "Child care workers, domestic workers, assisted living workers and restaurant employees are but a few examples of the real body of workers who comprise the minimum wage population," she noted.
"Some 22 percent of minimum wage workers are women of color, even though women of color only make up 16 percent of the population overall," said Elise Gould, director of health policy research at the Economic Policy Institute. "Specifically, the condition of workers in tipped occupations, such as servers in restaurants, is pretty dire given that the federal minimum wage for these positions is $2.13 an hour and nearly three quarters of workers in these occupations are women."
The problem of the wage gap extends well beyond just the poorer sections of the population. For women traditionally thought of as "better off," college graduates, for example, the wage gap is also a major issue.
College educated women earn 82 percent of men's salaries, according to a recent study by the American Association of University Women. "For many young women, the challenge of paying back student loans is their first encounter with the wage gap," the study says.
"That gap expands," said Fatima Goss Graves, vice president for education and employment at the National Women's Law Center. She said the expansion of the wage gap for college-educated women comes as a result of marriage, having babies and discrimination in the workplace. "You have the same burden of student debt that is affecting men and women. But because women are making less, it means a larger percentage of their income is going to pay off that debt."
The lower pay for these women, she says, effects other decisions families make, including purchasing of homes, saving for children's education or putting away money for retirement.
Photo: Lilly Ledbetter was present at today's signing. In 1998, as she neared retirement, she discovered a pay gap between her and male peers. An anonymous note explaining the horrible reality had appeared in her inter-office mailbox. Thus began her struggle to win equal pay for women. (AP Photo/Ron Edmonds)