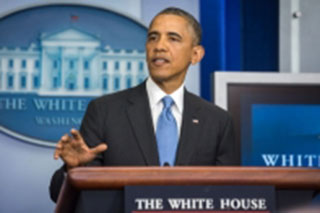 "Trayvon Martin could have been me 35 years ago," President Obama said Friday. He made that comment in remarks at the White House Press Briefing Room about the killing of the African American teenager and this week's acquittal of his killer, George Zimmerman.
Clearly moved by the tragedy, Obama said it was important for the country to reflect on the "context and how people have responded to it and how people are feeling." The nation's first African American president said, "I think it's important to recognize that the African American community is looking at this issue through a set of experiences and a history that doesn't go away."
As no other president before him could have, Obama discussed the harsh experiences of Black young men and Black people in general in confronting racism in many forms, experiences that, he noted, he had shared. But the question now, he said, is "where do we take this? How do we learn some lessons from this and move in a positive direction?"
The president offered several practical steps he said his administration and others in positions of leadership could take. These included:
* beefed up training of law enforcement officers in order to reduce racial profiling and "mistrust"
* "examination" of state and local laws such as Florida's "stand your ground" law that may feed conflict and violence rather than resolve them;
* new and expanded programs to "bolster and reinforce" African American boys and young men.
"And for those who resist that idea that we should think about something like these 'stand your ground' laws, I'd just ask people to consider, if Trayvon Martin was of age and armed, could he have stood his ground on that sidewalk?"
Obama said. "And do we actually think that he would have been justified in shooting Mr. Zimmerman who had followed him in a car because he felt threatened? And if the answer to that question is at least ambiguous, then it seems to me that we might want to examine those kinds of laws."
Watch the 17-minute remarks below, or read the text here.