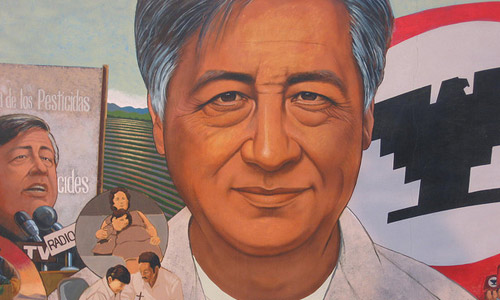 President Obama is slated to visit Keene, Calif. – home to La Paz, the United Farm Workers union's headquarters – Oct. 8 to announce establishment of the César E. Chávez National Monument honoring the great civil rights and union leader. The visit takes place during the UFW's 50th anniversary year.
Chávez and his family lived and worked at La Paz from the early 1970s until his death in 1993. His grave site there will be part of the monument.
"César Chávez gave a voice to poor and disenfranchised workers everywhere," the president said in a statement. "La Paz was at the center of some of the most significant civil rights moments in our nation's history, and by designating it a national monument, Chávez' legacy will be preserved and shared to inspire generations to come."
In a statement, Chávez's widow, Helen Chávez, said Obama "is doing more than honoring one man. César knew there were many César Chávezes, men and women who made genuine sacrifices and accomplished great things, but whose names are largely forgotten." If he were here, Helen Chávez said, the farm worker leader would say the president is honoring "the farm workers and all those who sacrificed by joining the cause."
UFW President Arturo Rodriguez said Chávez's legacy "transcended farm labor and even Latinos because it became a universal message of hope, empowerment and social justice."
The monument has been years in the planning. It will be designated under the federal Antiquities Act, and will be managed by the National Park Service in consultation with the National Chávez Center and the César Chávez Foundation. The Antiquities Act, inaugurated in 1906, designates and protects unique and historic features in the U.S.
Keene is located in the southern Central Valley, in the heart of California's agriculture industry. From La Paz, Chávez played a central role in the union's work to win basic worker protections for thousands of farm workers around the country, from assuring provision of drinking water and sanitary facilities in the fields to helping to win minimum wages and health care for farm workers and limit their exposure to toxic pesticides. Enactment of the California Agricultural Relations Act in 1975 established the first, and still the only, law establishing farm workers' right to organize.
The UFW points to continuing victories in more recent years, including in the strawberry, rose, mushroom, vegetable, dairy and wine industries.
Eleven states now recognize March 31, Chávez's birthday, as a state holiday, and the campaign continues for a national holiday.
Photo: Salina Canizales // CC 2.0