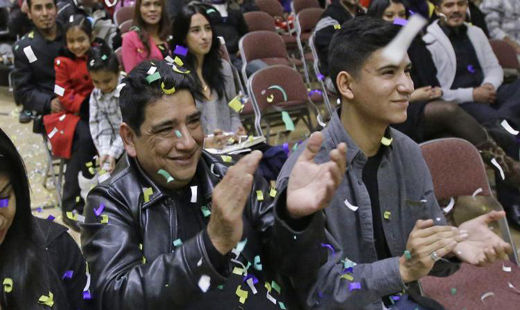 WASHINGTON – Helen F. Chavez, widow of the great farm worker union organizer, Cesar Chavez, hailed President Obama's speech Nov. 20 in which he announced executive actions to protect five million undocumented people from deportation in the next two years. Bowing to Fox News and rightwing intimidation, CBS, NBC, and ABC did not televise Obama's speech from the East Room of the White House.
Chavez said she met Obama when he came to California to dedicate a monument to Cesar Chavez several years ago. She asked Obama, then, if he would take action to defend the rights of undocumented workers. Obama answered that yes, he would.
"Today, President Obama kept his promise to me and to the American people," Chavez said in a MoveOn petition expressing support for Obama's actions. The president took these steps despite threats from the Republican leadership on Capitol Hill to close down the federal government or even impeach him on specious grounds that he has exceeded his constitutional authority. Every president in the past half century including Republicans has issued executive rders to deal with issues of immigration when Congress failed, or refused to act.
Ms. Chavez thanked Obama for coming to the defense of "the immigrants who toil in our fields, make beds, clean rooms, cook meals, work on construction and manufacturing and care for our young and elderly." She added, "I've known the farm workers all my life. Like other immigrants, they take jobs most Americans won't accept and under conditions most other Americans won't tolerate. Big parts of our economy can't survive without immigrants."
Obama announced that undocumented workers who have been in the U.S. for at least five years and have no criminal records can apply for work permits without fear of deportation. He said he will also authorize issuance of permits to the parents of children who are U.S. citizens or permanent residents and will not deport "dreamers," or children and youth who were brought to the U.S. "illegally" as children or youth. Many of these "dreamers" have braved threats of deportation to enroll in high schools and colleges despite the risk of deportation.
Obama spoke of Astrid Silva, a 26-year old Mexican-American woman now working on her third college degree in Las Vegas. He was scheduled to fly to Las Vegas today to meet with Silva and other leaders of the "dreamer" movement. When Astrid Silva was brought to the U.S. at age four, "her only possessions were a cross, her doll, and the frilly dress she had on," Obama said. Dreamers, he added, are as American as Malia and Sasha, he said, referring to his teenage daughters. Does it make any sense to deport these youth who sacrifice and struggle for an education or a job? They do not come to the U.S. looking for a "free ride or an easy life," he said. "They come here to work, to study, and serve in our military and above all, to contribute to America's success."
Janet Murguia, president of the National Council of La Raza (NCLR), the largest Latino civil rights organization in the U.S. hailed Obama's speech. "Tonight, the president made the long awaited decision to provide relief from deportation to up to five million people includibg the parents of children who are U.S. citizens or legal permanent residents."
Describing it as a victory for the mass movements that have been pushing for immigration reform for many years but ignoring that it was still only a first step, she said, nevertheless, "This is a victory for millions of American families and workers, a victory for our country and….for common sense."
Obama's executive order will bolster the economy and the rights of workers—both immigrant and native born—by preventing "bad employers from pitting undocumented workers against U.S. citizen workers." Preserving this system of splitting the work force—citizen vs, immigrant—is a source of enormous profits and one of the main reasons corporate rightwing Republicans seek to preserve the status quo in the immigration system. Needless to say, it is the fact that preserving the status quo has enabled rightwingers to use immigration as an election issue. Whipping up anti-immigrant hysteria has long been used to help elect rightwing lawmakers in many states.
Photo: Serafin Bahena (left) celebrates with others at Centro Civico Mexicano in Salt Lake City after Obama's nationally televised address Thursday night. | Rick Bowmer/AP