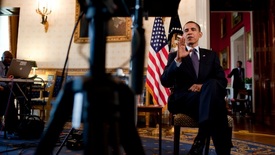 Remarks of President Barack Obama
Weekly Address
The White House
July 4, 2009
Hello and Happy Fourth of July, everybody. This weekend is a time to get together with family and friends, kick back, and enjoy a little time off. And I hope that's exactly what all of you do. But I also want to take a moment today to reflect on what I believe is the meaning of this distinctly American holiday.
Today, we are called to remember not only the day our country was born – we are also called to remember the indomitable spirit of the first American citizens who made that day possible.
We are called to remember how unlikely it was that our American experiment would succeed at all; that a small band of patriots would declare independence from a powerful empire; and that they would form, in the new world, what the old world had never known – a government of, by, and for the people.