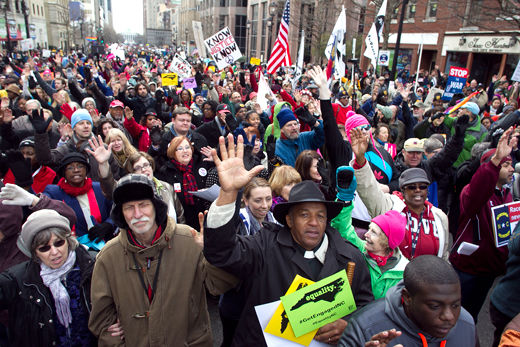 WASHINGTON (PAI) – Saying extended federal jobless benefits often don't last long enough to help unemployed workers, and frequently come later than the workers need them, President Obama proposed overhauling the jobless benefits program to cure those ills.
But his proposal, to extend the federal benefits – on top of state jobless benefits – for up to 52 weeks, depending on a state's jobless rate, faces tough sledding in the Republican-run 114th Congress.
That's because even when joblessness was higher last year than its present mark, 5.6 percent, a successful Senate Republican filibuster killed extended federal benefits, which had been in effect in calendar 2012, but expired at the end of that year.
And GOP-run states, at the behest of business lobbies and the radical right – interests that claimed joblessness was the workers' fault – had been cutting their own state benefits down to as little as 20 weeks.
Obama took a different view. His budget says unemployment insurance "provides critical income support to those who are unemployed through no fault of their own."
His proposals "would improve the solvency of state programs, reach more workers in need, strengthen the program's connection to work, and make the UI program more responsive to economic downturns," his budget says. It's "an important safety net to workers who lose their jobs, and helps the economy by allowing" them to keep seeking work and still have some money coming in, which they use on goods and services.
At the end of 2014, some 2.8 million workers, or about one-third of all the unemployed, had been out of work at least 27 weeks, thus exhausting their state jobless benefits. The extension Obama proposes would create a new federal extended benefits (EB) program.
Extended benefits, which now last up to 20 weeks on top of state jobless benefits, "does not provide sufficient help during recessions because it provides too few weeks of additional benefits and its triggers" for extra benefits "are not responsive enough" to high joblessness.
"As a result, the Congress passes ad hoc emergency UI programs that begin too late to provide the early stimulus that could lessen the severity of a recession," he says. So Obama wants lawmakers to enact "a new permanent, federally funded extended benefits program that would respond quickly when state unemployment rates rise and provide more robust" aid.
Obama would give jobless workers who have exhausted their state benefits 13 more weeks of federal benefits if the workers live in a state with a 6.5 percent jobless rate. Every one percentage-point hike in a state's jobless rate would add 13 more weeks of federal benefits for that state's unemployed workers, up to a 9.5 percent rate, which would give the jobless workers a whole year of extra federal benefits.
But to really help jobless workers in states where unemployment suddenly jumps, "the threshold rates can be lower," Obama's budget proposes. "This new program would ensure the UI program responds quickly to dampen the effects of recessions and provides a critical safety net for unemployed workers in states where jobs are scarce," it adds.
State jobless benefits programs ran in the red too often during the Great Recession. Almost half the states (23) are still in debt to the feds or private lenders. So to shore up state jobless benefit finances, Obama wants to broaden the tax base on which employers must pay for unemployment insurance, while lowering the current federal levy for jobless benefits.
Obama also wants to improve the connection between jobless benefits and available jobs. So he's proposing "a modernization fund" to give states incentive payments if they expand unemployment eligibility – to reach more workers – and expand work-based learning opportunities and training for jobless workers.
Photo: Thousands march in Raleigh, N.C., Feb. 8, 2014: Nearly 200 organizations join the NAACP in the "Moral March on Raleigh." Advocates are angry about bills Republican Gov. Pat McCrory has signed into law, including a reduction in unemployment benefits. | AP/The News & Observer, Robert Willett