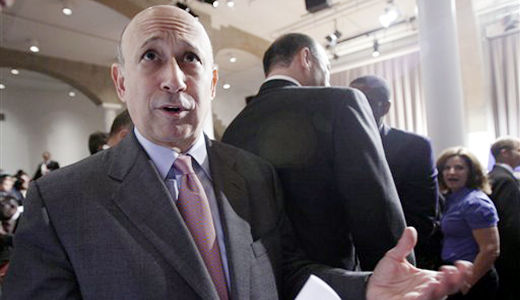 President Obama took the fight to curb the financial industry abuse to the place where the worst economic disaster since the Great Depression began – Wall Street.
In a speech yesterday at New York's Cooper Union college, the president, literally in the shadow of the center of world finance, declared that "the crisis was born of a failure of responsibility from Wall Street to Washington."
He warned that without change on Wall Street, "America is doomed to repeat the past."
As he spoke, sweeping proposals for the biggest overhaul of the U.S. financial system since the 1930s were getting closer to votes in Congress.
The proposals create a mechanism for liquidating banking firms that are so big that their sudden collapse could destroy the entire economy. The measures are aimed at preventing a repeat of the 2008 Bush bailout of financial giants with taxpayer funds.
The proposals would also, for the first time, impose curbs on derivatives – the complex financial gimmicks whose "value" is derived from the value of other investments – and would set up a consumer financial protection agency.
The crackdown on derivatives made dramatic headway Wednesday as the Senate's Agriculture Committee passed a tough bill setting curbs on such gimmicks. Sen. Charles Grassley, an Iowa Republican up for re-election, joined a dozen Democrats in voting for the measure, the first time a Republican senator has supported sweeping financial regulations. He said, however, that he still might vote against the final bill.
Parts of the derivatives measure approved by the committee are actually stronger than those sought by the Obama administration. They would require banks to spin off their derivatives operations, which have brought them billions in profits.
Lawmakers are reporting that their phones are ringing off the hooks with calls from bank lobbyists determined to strip the measure from any final bill.
In his New York speech Obama demanded that the banks stand down in what he called their "furious efforts to block an overhaul bill by hiring an army of lobbyists."
The president also stepped up his offensive Thursday by linking the entire economic mess to conservative policies in general and the Republican Party in particular.
"In this entire year and a half of cleaning up this mess, it has been tough because the folks very responsible for a large portion of this mess decided to stand on the sidelines," Obama declared. "It was as if somebody had driven their car into a ditch and then just watched as you had to yank it out, and asked you: 'Why don't you do it faster – and why do I have a scratch on the fender?' And you want to say: 'Why don't you put your shoulder up against that car and help to push?'"
The president's remarks increased the pressure on Republicans scrambling to shed their image as the "party of no." There are reports that as early as Monday the long-threatened GOP filibuster of financial reform could collapse.
Sens. Christopher Dodd, D-Conn., and Richard Shelby, R-Ala., chair and ranking Republican on the banking committee, respectively, said they were close to a "deal." Senate Majority Leader Harry Reid, D-Nev., says he will hold a test vote Monday. If he gets 60 or more votes he could move ahead with final debate on the bill.
At a GOP caucus meeting Wednesday, Republican Deputy Whip John Thune, from South Dakota, acknowledged that "members don't want to take a tough vote against regulating Wall Street."
The pressure on the GOP, however, does not translate into anything like a total collapse of their effort to weaken financial reform. Some are scrambling to salvage as much as they can for the big banks.
These Republicans, according to reports, favor filibustering Monday's procedural vote to increase their bargaining leverage on behalf of their Wall Street sponsors.
Democrats counter that a filibuster would work in their favor by putting the GOP on record as opposing the reform a majority of Americans want.
Progressives are warning, however, that the GOP is still in a position to damage the financial reform package.
Two Maine Republicans, Olympia Snowe and Susan Collins, are being coy about whether they might support a reform bill, and some say their aim is to force Democrats to drop the $50 billion liquidation fund from the final measure. It would require Wall Street giants to pay taxes up front, out of their profits, into a fund that would be used to resolve problems if one of them collapses. The Congressional Budget Office says that such a fund would also help significantly to reduce budget deficits.
Some warn that a sizeable number of Democrats, including the Obama administration, would go along with dropping the fund.
Republicans would also like to weaken the consumer protection agency. Progressives want the agency to be able to enforce its own regulations.
In a dramatic parallel move Wednesday, Democratic Sens. Sherrod Brown, Robert Casey, Ted Kaufman and Sheldon Whitehouse introduced a new bill that would immediately break up the big banks. This bill, the Safe Banking Act of 2010, imposes a strict cap on total deposits any one bank can hold, 10 percent of the U.S. total, to determine which banks should be broken up.
"We need to pass something so a similar crisis doesn't happen for another 50 years," said Kaufman, D-Del.
The AFL-CIO has, for the last two years, been calling for legislation that would do the same thing.
Unions are planning to bring more than 10,000 to demonstrate on Wall Street April 29. They will demand not just stricter regulations on high finance but taxes on banks that can be used to create jobs.
Photo: Goldman Sachs CEO Lloyd Blankfein attends President Obama's speech at Cooper Union college, April 22, where the President warned big financial firms to stand down in their furious lobbying against reform. Richard Drew/AP