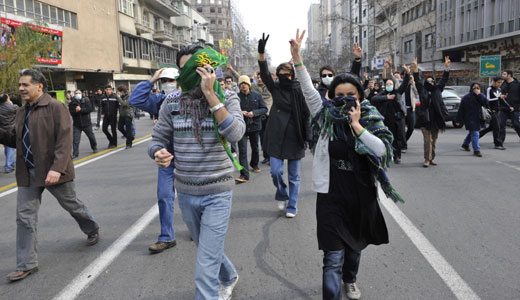 A last minute push by the Committee for the Defense of Iranian People's Rights to prevent the execution of Iranian teacher Abdolreza Ghanbari is in full gear today after the Iranian courts rejected the teacher's final appeal.
Ghanbari was arrested at his workplace after anti-government demonstrations on Dec. 27, 2009.
Held in Evin Prison since his arrest, Ghanbari has been tortured and denied access to a lawyer.
The teacher was tried before the Tehran Revolutionary Court on Jan. 30, 2010 and sentenced to death for 'moharebeh' (enmity towards God) for alleged links with the banned opposition group, the People's Mojahedin Organization of Iran.
The sentence was upheld on appeal, and his request for a pardon from the Amnesty and Clemency Commission was rejected late in Feb. 2012.
The campaign by CODIR has the backing of many human rights and trade union organizations including Amnesty International, Labour Start, the National Union of Teachers, and the University and College Union in the UK, the Canadian Teachers Federation and the global union, Education International.
"This case once again shows the Islamic Republic's contempt for the Universal Declaration for Human rights and the International Covenant on Civil and Political Rights," said Jamshid Ahmadi, CODIR Assistant General Secretary. "We urge human rights, labor, and trade union organizations around the world to step up the pressure and to continue to write to the Iranian government expressing their outrage at the arrest and insist on stopping the execution of Mr. Ghanbari.
"This is now a desperate situation. We can't stop our campaign until a stay of execution is secured."
"The eyes of trade unionists are on Iran," said Alex Gordon, president of RMT, Britain's largest specialist transport union.
The demands the groups are making include:
Stay the execution of Ghanbari and revoke the death sentence; drop all charges against all detained trade unionists and release them immediately; compensate those jailed for damages suffered during detention; allow the Iranian teacher's union to function legally and openly; stop all harassment and repression against teachers, unionists, and human rights activists.
And finally, comply with international labor standards and respect the rights of Iranian workers to freedom of association, assembly and expression.
Photo: Irania protests occur on Dec. 27, 2009. /AP